Arsene Wenger: Announcement about Arsenal future will come after cup final
LONDON -- Arsene Wenger has said an announcement about his future will be made in the days after an Arsenal board meeting following the FA Cup final.
Wenger has yet to reveal whether he will sign a new contract to stay on as manager and has frequently changed the deadline by which he has said a decision can be expected.
But speaking at a news conference on Friday, he confirmed the situation would be discussed at the board meeting, which is expected to be attended by owner Stan Kroenke.
Asked whether an announcement could be expected after those discussions, he said: "Yes, of course."

Arsenal

Everton
Game Details
However, Wenger gave conflicting messages on whether the decision would be made at the meeting itself.
He initially answered: "Yes" when asked whether his Arsenal future would be "finalised" at the meeting.
But asked for more details, he added: "I didn't say that [his future would be decided then]. You interpreted it like that.
"There are many aspects of a football club which have to be discussed at a board meeting. One of them is, of course, what is happening with the manager, the future, the players who have to come in, the renewal of contracts.
"You don't miss problems in a board meeting."
Wenger has been under growing supporter pressure to step down following a disappointing season that included a humiliating 10-2 aggregate loss to Bayern Munich in the Champions League.
But the Gunners could yet secure a place in the Premier League's top four at home to Everton on Sunday, and they can win a trophy when they take on Chelsea in the FA Cup final next weekend.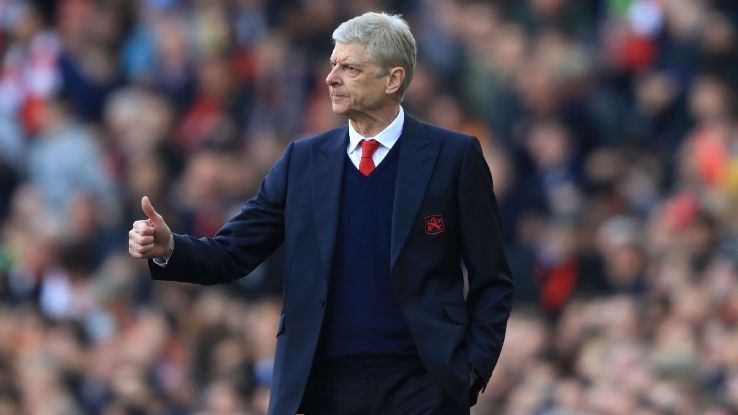 Most indications are that Wenger will stay regardless of what happens in the last two games, but there is still a chance that Sunday could be his last home match.
Asked about that possibility he said: "Of the season, yes," but added that "I cannot tell you" if it would be the last one ever.
Arsenal are still without the injured Alex Oxlade-Chamberlain, while centre-back Laurent Koscielny is a doubt with a calf problem.
However, Aaron Ramsey should be fit despite limping off during the second half of Tuesday's win over Sunderland.
Arsenal need to beat Everton and hope Liverpool drop points at home to Middlesbrough -- or that Manchester City lose heavily to Watford -- to make it into the top four.
Watford are dealing with the aftermath of the announcement that manager Walter Mazzarri will leave at the end of the season, and Wenger said: "I'm always sad when managers get sacked.
"What you want is that all teams have a go and they fight. I think, traditionally in England, you have that. Hopefully that will be the case.
"Everybody will be under scrutiny, so you just want the teams like Everton to fight against us, Middlesbrough to fight against Liverpool, Watford to fight against City. That's what you want."
Mattias is ESPN FC's Arsenal correspondent. Follow him on Twitter: @MattiasKaren.