50-50 Challenge: Manchester City vs. Liverpool
Last season's top two teams in the Premier League meet on Monday night in a massive early season clash that could give us an idea who will win the title in May. Simon Curtis (Manchester City) and David Usher (Liverpool) discuss the key matchups.
Will the Premier League champions come from this match?
Simon Curtis: I have a sneaking and rather troubling feeling that the answer to this question might be "no," despite the fact that I'd really quite like it to be "yes."
It's ever so slightly early to be talking about champions before we have seen what everyone is made of this season and if we are to look at squad enhancements this summer, one might be tempted to say that the title challengers have all had completely different summers: Chelsea have bought big, Arsenal have bought clever, Liverpool have bought in bulk and City have bought backup, which might just mean that clever and big come out in front of bulk and backup. That is after all how the Premier League is supposed to work.
As far as the title winner coming from this game, I believe it is a step too far for a Liverpool side without Luis Suarez, despite the star-spangled addition of Mario Balotelli. Lazar Markovic is also a classy player, Adam Lallana will add interesting diversions up front, but too many of the other newcomers smack of a downgrade from the Uruguayan. City, meanwhile, will be trying their utmost to make more meaningful progress in the Champions League and may well be slightly distracted by this task to the detriment of their league campaign.
David Usher: I'd like to think so, as that would mean Jose Mourinho and Chelsea would not be getting their paws on it! In all seriousness, this match isn't going to decide the title even though I guess you could argue that it did last year. City were somewhat fortunate to win that day as Liverpool gave a good account of themselves but fell foul of one of the worst offside calls of the season when a clearly onside Raheem Sterling had a goal ruled out.
Having said that, the Reds were the architects of their own downfall as both of City's goals were preventable, particularly Alvaro Negredo's tame chip that should have been kept out by Simon Mignolet. Had Liverpool even managed a draw at the Etihad then that would have been enough to secure the title, so it's certainly a huge game for both sides. A draw would be a good result for Liverpool this time, although they certainly won't go there and play for one, since they simply don't know how.
What lessons do you hope to learn from this one?
SC: I agree that it is often extremely difficult to extract anything really meaningful from such early season games. City, eventual title winners last season, started off with terrible, ungainly results at Villa and Cardiff, giving the general public the vague idea that the club might be about to finish somewhere hopelessly adrift of the season's big hitters. As far as the title race is concerned, what can we hope to learn beyond hints at the big questions: Can this Liverpool side compete again with the strongest candidates and can City get off to a better start than last season and dominate the title race from the beginning instead of having to play catch-up?
With the opening day fixture kicking off with Gael Clichy at right back and Martin Demichelis alongside Vincent Kompany in the middle I would love to see the beginnings of some sort of stability in the Blues' defence. Pablo Zabaleta or Bacary Sagna have to come in on the right to relieve City of the first ever top-flight attempt at inverted fullbacks and Eliaquim Mangala will presumably also be eased in ahead of Demichelis as the season hots up. Only when City's back four reads: Zabaleta--Kompany--Mangala--Aleksandar Kolarov, can we start to see if things are going to work or not.
DU: What I'm looking for more than anything are signs of defensive improvement. I'm not demanding a clean sheet -- very few sides manage that against City at their place -- but I don't want to see goals conceded due to silly errors. If City are to score then let them work for it.
In terms of attacking play, it's going to be interesting to see if Liverpool can click back into gear after the stuttering start they made against Southampton, and it will be fascinating to see what tactical changes manager Brendan Rodgers makes for this one.
Liverpool started last season very slowly in terms of performance, even though results were generally quite good. It was in the second half of the season that they really blossomed and it's a shame that this fixture has come so early in the season before either side has had a chance to fully get into their stride.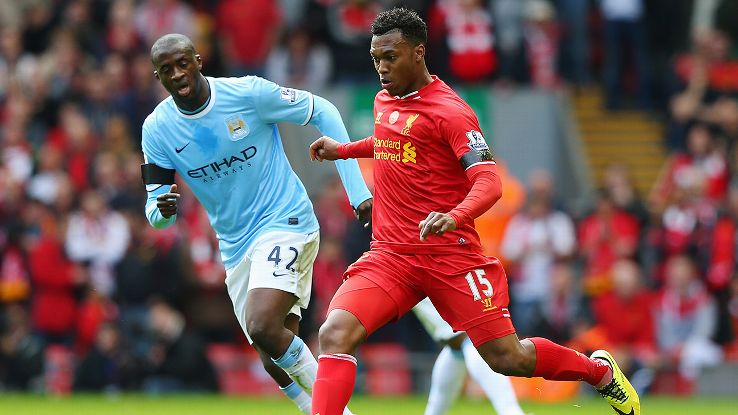 What shape do you think the opposition are in?
SC: I am convinced that a player like Suarez is practically irreplaceable. As a result there is a slight Tottenham-after-Gareth Bale feeling about Liverpool's summer deals. The opening fixture saw them struggle to get the result they wanted against the very same Southampton side that they had weakened by removing three players from during the holidays. The nature of Rodgers' inside-the-touchline celebrations at the late breakthrough also suggests that he is beginning to feel the heavy pressure of expectation.
Liverpool have a huge number of new recruits to bed in, have very little time to do it and have a huge spotlight shining on their every move. The pressure is truly on after last season's stunning resurrection to keep the momentum going, so in many ways this season may prove to be much more difficult for Rodgers and his players than last season did. This season they must deliver on last season's high promise.
Having said that, in general terms, Liverpool reach Manchester in great shape, having run City so close last season. The shackles have been cut, the new era of competitiveness is well underway and Liverpool are gradually rising back into the sort of company they kept throughout the 1970s and '80s. Although they were frustrated by Southampton on the opening weekend, one should expect them to put up a much more competent performance on this occasion. They are set up tactically to cope quite nicely with a scenario like this one, where they will be put under pressure and can then break out at speed using the excellent Raheem Sterling. If Rodgers goes for broke and throws in the impressive Markovic too, we could be in for quite a game. It all bodes well for an invigorating evening.
DU: Reasonable shape I'd say, but like everyone else they didn't hit top gear last weekend. They were poor in the 3-0 Community Shield defeat against Arsenal two weeks ago but looked a lot more like the City we've come to expect in defeating Newcastle 2-0. They look to have strengthened down the spine of the side but will be relying on the same players up top to win games for them.
There's nothing especially complicated about manager Manuel Pellegrini and City; he just puts good players on the field in positions where they can hurt the opposition and he lets them play. More often than not they'll win because they've got such good players and he doesn't handicap them by trying to be too clever or defensive. They're still very much the team to beat and if anyone can finish above City then they'll most likely be champions.
X Factor
SC: There is nothing too surprising about either City's tactics or their shape. They will pack every department with players that are competent and confident and let the opposition try to work out how to play them, In last season's corresponding fixture, Liverpool made a pretty good fist of doing just this. The X factor for Liverpool may well come in the middle of the park when they do break out, as they will more than likely encounter Fernando prowling the middle orders.
Having made three excellent tackles and one crucial last-ditch interception at Newcastle, Liverpool's roving brief may come unstuck on the Octopus' tentacles.
DU: Sterling is obviously Liverpool's big danger man at the moment. He's in terrific form and will hopefully hit 15-20 goals this season. He ran City ragged in both games last season so they will be hoping to find a way to keep him quiet this time out. Markovic is fit and available now and will presumably be on the bench. He could certainly provide an X factor as there will be a real element of the unknown about the young Serb. His pace and skill could certainly trouble City if he's introduced in the closing stages.
Fear Factor
SC: We have not yet seen too many of Liverpool's plentiful new recruits, as only Dejan Lovren, Javier Manquillo and a short party piece from Rickie Lambert featured against the Saints. The main problem may come from a more uncomfortable angle for City fans, that of Daniel Sturridge. The striker, who thought he could run before he could walk at City, has finally grown into a man and a proper, dangerous forward. The skill and talent was always there, but the attitude was often way off what was required at that stage of his development. The short sharp shock treatment in Chelsea's reserves appears to have woken him up to the fact that sliced bread was invented a long time ago. Sturridge is now a proper danger man and will need a proper plan to stop him on Monday evening, otherwise there could be a slightly embarrassing match winner.
DU: Edin Dzeko is the player who worries me most. City have some terrific attacking players and he's perhaps something of the ugly duckling of the bunch. Sergio Aguero, Samir Nasri and David Silva get most of the acclaim, but Dzeko is highly effective and a huge goal threat. Liverpool kept him fairly quiet last season but he's the type of player who may not do anything for 89 minutes but then score from a yard out in the last minute.
The other big danger to Liverpool has to be set plays, as City are one of the most physically imposing sides in the land. They'll be very dangerous from any corners or free kicks around the box.
Prediction
SC: One would hope crass refereeing is not the talking point again when these two effervescent sides collide. I would have preferred to see this fixture take place further into the season, to see them pit their wits against each other after working up a decent head of steam.
Instead, we will be witness to more of a glorified warm-up for what will come, a game that may not tell us too much about either team and a result which will not be crucial to either team's chances of winning the title. Such is early season. Still, we have every right to expect a flowing game that is pleasant on the eye, with plenty of goal opportunities and at least three taken advantage of: 2-1 to City.
DU: I'm going for an entertaining 2-2 draw, but the main thing from Liverpool's point of view is that they do not lose. A win would be fantastic, but a draw suits the Reds more than it does City. I expect it to be end-to-end and a great spectacle, as these are the two most attacking sides in the land and both topped the 100-goal mark last season.
I just hope that afterwards we're talking about the performances of the players and not the officials.