While effective, Francis Coquelin affects Arsenal's attacking fluidity
In the aftermath of Arsenal's 0-0 draw with Liverpool on Monday, Arsene Wenger was honest about his side's performances so far this season -- "we have started very averagely, I must concede" -- yet the main story that emerged from the post-match related to something that happened in another part of London, before a ball had been kicked at the Emirates.
Gary Neville's stinging criticism of Arsenal on Sky Sports -- in which he accused Wenger of not signing "players of power," suggesting it was either "naivety or arrogance, because they keep losing this way" -- was what the media wanted to discuss.
When questioned on the matter, Wenger responded in typical style.
"Look, I don't know what that has to do with arrogance," said the Arsenal manager. "I try just to do my job well for 20 years. I leave judgment to everybody else, the assessment of the quality of my work. Everybody is entitled to that opinion. I could prove to you that it's not necessarily right but let's not go into that debate tonight. When you don't win, you're wrong and people find reasons. Are they good reasons? I have enough experience to know when it's right and when it's wrong."
Neville's criticism was both right and wrong. He was discussing Arsenal's performance over the past few years, highlighting a list of their signings since they last won the Premier League in 2004 and illustrating how lightweight the majority were.
It was an issue which manifested itself especially in games against title rivals. Against powerful and tactically aware opposition, in an era when the Premier League was even more physical than it is now, Wenger's admirable policy of bringing multiple youth prospects through together didn't quite work, and Arsenal were often overrun.
Evidence of that weakness can be seen when it is considered that, in the Premier League, Wenger has never beaten Jose Mourinho's Chelsea and, since last winning the title, has claimed just four wins vs. Manchester United.
Now the situation is somewhat different. Wenger might not have realised Neville hadn't been directly criticising the current Arsenal side, for which the problem isn't necessarily a lack of powerful players.
Instead, the problem is the balance in the final third, which is an unusual one for Arsenal. Somewhat perversely, Arsenal's current issues have resulted as a knock-on effect of Wenger playing a powerful, battling, ball-winning central midfielder.
Francis Coquelin has been a revelation over the course of 2015. Thrown in at the deep end following a loan spell at Charlton, he was essentially replacing Mikel Arteta, the deep-lying midfielder who has encountered frustrating injury problems since being named Arsenal's skipper last summer.
Even Wenger, who puts a tremendous amount of faith in his young players, must have been surprised at Coquelin's brilliance -- he was outstanding in the 2-0 victory at Manchester City in January and has been a regular since.
While Arteta is primarily a passer who developed his game to become a disciplined holder, Coquelin is the reverse: a relentless tackler attempting to become better on the ball. His passing range has improved throughout the year, although it's still notable that his longer diagonal balls to the flanks aren't great -- a couple of passes towards Aaron Ramsey on Monday night were overhit.
More than anything, Wenger wants passing quality from the centre of midfield. Therefore, whereas Ramsey made a good partner for Arteta -- offering the energy and forward running that the Spaniard lacks -- he's not ideal alongside Coquelin, because there's no true ball-player.
This has seen Wenger bring Santi Cazorla back into a deeper midfield role, where he shone last season. In turn, it means Ramsey is forced to play on the right flank, a position he's repeatedly said he doesn't particularly enjoy.
It's easy to understand the Welshman's frustrations -- he was Arsenal's Player of the Season when fielded in the centre throughout the 2013-14 season and has been moved aside through no fault of his own.
Ramsey on the right is a problem. From the centre, his forward running brought the best out of both Olivier Giroud and Mesut Ozil who are, in a sense, very similar players.
Giroud is an atypical Arsenal striker because of his size, but because his best quality is his link play with an ability to set up onrushing teammates with one-touch passes, he's effectively another playmaker.
The Frenchman is not prolific -- he needs to play with a goal-scoring midfielder -- and Ozil isn't a regular goal scorer either. Therefore, Ramsey is needed in the centre, and when he's burst beyond those two regularly -- a 3-0 win over West Ham last season was particularly memorable -- the football that transpires is brilliantly effective.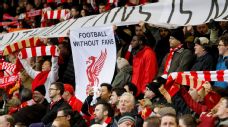 But Ramsey playing out on the right rather than Theo Walcott means Arsenal don't have enough pace going in behind the opposition defence on the outside.
In theory, it could come from Alexis Sanchez on the opposite flank, although from the left he drifts inside more than from the right, collecting the ball to feet. Sanchez is an unusual player because he's such an all-rounder and there's an argument that he attempts too much work in deeper zones.
If you have Cazorla deep and Ozil between the lines, you don't need an extra playmaker -- you need someone going in behind. Sanchez's role should arguably be more restricted so he plays as a second forward and it might even be wise for Wenger to experiment with him up front again.
However Wenger tries to play it, the balance isn't quite right with Coquelin in the side. Maybe the best solution would be to change the deep midfield duo completely, reverting to Ramsey and the fit-again Arteta.
Then, Wenger could play three of Cazorla, Ozil, Sanchez, Walcott and Alex Oxlade-Chamberlain behind Giroud (or Walcott, Sanchez or Danny Welbeck, if you prefer.) That would provide Arsenal with passing quality from deep, forward running from midfield, creativity from between the lines and players running in behind the opposition.
Coquelin offers power and tackling to rebuke the usual criticisms of Arsenal. However, his presence in the starting XI also means that, in trying to improve their traditional weaknesses, Arsenal are currently negating their traditional strengths.
Michael Cox is the editor of zonalmarking.net and a contributor to ESPN FC. Follow him on Twitter @Zonal_Marking.