Anthony Martial a United hero while Diego Costa is the weekend's big villain
Iain Macintosh reviews the best and worst of the Premier League weekend, with Anthony Martial and Diego Costa among those hitting the headlines.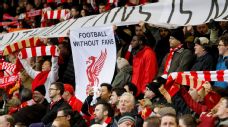 HEROES
Manchester United striker Anthony Martial is supposed to be cowed by expectation. That's how it works. He's a relatively unheralded teenager who cost an absolute fortune -- potentially £58 million -- and has been plunged into the most physically intimidating of Europe's top leagues. After two Premier League appearances he should, by rights, be counting the bruises on his legs and wondering whether defenders will ever stop kicking him long enough for him to have a shot. Instead, he's three goals to the good already and they've all been smart finishes. If he can keep this up all season, he may yet prove to be something of a bargain.
It's not entirely clear how he's doing it, but he's doing it, all right. West Ham boss Slaven Bilic has taken his West Ham side to the Emirates, Anfield and the Etihad and he's brought them back to east London with nine points. If Chelsea or Manchester United did that, you'd tip them for the title immediately. Manchester City were camped in West Ham's half for much of the 90 minutes on Saturday, but the Hammers held their nerve admirably and emerged 2-1 victors. Imagine if they'd shown that resolve at home to Bournemouth and Leicester. They'd running away with the league by now.
Not a good result for Manchester City, but not a bad debut for Kevin De Bruyne. With a £55m price tag around his neck, the pressure was on the young Belgian to make a swift impression and he didn't let anyone down. It wasn't just that he scored, a rasping low drive from long range, it was the effort he showed throughout the game against West Ham. He wanted to be involved in absolutely everything. When David Silva returns from injury, City will have the most formidable attack in British football.
Bournemouth's Matt Ritchie has shown flashes of his ability in his short time in the Premier League. On Saturday, he made everyone sit up to pay attention. Make no mistake, his wonder strike in the 2-0 win against Sunderland will be a goal of the season contender come May. Ritchie actually played twice in the top flight with Portsmouth back in the 2009-10 season, but after a nomadic period in the lower leagues, he must have feared that he'd never return. A finish like this is further evidence that this is his level.
Tony Pulis has a naughty seat in his office and by all accounts, Saido Berahino may as well have his name embossed on the back of it. But if the 22-year-old striker keeps scoring goals as important, albeit fortunate, as the one he struck in the 1-0 win for West Brom at Aston Villa on Saturday, Pulis will be able to use it as a footrest. Almost three weeks ago, Berahino appeared to threaten strike action when he wasn't allowed to move to Tottenham. That's the sort of thing that can turn the fans against you, but goals against local rivals tend to get you off the hook.
VILLAINS
There is a reason so many people have been so volcanically infuriated by Diego Costa this weekend. It is because his actions invoke all the worst memories of the school yard. He is that kid; the one who got to you, the one who hurt you, the one whose punches, elbows, digs and words were never witnessed because they were too sly, too snide and too cunning to be caught. But the moment you responded, that's when the teacher walked into the room. It's all so unfair. But Jose Mourinho was right, it's box office.
Yet none of this is new. We knew before he even arrived in England that Costa dabbled in the dark arts. We've seen him on countless occasions, trying to wind up defenders. Gabriel must have known this; there are people in as-yet-undiscovered mountain villages who know this. He should have taken his yellow card and walked away. He should have shut Costa out. And even if he couldn't do that, even if he felt compelled to take his vengeance, he could at least have waited until Mike Dean was facing the other way. Foolish boy.
A silver-tongued optimist he may be, but even Liverpool boss Brendan Rodgers isn't going to be able to talk himself out of this one. Three opening home fixtures against Bournemouth, West Ham and Norwich demanded three wins. He has just one, over the Cherries, and that was hardly convincing. Rodgers has changed the formation, changed the players, changed the style and changed his coaches, but nothing is working. Liverpool look exactly what they are; an ineffectual mix of expensive, failed experiments. The American owners stayed their hand this summer but their patience will surely run out soon.
Almost 1,500 Sunderland fans trekked 290 miles down to the south coast on Saturday and after just nine minutes, their team were two goals down to newly promoted Bournemouth. Not for the first time, this column can only gape in awe at their loyalty to the cause. Imagine spending so much to travel so far to see so little in the way of competence. You sense that Dick Advocaat's patience is running out now. He was going to retire in May. He could be on a beach right now, spending his survival bonus on extravagant cocktails. Instead, he has to put up with this. It's a sorry mess.
It's not much better down the road at Newcastle, either. The supporters there were putting up with bad results because the performances suggested that improvement was around the corner. The performances lied. The only thing around the corner was a string of defeats. Between West Ham and Watford, Steve McClaren should have been at least able to garner a point or two. With Chelsea and Manchester City next up on the itinerary, this could get a lot worse before it gets better. Football in the north east hasn't been this bad for over 20 years.
Iain Macintosh covers the Premier League and Champions League for ESPN FC. Follow him on Twitter @IainMacintosh.