Lloris, Walker, Dier and Lamela make Team of the Weekend for Tottenham
After each round of Premier League fixtures, ESPN FC brings you its Team of the Weekend. Our panel of experts carefully selects 11 star performers, along with a manager.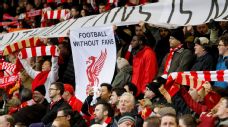 Do you agree or disagree? You can have your say on those picked or overlooked in the comments section at the foot of the article or on Twitter using the hashtag #TOTW. Plus, tune in to Monday's ESPN FC show (5:30 p.m. ET, ESPN2) for further reaction.
Goalkeeper: It's always worth starting on a positive note -- and what could be more positive than our panel all agreeing on the goalkeeper in the latest edition of Team of the Weekend? Tottenham's 4-1 win over Manchester City was the most impressive result from this round of Premier League fixtures, and while at least four of the five goals in the game might have been disallowed for offside on another day, Spurs would not have been in any position to record the win were it not for the performance of Hugo Lloris in the first half. "City would have been out of sight without him," notes Paul Mariner, while Steve Nicol's assessment was similar, saying: "Without his first-half display, this game was over." Gab Marcotti claimed the referee's assistants and City's futility were the key factors in Tottenham's win, but the consensus is that they wouldn't have been able to record the three points were it not for a superb showing from their goalkeeper.
Defence: Lloris couldn't do everything on his own. Kyle Walker is occasionally a rather frustrating player, often showing plenty of verve going forwards but a little more vulnerability at the back. However, he put in a fine performance against City, doing his best to shackle Raheem Sterling on City's left and of course delivering some of that attacking threat. "It was an ideal game for him, running up and down against an opponent who left plenty of space," says Marcotti, also praising Walker's ability to make himself invisible to the referee's assistant in the buildup to Tottenham's first goal. This was another unanimous choice from our panel, with Mariner and Nicol also selecting Walker, the latter summing up his game by adding: "Thou shall not pass."
Defence: When Southampton recruited Virgil van Dijk from Celtic on transfer deadline day, some were concerned the Dutch defender might not be able to cope with the step up to the Premier League. After all, life in Scotland is rather easier than south of the border, but the signs at the moment suggest that Van Dijk is coping well, slotting into the Saints' back line to replace the departed Toby Alderweireld. Van Dijk scored in Southampton's 3-1 win over Swansea and has impressed during his short time in England so far. "He showed what a cracking signing he is, did his job magnificently and scored a super goal," said a very impressed Mariner.
Defence: Manchester United's defence looked rather precarious at the start of the season, partly because their first-choice centre-half pairing was Phil Jones and Chris Smalling, with not a huge amount behind that. Things are looking rather more promising now, largely because Smalling looks so assured at the heart of their defence -- a theme that continued in United's 3-0 victory over Sunderland on Saturday. "He's growing from game to game despite the initial bumps," says Marcotti. "Sunderland were not much in the way of competition, but he did his part."
Centre Midfield: There was a fear when Brendan Rodgers signed James Milner, the ultimate utility player, that he would be shunted around the pitch in much the same manner as he has been for most of his career, rather than be consistently played in his best role, in central midfield. However, the former Manchester City man has been largely deployed in the middle, and after his display at the weekend you can see why. Milner was strong throughout Liverpool's 3-2 win over Aston Villa and opened the scoring in the second minute with a rasping drive, more than covering for the absence of captain Jordan Henderson. "His team went into it with frayed nerves, but he scored almost straight away before setting up Daniel Sturridge later," says Marcotti. "He's no Steven Gerrard, but he does his part in terms of veteran leadership."
Centre Midfield: One man who perhaps didn't expect to spend his time in the heart of midfield for his side is Eric Dier, the defender who filled in here and there in defence for Spurs last season. However, the youngster has been a revelation in the holding role for Mauricio Pochettino's side, and was probably Tottenham's standout player in their superb victory over City. Nicol calls him a "tackling machine," while Mariner says: "He looks really at home in the holding role, scored the equaliser and picked up great spots out of possession."
Right Midfield: Rounding off the quartet of Tottenham players in this edition of Team of the Weekend is Erik Lamela. The Argentine winger has been much-maligned since his £30 million move from Roma a couple of summers ago, but every now and then he displays the sort of talent that persuaded Spurs to sink a big slice of the money from Gareth Bale's sale into his purchase. "He once again harnessed his enormous talent to a productive end, scoring a goal, setting up another and generally beavering away effectively," says Marcotti.
Left Midfield: It's a stretch to fit a player like Alexis Sanchez into this team on the left of midfield when he usually plays much further up the field, but he had to be included after a hat trick and a performance against Leicester that suggested his early-season jadedness is on the way out. "He's back to full fitness -- watch out Premier League defences," warns Mariner, while Marcotti called his performance in Arsenal's 5-2 win at Leicester a "reminder of who Sanchez is."
Forward: It would be remiss of us not to include at least one representative from the Newcastle side that bounced back from their League Cup humiliation against Sheffield on Wednesday so well against Chelsea, so who better than the man who scored their first goal? Ayoze Perez hasn't been in Newcastle's starting XI for much of the campaign, and his showing in the 2-2 draw against Jose Mourinho's strugglers on Saturday made that decision look even more curious. He benefited from some horrendous Chelsea defending for his goal, but the way he capitalised on this failure was exceptional, bringing down a long cross then smacking the half-volley home, in off the post. "He effortlessly found space in a sluggish Chelsea defence -- particularly in the first half -- and as a result, he scored a fine goal," Marcotti said.
Forward: The sighs of relief from Anfield could be heard from miles around after Daniel Sturridge not only returned to the Liverpool first team, but found his scoring touch almost straight away in their 3-2 win over Villa. His two strikes were special in their own way; the first an emphatic volley and the second a silky finish after a delicious 1-2 with Philippe Coutinho. "It is not rocket science," said Brendan Rodgers after the game. "If you want to compete at the top, you need quality. Daniel has shown he is a real top talent." Nicol simply called Sturridge his manager's "saviour," which sums it up rather neatly.
Forward: There is a temptation to think that sooner or later, the Jamie Vardy bubble is going to burst; that the performances of this player who not so long ago was playing in non-league football will drop off and regress to the mean. However, there's no sign of that happening anytime soon, as Vardy bagged another brace in his side's defeat to Arsenal, both highly accomplished finishes from tricky angles. Marcotti calls him "possibly the most in-form English striker around," while Mariner added: "He was a constant threat." As long as Vardy's form stays true, so will Leicester's.
Manager: There were several nominations for the spot in the dugout this week, and it's certainly tempting to give the job to Pochettino after Tottenham's demolition of Manchester City, but in the end the nod goes to Steve McClaren, after Newcastle's creditable draw with Chelsea. Considering Chelsea's inconsistency this season it's perhaps not the biggest achievement to take a point from them, but given this game came just a few days after their defeat Wednesday, some credit for the turnaround must go to their manager. "For 90 minutes at least, McClaren put the Newcastle crisis on hold," says Marcotti. "He gets a minus point for his side seemingly being too afraid at the end, though. They cowered in the corner rather than going for the win. Other than that, he gets plus points for everything else."
Nick Miller is a writer for ESPN FC, covering Premier League and European football. Follow him on Twitter @NickMiller79.