Are Manchester United or Arsenal closer to a Premier League title?
Arsenal versus Manchester United was once the Premier League's most exhilarating, frenetic and important rivalry. The matches were often title deciders, and in a six-year period around the turn of the century, this battle encapsulated the reason the Premier League became such a major force. Now, somewhat sadly, both teams are playing catch-up.
Chelsea and Manchester City have won the last two Premier League titles. Arsenal's wait for the title has been significantly longer than United's, although they have finished higher in the table both years since United's triumph in 2012-13. They started this season in roughly the same situation, and we're still not sure about either side's title credentials. This weekend's meeting at the Emirates should offer some answers.
Intriguingly, Arsenal and United currently offer entirely contrasting qualities. In general -- and this might be simply a truism -- title winners boast both standout individual attackers, and a cohesive overall system, with last season's Chelsea side a fine example. At the moment, Arsenal have the former, United the latter.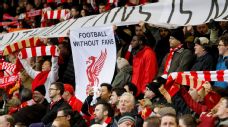 For all the complaints about manager Arsene Wenger not strengthening his side in the summer, Arsenal retain tremendous attacking options. The likes of Alexis Sanchez and Mesut Ozil are established performers at the highest level; Santi Cazorla orchestrates play as intelligently as anyone in the league; Theo Walcott was Arsenal's top goal-scorer in his final season before serious injury and Aaron Ramsey was one of Europe's most effective midfielders back in 2013-14. With Francis Coquelin's sudden emergence as a defensive, battling, destructive midfielder just behind them, when on top form, Arsenal's midfielders and attackers are good enough to launch a serious title challenge.
There's a problem, though. How can Wenger find a system which gets the best from all six? As covered in greater depth recently, playing this combination has caused problems, in simple terms because all six prefer playing centrally. Sanchez on the left isn't a huge problem, because the Chilean is versatile enough to play anywhere, but Ramsey has been accommodated out on the right, and clearly dislikes that position.
For various reasons, and while balance of the side isn't quite right, and while Arsenal's individuals can win them games -- see Sanchez's hat trick in a 5-2 thrashing of Leicester last weekend, for example -- the system isn't creating reliable combinations.
That's what Arsenal have usually been about. In the Invincibles side of 2003-04, for example, it wasn't just that Arsenal had Thierry Henry, Dennis Bergkamp, Robert Pires and Freddie Ljungberg, four outstanding attackers. It was that their understanding in the system maximised their talents. While many talk about the Bergkamp-Henry partnership wistfully, in reality it was Henry and Pires, and Bergkamp and Ljungberg, who formed the best relationships. In contrast, until Wenger find the right balance, Arsenal are currently less than the sum of their parts.
Louis van Gaal's team are the opposite. There's still an element of trying to find the right balance, as you would expect with Anthony Martial, Memphis Depay, Bastian Schweinsteiger, Morgan Schneiderlin and Matteo Darmian all arriving recently. But United keep on grinding out results, even when attacking individuals aren't on top form.
Currently, Juan Mata is United's only undoubted top-class attacking player. Depay and Martial are hugely talented and very exciting, but raw and still developing. Wayne Rooney, meanwhile, has been in absolutely dreadful form, and his central role is problematic because passing moves consistently break down when he receives possession. Marouane Fellaini appears to be United's back-up striker, and while a useful Plan B, it was a little embarrassing to see him start up front against Liverpool.
Yet United are top of the Premier League. They've scored two more goals than Arsenal and more intriguingly, they have the best defensive record in the division. That's partly due to David De Gea's return, but it's also because Van Gaal has his players drilled excellently in his system, whether it's been 4-3-3 (last season) or 4-2-3-1 (this season).
In both shapes, United have always been extremely compact, minimising space between the lines of defence and midfield particularly well. Opposition playmakers struggle to find room in that zone, because the positioning, communication and decision-making of the holding midfielders has been excellent. Michael Carrick has been as solid as ever and Bastian Schweinsteiger is controlling games expertly. They haven't always played together, as Van Gaal has often replaced one with the other. But they understand the system perfectly.
Even last season, when their defenders were dropping like flies amid speculation Van Gaal was overtraining his players, there were few defensive disasters, aside from a bizarre 5-3 defeat away at Leicester.
This season, United have been forced to use Daley Blind at centre-back. Maybe the Dutchman is the best summary of Van Gaal's approach. He's not particularly impressive physically, but he's technically proficient and tactically intelligent. He knows exactly where to be, how to receive the ball, how to distribute the ball and when to pass on opposition runners to teammates. Therefore, despite being naturally unsuited to this centre-back role, he's very rarely been exposed this season. Only the first half against Southampton's Graziano Pelle has been a struggle.
The fact the two clubs are in such different situations makes sense; Wenger and Van Gaal are completely different.
Wenger is the father figure who indulges individuals, and insists upon improving players through "guided discovery," creating training-ground regimens so players arrive at their own conclusions about how to play. Wenger believes this is the best way to instil beliefs in his players.
Van Gaal, however, is the headmaster, the strict disciplinarian who preaches the importance of the system, and drills players in a positional sense, creating set patterns of passing and movement to help unlock opponents in a methodical, predetermined, almost robotic manner. Last month, a British tabloid ran a story suggesting United's players thought Van Gaal's training sessions were too strict, too boring. But United's familiarity with the system is unquestionably excellent.
This isn't the Arsenal versus Manchester United clash of 2003. You won't see Patrick Vieira and Roy Keane squaring up; you won't see Martin Keown jumping on Ruud van Nistelrooy; you won't see the Neville brothers targeting Jose Reyes. The story here is different: these are two managers who like playing attack-minded football with young, developing players. The way they build their sides, however, is very different.
Michael Cox is the editor of zonalmarking.net and a contributor to ESPN FC. Follow him on Twitter @Zonal_Marking.