Victor Valdes living in sad exile at Manchester United
Victor Valdes says that goalkeepers are always alone, emotionally and physically distanced from their teammates.
He admits he's shy, an introvert who likes solitude, and that one of the reasons he loves windsurfing is the feeling of being out there on the sea a long way from land where no one can bother him except the occasional fish swimming past.
Yet the scene was still a sad, lonely one -- even for him -- and the message felt a little like a cry for help. Or for comprehension at least.
It was 4:22 p.m. on Oct.1 and Valdes had just finished training for the day.
4.00 pm.Done! training finish for today. Thanks Alan Fettis! Tomorrow Again !Thanks everybody for your support pic.twitter.com/1XL96aIZlZ

- Victor Valdes (@1victorvaldes) October 1, 2015
In the picture, there are lockers, towels, flip-flops, a few pairs of shoes ... but no people. Alan Fettis is the goalkeeper coach at United's youth academy and the only person that Valdes sees. He's a World Cup winner now living an internal exile.
Valdes was in his last season at Barcelona in March 2014, having announced that he would be leaving the club where he had overtaken Antoni Ramallets to become the most successful goalkeeper in their history, with six league titles and three European Cups. Decisive in qualification against France in Paris, he was certain to go to the World Cup in Brazil, maybe even as Spain's first choice. Many considered him the best goalkeeper in the country. After years of debate at the Camp Nou, the appreciation was universal at last.
Then he tore the anterior cruciate ligament in his knee playing against Celta Vigo and everything went wrong. He signed for Monaco only for them to back out -- a decision which will end with the French club in court -- and he watched Liverpool waver, requesting a trial period. He instead signed for Manchester United, where he was told he would compete to be the No. 1. At that stage, manager Louis van Gaal was not convinced by David De Gea, even if Valdes quickly was. He could see how good his countryman was.
It was supposed to be an opportunity, while United were supposed to be getting one of the best goalkeepers around. Instead, it has been a disaster. Now, 19 months later, it is like Valdes has disappeared and been forgotten. He has become almost invisible, not least because that is the way that his manager wants it. Until that day against Celta, Valdes had played 611 competitive games. Since then, he has played just 116 minutes and although he is fit and, at 33, not old for a goalkeeper, there's not much sign of him playing any more either. Not for the first team, not for the reserves, not for anyone. Certainly not at United.
Van Gaal has never suggested that Valdes is not good enough, or that his knee has not recovered sufficiently. Valdes did concede a goal his manager thought he should have saved when he came on as a substitute against Arsenal in the penultimate game of last season, playing 16 minutes. Theo Walcott's effort deflected off Tyler Blackett and beat Valdes.
Valdes then played the whole of the final game in the 0-0 draw away to Hull City. It would have been natural to assume that he would be United's second-choice goalkeeper, maybe even their first choice if De Gea departed for Real Madrid.
But when Valdes returned for preseason training in the summer, he walked into the dressing room to find that he no longer had a locker. He would have to change and train elsewhere. Van Gaal then left him out of the preseason tour to the U.S., announcing that Valdes had refused to play with United's U21s, something the manager considered an unforgivable lack of respect, humility and discipline. "He doesn't follow our philosophy and when you don't follow it, you are out," Van Gaal said.
If there were any doubts, they were quickly and bluntly dispelled. This was not just an exit strategy, a way to encourage him to look elsewhere. A supposed deal to Besiktas turned out to be very different to the way it had been sold, so Valdes ended up not even travelling to Turkey to see them, despite having bought his flight tickets. He stayed, but nothing changed. In fact, they got worse. When he was included in United's Premier League squad, the club were quick to insist that they had done so simply to make up the numbers. He was not going to get a chance.
Valdes has become a non-person. He was not included in the official team picture. He goes to games at Old Trafford, but does not wear the club's suit. He does not play games, not even practice matches, and he has not been allowed to train with the first team or the reserves. He cannot even see his teammates -- he is not allowed to eat with them and his training sessions are programmed to be at a different time so that they do not coincide, timetables changing if they do, guaranteeing his isolation.
Van Gaal said that the main problem was that Valdes refused to play for the U21s. More than a decade before, there had been a similar confrontation when, having called Valdes into the first team at Barcelona, Van Gaal sent him back down to the youth team again.
Valdes later said that it had not been quite as it was portrayed -- he had asked for some time to think about what he should do -- and nor had they really fallen out but, in his own words, it caused a huge stir. Now here they were again.
"For us it is a big disappointment. We thought he will follow our philosophy but it is a pity because we have given him an opportunity to rehabilitate and then we gave him a contract. Then when he is fit to play and when you are not playing in the first [team] you have to play in the second. He refused that," Van Gaal said.
The Dutchman was not really challenged on the decision or the assertion. Valdes looked arrogant and ungrateful. It was a serious lack of respect, Van Gaal said. Valdes didn't agree. He didn't say much but he did tweet a picture of him with some of United's U21 players and named some of the games he had played in for them.
.....? #respect pic.twitter.com/LSnwz1HfDB

- Victor Valdes (@1victorvaldes) July 16, 2015
The U21 manager, Warren Joyce, had previously given a very different impression of Valdes, whom he called a "model pro" -- someone who, having won it all, was "more focused" than some of the other, younger players.
Joyce told them to follow the Spaniard's example and revealed that Valdes had given a motivational team talk, borrowed from Pep Guardiola, in which he told the story of Dick Hoyt, who competes in marathons, cycle races, and swims all around the world with his disabled son Rick.
Another more nuanced version of the story has Valdes going to see Van Gaal in the late spring, a knock on his knee playing for U21s momentarily giving rise to fears that proved unfounded, saying he felt he was physically and psychologically ready to be made a permanent part of the first team. Not a refusal as such, but enough for Van Gaal to take offence. An argument began -- Valdes is a direct, disarmingly honest personality, while Van Gaal is blunt too, authoritarian at times -- and that's where his United career ended.
Well, not there exactly. What's perhaps a bit odd there is that Valdes played for United's first team after that, appearing in the final two games of the season.
"I want to help him so that he can show his qualities for another club," was Van Gaal's explanation at the start of this season, although "help" probably isn't the word most would use. The decision to ostracise him came later or was at least applied later, a retrospective punishment that Valdes did not anticipate until he walked into the dressing room and found that his name had been removed from his locker.
Valdes now occupies a different dressing room, and only when there's no one else there. There is no sign of Van Gaal softening and no shot at redemption. This has become entrenched now. No games, no training, no contact at all; the punishment severe and pointed. It has come to this: one of the best goalkeepers in the world training alone with an academy coach, and teammates kept away from him as if he had some horrible contagious disease.
Whatever way you look at it, even without engaging with the moral rights or wrongs, it feels like a terrible waste and maybe counterproductive. It is certainly no solution. Nor can it be comfortable for Valdes' teammates.
One of them spoke to the Al Primer Toque radio show this week. "What has happened there, I don't know: you would have to ask the manager or him," Juan Mata said, unable to really say anything else.
"I imagine that if you spoke to Victor he would have his reasons and if you spoke to the manager he would have his reasons too. What I have to do is stay out of it, support Victor in the hard times, be professional, and that's it."
Mata was speaking at Spain's training camp Las Rozas, northwest of Madrid. This week is international week, but the only sign of Valdes at Spain's HQ is the huge picture that covers the wall in the foyer between the dressing rooms and the path that leads to the players' residence, punctured only by a handful of fuse boxes, in which he appears celebrating the 2010 World Cup win with the rest of his teammates. Until that injury, his presence here had been guaranteed; after it, most expected it to be guaranteed again. Van Gaal's treatment of him has destroyed those expectations.
Spain coach Vicente del Bosque admitted that he had thought about calling Valdes up for the last squad, as a way of supporting him and keeping him integrated, giving him the chance to train properly and because, put simply, he thinks the goalkeeper is probably still good enough. Certainly, he wanted to cling to the possibility that Spain can call him up again.
But a goalkeeper who is not playing, not even training, is a goalkeeper who is hard to call upon, however much you want to.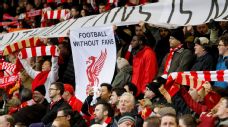 Valdes' absence here is felt. He may be forgotten in England, where his status is not the same, and even that tweet passed with remarkably little comment, despite its almost longing and lonely nature, but in Spain his situation saddens and surprises.
There have been few questions in Manchester but in Madrid it was inevitable that Mata would be asked.
"It's a pity," Mata added. "Victor is a fantastic goalkeeper who had a bad injury at a crucial time in his career and it feels like everything has gone badly for him since. I expect and I hope, because I really like him and we've shared a lot, that things go right for him -- whether that's at Manchester United or somewhere else. He has the ability to compete again and demonstrate that he is a great goalkeeper. It's very, very unfortunate. The moment the injury happened, the recovery, everything ... But I trust that this is not the end. I trust that the end will be Victor competing again and feeling like a footballer once more."
Sid Lowe is a Spain-based columnist and journalist who writes for ESPN FC, the Guardian, FourFourTwo and World Soccer. Follow him on Twitter at @sidlowe.