Jose Mourinho, Ander Herrera, Simon Mignolet back in the good books
With another round of the 2015-16 Premier League season all but done and dusted, it's time to run the rule over the Heroes and Villains of the weekend.
HEROES
Louis van Gaal doesn't like to single out individual players for praise, but he made a point of paying tribute to Ander Herrera after his barnstorming performance at Goodison Park. The former Athletic Bilbao man scored one and made one, and Van Gaal, who hasn't always favoured him, seems to be a convert. Herrera has always seemed such a natural fit for Manchester United; dynamic, energetic, technically adept, but above all, a worker. He's not a No. 10 in the traditional sense, all flair and fancy touches, he's harder than that. And with him at the top of a triangle with Morgan Schneiderlin and Bastian Schweinsteiger, United look strong.
Eyebrows were raised in England when new Liverpool boss Jurgen Klopp praised Simon Mignolet. Had he ever seen him play before? But it was the Belgian who saved Klopp from a debut defeat, making a string of saves to deny Tottenham the victory they probably deserved. For the scattered moments of promise on display at White Hart Lane, it will take time before Liverpool reach the level that Klopp desires, and anyone expecting an immediate title challenge needs to take a few deep breaths. But at least he seems to have an immediate effect on Mignolet. That, in itself, is not bad start.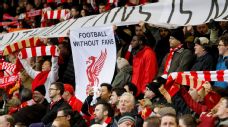 A hat trick for Raheem Sterling, and a hat trick taken with great poise. Manchester City, missing Sergio Aguero and David Silva among others, needed their less experienced players to stand up on Saturday. They certainly delivered. Poor Bournemouth, riddled with injuries of their own and with significantly weaker cover, were ripped asunder by Sterling. Fears that he would struggle to cope at the Etihad have proved misplaced. He's flourishing in Manchester, even without the aid of the bigger names. City are back in the groove.
Jose Mourinho took a huge gamble in dropping Edin Hazard, and even more of a risk in making his reasons clear afterwards, but it paid off. Solidifying Chelsea's midfield was always the key to rescuing their season and, though Aston Villa proved helpful opponents, this win will go a long way to boosting confidence at Stamford Bridge. It's been a miserable start to the season and there's still no guarantee that they'll turn it around, but Mourinho threw down a daring hand on Saturday and he's still sweeping the chips off the table as we speak.
No one has scored four goals for Newcastle in a game since Alan Shearer and it was fitting that the former Magpie was among the first to tweet his congratulations to Sunday's hero, Georginio Wijnaldum. The former PSV man ran rampant against Norwich, rattling in a personal tally that seems quite absurd when set against the Magpies' performances over recent years. After all, it took Newcastle seven Premier League games to score four goals this season. Wijnaldum just did it in under 90 minutes.
A win at last and six goals-even better! Congratulations to @GWijnaldum on getting 4 #NUFC

- Alan Shearer (@alanshearer) October 18, 2015
VILLAINS
This was a bleak day for Everton. It began with the news that legendary manager Howard Kendall had died, it ended with a wretched performance at Goodison Park and heavy defeat to Manchester United. Even when Everton are bad, you can usually expect them to pass the ball well. They couldn't even do that on Saturday. The only way they could have been more obliging hosts to United would have been to offer to score their goals for them. Everton were on an impressive streak of form before this. It's safe to say that the streak has now ended.
Tim Sherwood will take the bulk of the blame, and not without good reason, but Aston Villa's players also have to accept some responsibility for their position. Sherwood has made grievous errors this season and the rumour mill suggests that the dressing room may have lost faith in his abilities, but there are some things that a manager can't control. Brad Guzan's suicidal distribution, Joleon Lescott's poor touch, the general lack of composure across the team. Villa are in trouble and Sherwood is at risk, but the players certainly aren't helping.
Even a challenge as clumsy as the one that led to Dwight Gayle's second yellow card might not always guarantee a place in the Villains section. Fortunately, the Crystal Palace forward made sure of his inclusion long before his dismissal. You can understand why a striker might inadvertently step into the penalty area at someone else's spot-kick, but Gayle was four yards into the box and accelerating before teammate Yohan Cabaye had even completed his run-up. Little wonder that the penalty was retaken. Gayle should have been sent off for that, not the late challenge.
What sort of defending was that? The Premier League's Sunday offering, an ostensibly low key affair, turned out to be more like a college basketball game. And this is supposed to be the best league in the world? You expect this sort of thing from Newcastle, but not from Norwich. The Canaries had been solid, diligent and organised at the back thus far, giving the impression of the sort of team that finishes 14th but that no-one notices from February onwards. Now we're not so sure...
James McClean has long been the target of criticism for his political beliefs, and thoughtlessly so in some cases, but it's still unwise, even after sustained provocation, to approach goading supporters of a former team to celebrate a narrow victory. Yes, aforementioned supporters should be unsurprised when the target of their abuse responds, but equally, nor should McClean be startled when Sunderland players subsequently shove him all over the pitch. A bit of common sense would have helped here.
Iain Macintosh covers the Premier League and Champions League for ESPN FC. Follow him on Twitter @IainMacintosh.