Harry Kane top, Nemanja Matic bottom in Premier League Heroes & Villains
With another round of the 2015-16 Premier League season all but done and dusted, it's time to run the rule over the Heroes and Villains of the weekend.
HEROES
Rumours of Harry Kane's decline have proved premature. A hat trick against poor, depleted Bournemouth was just the tonic for a man who has done everything right ... except for the important bit. In truth, Kane's ability has never been in any doubt. He's a trier, certainly, but he also has the in-game intelligence and positional awareness to sustain a long career in the Premier League. What mattered was how he would respond to a challenge. After this therapeutic burst of goals, expect normal service to resume from here.
There's nothing normal about what Jamie Vardy is doing this season. The 28-year-old who was playing non-league football just three years ago is now on fire. His strike against Crystal Palace on Saturday brought his season tally to 10, and it was the seventh game in a row in which he'd scored for his club. He is quick, he is tireless, he is nerveless and in the Premier League this season, only West Ham and Tottenham have found a way to stop him. And Leicester, who roared out of the relegation zone last season like the Millennium Falcon out of Mos Eisley, are riding high in fifth.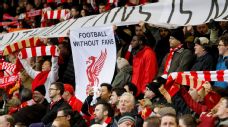 At the risk of spoiling the party, it must be noted that Sunderland were not particularly impressive in their 3-0 victory over Newcastle on Sunday. They were poor until they won their controversial penalty, and a man advantage did little to improve the level of their game. But by thunder, that was some pass by Younes Kaboul for the third goal. What on earth he was doing that far forward is anyone's guess, but no one could have expected him to finish a length-of-the-pitch run with a delightful assist. Who knew he had that in his locker?
We can be harsh as football fans sometimes. We can forget that players are human and that a move to a new country brings more changes than just a different shirt for work. Mesut Ozil did not fulfil his potential in his first season in England, and even his second season, while a noticeable improvement, was still a little underwhelming. But he has certainly found his stride now. Ozil loyalists always said (with some justification) that their hero excelled at the less noticeable aspects of the game. No one could fail to notice what he does now. This is Player of the Year form.
With the best will in the world, Divock Origi is not the man to lead Liverpool back up the table. Not yet. This may change given his young age, but Jurgen Klopp will be hugely relieved to see Christian Benteke close to full fitness. His goal wasn't enough to win Klopp his first game as Liverpool manager, but it did offer some hope for the future. Benteke can hold the ball up and is deadly in front of goal, but more than anything else, he's smart enough and powerful enough to make a wonderful target for a decent cross. With him in the team, Liverpool look far more dangerous.
VILLAINS
Yes, Jose Mourinho will bear the most scrutiny this week as Chelsea's crisis continues, but the real villain on Saturday was Nemanja Matic. There was no conspiracy here. Two brainless challenges from the Serbian midfielder brought a deserved first half dismissal, the low point (so far) of a miserable campaign. Matic is 27. He is experienced enough to know what you can and cannot do on a yellow card. Mourinho is the manager and will take the blame for Chelsea's plight as the figurehead. But for Chelsea's most recent defeat, it is Matic who is most culpable.
Sixteen months ago, Tim Howard was taking congratulatory phone calls from the President after a Herculean performance at the World Cup. After a disappointing day at the Emirates Stadium, it is highly unlikely that the White House will be dialling his number this week. This has been a difficult season for Howard, and there are serious fears that decline has set in. "A goalkeeper with his experience will be disappointed with that," Roberto Martinez said afterwards. By Martinez's standards, that's the equivalent of a Ferguson hairdryer.
Farewell, Tim Sherwood. You couldn't build on a bright start and you changed your tactics more than your socks, but you were never less than entertaining. It is quite clear that you were not the man to rescue Aston Villa, but then again, who is? Their plight is not simply the result of Sherwood's failings. The players have been poor, the logic behind their recruitment unclear and the desire of their owner to sell up and get out is hardly helping. This is a big club, but it is not a good job. They may struggle to attract high-level applicants, but that's hardly a new development.
Three wins on the bounce ... and then they lose at home to Watford. No wonder Mark Hughes was disappointed in his Stoke City side. Watford have defended well this season and are difficult to break down, but they don't score many. They need a bit of help in that department, and for some reason, Stoke were only too happy to oblige. Hughes racked up 100 games at the week in a tenure that has seen steady improvement in both results and performances. This one, however, bucked the trend.
Harry Kane was in the box, but heading away from goal, so far wide in fact that he couldn't have taken a shot. The threat was minimal. Why did Artur Boruc feel the need to wipe him out? Bournemouth had rattled Tottenham with an early goal, but the resultant penalty brought Spurs back in contention and restored Kane's confidence at the same time. And then, after Moussa Dembele had put Spurs ahead, Boruc dropped a simple cross at Erik Lamela's feet so he could score the third. Not a good day at the office.
Iain Macintosh covers the Premier League and Champions League for ESPN FC. Follow him on Twitter @IainMacintosh.