Four reasons to fear mighty Leicester City as their superb season continues
How insane is this EPL season? In no particular order, Chelsea are in a relegation battle, Manchester United are unwatchable, Manchester City are praying for Pep Guardiola, a previously rampant Liverpool lost to Newcastle and Arsene Wenger is a no-longer-closeted fan of the reggae prophet, Bob Marley.
On second thought, maybe the Wenger-Marley connection is not as bizarre as it seems. After all, how often this season has the Arsenal manager observed one of his players writhing on the turf and been reducing to yelling "Get up, stand up ..."
At any rate, I was standing in the mosh pit of my local pub on Saturday morning, waiting for the cavalcade of 10 a.m. Premier League matches to kick off and chatting with two guys named Jason about the increasingly surreal title race that no one appears to want to win. "Not a bad start to the day," said the United fan, Jason Celovsky, nodding toward the big screen at The Football Factory in New York after watching Xherdan Shaqiri do a passing impression of Andres Iniesta and beat formerly league-leading City 2-0.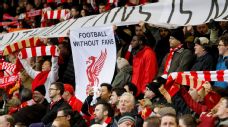 "I'll raise a glass to that," said Leicester supporter Jason Becker, a pint of frothy confidence-builder in his hand as he tried desperately to keep his feet on the ground. "Here's to the Big Three!"
I really hope he was including Arsenal in that group, but I couldn't be sure because just then a wave of New York Foxes, kitted out in jerseys and scarfs, came bouncing into the bar chanting "James Vardy is having a party" and bedlam reigned.
It takes a cold-hearted cynic -- or perhaps Jose Mourinho -- not to like a bunch of fans dreaming of their first top-flight title after 131 years of toiling in near anonymity (show of hands if you can locate Leicester on a map) and yo-yoing between relegation and promotion 16 times. So I thought I better write about them before it's too late, which could be any minute now given that their next four fixtures are Chelsea (home), Everton (away), Liverpool (away) and Man City (home).
The worry is that Vardy could be so worn out from celebrating his double hat trick after running at that creaky Chelsea backline that he'll have nothing left for the three difficult contests to follow.
So with that in mind, here are four reasons to fear the top-of-the-league Foxes.
1. Everyone else is garbage
It is an undeniable fact that Leicester are the most consistent team in the league, and now that the Foxes have picked up the scent of the top four, they are unlikely to go gently into the good night. It is also an incontrovertible truth that Leicester's league-leading 32 points are one of the lowest totals at the 15-game mark in Premier League history. Whether this means that the world's most exciting league has achieved a higher level of parity or parody matters little to Leicester fans as long as their Foxes are capitalizing on everyone else's bumbling ineptitude.
Last year's champions Chelsea (excuse me while I fall to the floor in paroxysms of laughter) have staged the most gloriously pathetic title defense since Brian Clough took over from Don Revie at Leeds United in 1974, culminating with Saturday's 1-0 loss at home to Bournemouth in a critical relegation six-pointer. Manchester City who certain pundits (cough, cough) thought would be 10 points clear at this stage have been oddly listless, especially when Yaya Toure, Vincent Kompany and Sergio Aguero are out of the lineup as they were this past weekend.
On the red side of Manchester, United are still struggling to master Louis No Goal's "process," which as far as I can make out consists of shooting as frequently as possible while competing to see who can miss the goal by the most obvious margin (on Saturday, they had one shot on target in 20 flailing attempts) and the best you can say about Arsenal is that Olivier Giroud can score at either end.
So why can't Leicester harbor the tiny, minuscule hope given that they have some genuinely gifted players, an experienced, tactically astute manager and an irrepressible team spirit that has them brimming with confidence?
2. The Foxes are playing with house money until January
While the rest of the top teams are redefining "failing to meet expectations," Leicester didn't have any. At this time last season, they were dead last and only a late surge masterminded by their bully boy then-manager Nigel Pearson allowed them to Houdini relegation. Even now, new headman Claudio Raneiri has stated repeatedly they are only looking to secure the necessary 40 points to assure themselves of safety again. Ardent Foxophiles also fear that Ranieri is right.
"If you offered me a top-six finish right now," said Jason Becker, the leader of the delirious Leicester crew at The Football Factory. "I'd rip your hand off." It's a good thing he didn't, because I was holding a beer and I hate to waste Stella. But look at it this way: Right now Leicester are only eight points off their safety target after 15 games. And they are 22 points clear of the relegation zone or, as I like to think of it, 17 points ahead of Chelsea.
Still the second silly season awaits, the January transfer window, and it's hard to imagine that Vardy and Riyad Mahrez, a pair who cost less than $2.5 million combined, aren't going to attract serious attention. Maybe Leicester's toughest opponent aren't the three top tier teams they play in December, but the transfer window instead.
3. There's more going on here than just Vardy plus 10 scrappers
Before Saturday, casual watchers of Leicester (all three of you) could have been forgiven for thinking of the Foxes as the Jamie Vardy show. After all, until suffering his recent goal "drought" against Swansea, Vardy had scored in 11 consecutive Premier League games and invited comparisons (from Louis van Gaal, no less) to my personal Arsenal god Dennis Bergkamp.
The conventional wisdom claimed that if you stopped the former factory worker from Sheffield, you stopped Leicester. And while that might be the popular perception, he's not the only one getting his jam on, as Swansea can attest. Vardy's 14 goals put him only four ahead of his teammate Mahrez, whose eye-catching hat-trick on Saturday only underlined what Leicester fans already knew: The France-born Algerian winger has quietly emerged as one of the best players in the league. Vardy and Mahrez's combined 24 goals are four more than the entire Manchester United squad.
Ironically, both were considered too small (Vardy) or frail (Mahrez) to make it in the top echelons of their respective leagues in England and France. But both also enjoy searing pace and the ability to beat their man off the dribble, making them difficult to defend once they engage the after-burners. Manchester United's Ashley Young and Arsenal's Hector Bellerin, two of the faster wing-backs in the league, still have scorch marks from trying to keep up with the Leicester duo.
Against the Swans, Vardy wasn't his usual clinical self, but it hardly mattered as Mahrez finished his chances (including the patently offside one for the second goal) with ruthless precision. Leicester is the anti-Arsenal, A refreshing rebuke to the preachings of Wenger and Guardiola that possession is nine-tenths of the law. The Foxes have the worst passing completion rate in the league but are on top of the standings for long balls out of the back. The football isn't technically pretty, but Leicester are fun to watch.
4. Claudio Ranieri has made a fool of us all
When the Italian was first hired, the British media was less than impressed. Here was a 64-year-old man who had never won a league title at any of the big European clubs he coached (Chelsea, Valencia, and Roma, to name just three) and was coming off a failure so pronounced that his Greek national team lost four of five matches including one at home to the Faroe Islands. The Faroe Islands! No wonder that former Leicester striker and Spurs icon Gary Lineker greeted the news by tweeting "Ranieri? Really?"
Granted, Ranieri is far less entertaining than his predecessor Pearson -- he has yet to wrestle an opposing player to the ground or compare a journalist to an "ostrich" -- but he has other qualities. When Leicester kept their first clean sheet of the season, he took the entire team out for pizza. He keeps photos of all 20 Premier League managers on the wall of his office presumably so that he can remember their names.
If Pearson brought the feel-good factor back to King Power stadium last season, when the Foxes went on a sensational run that saw them win seven of their last nine games to stay up, Ranieri has provided something just as valuable: solidity. Those who feared "The Tinkerman" would live down to his nickname and dismantle the system in place have been pleasantly surprised.
The Italian has essentially stuck to the same lineup as his predecessor while tweaking the formation to give greater freedom to his wingers, Mahrez and Aston Villa cast-off (oh how they'd love to have him back) Marc Albrighton to launch their lightening counters. Ranieri has kept faith with Leicester's robust backline, anchored by the hulking German Robert Huth and ably shielded by N'Golo "The Rash" Kante and the ever-improving Danny Drinkwater.
Ranieri is wise enough to know it will get tougher once the Foxes play teams in the top half. "A lot of people are curious," he says, "about whether Leicester will stay at the top or return to middle."
Or, to paraphrase Gary Lineker, "Leicester? Really?"
Yes, Leicester.
David Hirshey is an ESPN FC columnist. He has been covering soccer for more than 30 years and written about it for The New York Times and Deadspin.