David De Gea, Fabian Delph lead Premier League Team of the Weekend
After each round of Premier League fixtures, ESPN FC brings you its Team of the Weekend. Our panel of experts carefully selects 11 star performers, along with a manager.
Do you agree or disagree? You can have your say on those picked or overlooked in the comments section at the foot of the article or on Twitter using the hashtag #TOTW. Plus, tune in to Monday's ESPN FC show (5:30 p.m. ET, ESPN2) for further reaction.
Goalkeeper: David De Gea, Man United
Faulty technology is usually a source of frustration, but Manchester United must be thanking their deity of choice daily that an errant fax machine supposedly held up the transfer of David De Gea to Real Madrid. If Manuel Neuer is widely regarded as the best goalkeeper in the world, then the Spaniard is hot on his heels and he displayed exactly why on Sunday against Liverpool.
"The only reason United took the points from Anfield," said Paul Mariner, while Steve Nicol simply added "I've run out of things to say about this guy." Then we shall say no more.
Right-back: Pablo Zabaleta, Man City
One of the reasons Manchester City had an underwhelming campaign last year was the under-performance of previously reliable individuals -- in particular Pablo Zabaleta, their hitherto ultra-dependable right-back. Things are looking up in that respect though, given his performance in City's comfortable 4-0 win over Crystal Palace on Saturday. In his first league start since the middle of October, Zabaleta excelled, enough to earn a unanimous election to this edition of team of the weekend.
"Makes his first league start in three months and makes it count, offering a steady outlet down the flank," said Gabriele Marcotti, while Mariner described his performance as "marauding" and Nicol kept it pithy: "He's back."
Centre-back: Chris Smalling, Man United
In the summer it looked like a dreadful gamble for United to go into the season with Chris Smalling as their most senior central defender, but he has proved those doubts wrong with some superb performances in the campaign so far. He turned in an impressive one against Liverpool on Sunday and while it wasn't exactly the most enthralling or high quality of games, Smalling did stand out with a fine defensive display. "His presence helps turn Liverpool's possession sterile," said Marcotti. "Big performance in a big game."
Centre-back: Toby Alderweireld, Tottenham
Smalling can make a case to be the most improved central defender in the league this season, but Toby Alderweireld is probably the best and he showed why again this weekend. He may have "only" been facing Sunderland but Sam Allardyce's team have shown some signs of life recently, life that was largely snuffed out by another excellent showing for the big Belgian.
Another popular choice with our panel, Nicol called Alderweireld "the most consistent centre-back in the division" while Mariner described him as "accomplished," this week and every other.
Left-back: Charlie Daniels, Bournemouth
One of a few players to have been with the Cherries since their League One days, the story of Charlie Daniels is almost as heartening as that of the club as a whole. However, Eddie Howe isn't just keeping him in the team for sentimental reasons, particularly if he continues to play as he did during Saturday's 3-0 victory over Norwich.
Daniels smartly converted a penalty, set up another for his side and gave them some vital width to dismiss Alex Neil's improving side. "Why does he never get the credit?" asked Nicol. Well, he's getting some now.
Right Midfield: Georginio Wijnaldum, Newcastle
There hasn't been a great deal to provide cheer at Newcastle this season, but one thing that has most certainly given their fans something to feel better about is the form of summer signing Georginio Wijnaldum. The Dutch midfielder has nine league goals to his name now, the latest being the crucial strike in their 2-1 victory over West Ham at St James's Park, a win that lifted them out of the relegation zone.
"Full of energy; wonderful late runs from midfield," said Mariner, a pretty accurate summary of the good things Wijnaldum has brought to Steve McClaren's side.
Midfield: Christian Eriksen
For much of this season, Tottenham's chief playmaker has been a little disappointing despite his side's successes, perhaps overshadowed by the likes of Mousa Dembele, Dele Alli and Eric Dier. However, he looked something close to his best on Saturday as Tottenham swept Sunderland aside 4-1, with Eriksen scoring two (admittedly quite fortunate) goals and generally being the creative hub.
"A long-range ballistic prowess yields a couple of goals for the Dane, whose role has changed ever so subtly this year," said Marcotti.
Midfield: Fabian Delph, Man City
The start to Fabian Delph's Manchester City career might be best described as "stunted," with injuries and uneven form contributing to fewer appearances than he might have hoped for after making the move from Aston Villa. However, he completed 90 minutes for the first time against Crystal Palace and made the most of it too, producing a fine performance at the heart of their midfield and capping things off rather well with a goal in a 4-0 win.
"[Man City] were waiting for a game like this," said Marcotti. "He's everywhere defensively and pops up at the other end with a goal too. Value added." Mariner described his game as "powerful" and if he continues like this, a place in the England squad for Euro 2016 is a distinct possibility.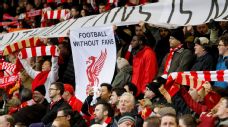 Midfield: James Ward-Prowse, Southampton
Southampton are back by the looks of things. After a long run in which their form looked sketchy to say the least, they've won two on the bounce, the latest of which was in a large part down to a fine showing from James Ward-Prowse.
"He's showing his maturity," says Nicol about the midfielder who opened the scoring for the Saints and then emphasised their superiority with a second from the penalty spot. "It's easy to forget he's still just 21, because he often plays like a veteran," said Marcotti.
Forward: Wayne Rooney, Man United
It's unlikely we'll ever see Wayne Rooney return to the form of his youth, rediscovering the electric presence that thrilled us all enormously more than a decade ago, but becoming an effective Premier League striker for a while will be fine for a Manchester United side that has lacked dynamism all season.
Rooney scored the only goal of 1-0 win over Liverpool that few will call a classic, but that's his fifth strike in his past four games, all of which have been proved the difference for his team. "OK, not the best performance," admitted Marcotti, "but that goal was huge. Comes alive at the right time."
Forward: Sergio Aguero, Man City
Another striker in Manchester whose season hasn't gone exactly to plan, albeit for other reasons, Sergio Aguero is perhaps the finest player in the division when he's fit and on form. The Argentinean guided City to their comfortable 4-0 win over Palace with another fine display and a brace of goals, as well as laying one on for David Silva when he could easily have completed his hat-trick.
"When close to 100 percent fitness, he is unplayable," said Mariner, while Marcotti said: "Strike partners change, formations change, he does not [as long as he's fit]."
Manager: Steve McClaren, Newcastle United
There was a point earlier in the season when Steve McClaren's position at Newcastle looked untenable. He's still not entirely safe in his role at St James's Park, but he has now overseen a few impressive performances in a row: They were unlucky not to get anything from the trip to Arsenal, came back to draw 3-3 with Manchester United and completed an efficient 2-1 win over West Ham this weekend. It was enough to take them out of the bottom three and for a few days at least, he will be able to breathe a little easier.
Nick Miller is a writer for ESPN FC, covering Premier League and European football. Follow him on Twitter @NickMiller79.