Leicester City keep getting better as Premier League title race heats up
We should no longer be surprised by Leicester's continued excellent form, but the manner with which they defeated previous title favourites Manchester City on Saturday was quite staggering. Having taken the lead following the game's first significant incident, Leicester continued to counter-attack dangerously and only looked under serious pressure in the final 10 minutes, perhaps when they thought the game was already won. Is complacency really going to be the factor that allows other sides back into the title race?
One of the craziest things about Leicester City's rise is the fact they're playing the opposite type of football from their title rivals. Manchester City, Arsenal and Tottenham all average around 55 percent of possession, roughly par for recent Premier League winners, but Leicester's share is down at 44 percent. Only Sunderland and West Brom -- coached by Sam Allardyce and Tony Pulis, the two Premier League coaches who unashamedly preach the value of long-ball football -- see less of the ball than title favourites Leicester. In terms of pass completion rate, Leicester are the "worst" team in the Premier League.
Of course, this is simply evidence of Leicester's counter-attacking game plan. No other Premier League side have scored so many goals on the break this season, and Leicester can count upon two genuinely outstanding counter-attacking players at the heart of it.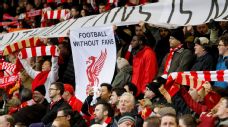 Jamie Vardy always positions himself in the channel. Often it's on the opposite side to the ball, so Leicester can hit a long diagonal ball for him to chase rather than a simple straight ball down the line, which will run out of play. It's an approach similar to that used by Antonio di Natale during his peak years with Udinese, a style of positioning and movement that somehow makes long-ball football sexy.
Then there's Riyad Mahrez, who started the season on fire and has improved significantly since then. Initially, he was determined to cut inside from the right onto his left foot, which is partly why Manuel Pellegrini fielded Fabian Delph in a narrow left-sided role at the weekend and instructed him to block potential dribbles infield. But Mahrez twice showed how he has developed his game. He won the free kick for the opening goal when dribbling down the outside of both Delph and Aleksandar Kolarov, the man who committed the foul -- precisely the movement that the City duo didn't expect.
Even more crucially, he fired in the second goal on the counter-attack by bursting through the middle before turning inside onto his right foot -- much to Martin Demichelis' surprise -- and lashing the ball into the net. That goal was also interesting for how and why Mahrez found such space through the centre of the pitch: Vardy and support striker Shinji Okazaki had both peeled off into the channels, typical of their movement.
Indeed, if there's one crucial thing about Leicester in a tactical sense, it's the roles of the front two. Their attacking movement sends them running into the space on the outside of the centre-backs, but their roles without the ball are equally fascinating.
Okazaki, the deeper of the two, drops off into a much deeper position and strictly marks one of the opposition's holding midfielders only to race forward against once possession is regained. Earlier in the season, Vardy was doing the same in big matches (in the home defeat to Arsenal, for example) but he's now such an attacking threat that Ranieri has given him license to play higher up more permanently. Vardy still concentrates on preventing easy passes into the other midfielder from the centre-backs, however.
The deep positioning of the front two helps out everyone else. It means Leicester can play a midfield duo, Danny Drinkwater and N'Golo Kante, without being outnumbered because the zone these players have to cover is minimised. They don't have to advance high up the pitch. In turn, that means Wes Morgan and Robert Huth can stay deep on the edge of their own penalty box, which is vital because both are severely lacking in pace.
There were a few moments in the first half at the Etihad where Leicester's system actually collapsed, somewhat unusually, and Morgan found himself closing down Sergio Aguero in midfield positions. It was disastrous -- Leicester's skipper looked entirely uncomfortable and was booked for persistently fouling the Argentine. It's worth remembering how nervous Morgan looked at the start of last season when Leicester were playing much more open football. His improvement this season owes much to the organisation of the players in front of him.
The narrowness of Leicester is also crucial. The full-backs tuck inside, Marc Albrighton shuttles up and down in a more defensive role than Mahrez, and the midfield quartet stay tight together when moving laterally across the field, forcing opponents to go around them. Leicester congest the centre of the pitch and break up play in numbers, which explains how they've made the most interceptions in the Premier League and only Liverpool have made more tackles.
When marvelling at Leicester's fine organisation, it's impossible not to think of Atletico Madrid, particularly their title-winning side of 2013-14. Vardy is Diego Costa, always prowling in the channels, while Okazaki's role is similar to that of David Villa, who simply didn't have the acceleration to cause defenders problems at the end of that season -- he didn't manage a goal or an assist in his final 14 games for Atletico -- but performed an absolutely superb defensive role.
In fact, it's notable that the two biggest overachievers this season, Leicester and Watford, are both managed by ex-Atletico managers, Ranieri and Quique Sanchez Flores, and use the most impressive deep defensive blocks in the league. Atletico, whose incredible title success that year showed the way for underdogs to triumph, should really have been imitated more by Premier League sides.
The other area in which Atletico succeeded was maximising set-piece opportunities, and it's notable that Leicester's opener at the weekend came in this manner. This is crucial for title contenders who want to play on the counter-attack because eventually opponents work out the approach and will naturally stop denying them space into which they can break. Leicester may yet encounter problems against defensive-minded sides because swinging crosses toward 5-foot-11 Vardy and 5-foot-9 Okazaki in open play won't reap rewards, and there's a lack of genuine creativity in midfield to play penetrative passes in tight spaces. But if Huth and Morgan can add early goals from set plays, Leicester will then have license to play on the break.
Liverpool discovered something similar during their unlikely title challenge two years ago: The memorable 4-0 and 5-1 wins over Everton and Arsenal, respectively, were notable for the brilliant counter-attacking, but that was only possible once Liverpool had been nodded into the lead by two headers from set plays.
Of Leicester's eight league games, six are against the other "bottom seven" sides in terms of possession: Norwich, West Brom, Watford, Newcastle, Crystal Palace and Sunderland. These are not intimidating games on paper, but it will make counter-attacking tougher than against many other teams.
Mahrez should be Leicester's inspiration down the stretch, but just as he has learned to go "the other way" and surprise opponents, Leicester might need to develop another trick as well.
Michael Cox is the editor of zonalmarking.net and a contributor to ESPN FC. Follow him on Twitter @Zonal_Marking.