Liverpool's Kolo Toure - Emirates move cost Arsene Wenger's Arsenal
Arsenal's Emirates Stadium move in 2006 is the reason for the club's failure to win the title in recent years, according to Liverpool defender Kolo Toure.
Arsenal were last crowned Premier League champions in 2003-04, when Arsene Wenger's men went unbeaten in one of their final campaigns at Highbury, before winning the FA Cup the following year and then reaching the 2006 Champions League final.
After the move to the Emirates Stadium, Wenger did not guide the team to any further silverware until securing success in the FA Cup and Community Shield in both 2014 and 2015.
Toure, who played for Arsenal between 2002 and 2009, feels the financial implications of building the new ground restricted the club's ability to operate effectively in the transfer market.

Liverpool

Arsenal
Game Details
The Ivorian is expected to be fit to line up for Liverpool against Arsenal on Wednesday and, asked why he felt Wenger had been unable to replicate his early success, he said in the Daily Telegraph: "The new stadium.
"I am not inside any more but there has been a lot of change. A lot players left the club, guys like Patrick Vieira, leaders left the club and it was quite difficult, but this policy started when they started the new stadium.
"Everything changed. They needed to sell some players, cut the wage bill and that is all about it.
"I think they lost so many experienced players. Patrick Vieira was a leader, Robert Pires was a top player, Thierry Henry left and sometimes you need experience at the club and then a young player can learn, that is one of the things."
Arsenal shareholder Alisher Usmanov said in August that the move to the Emirates had left Wenger in a "very, very difficult position" but the Frenchman has more recently been able to invest in elite signings such as Mesut Ozil and Alexis Sanchez while resisting interest in key stars.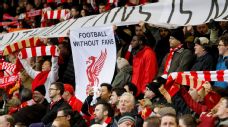 Toure, though, suggested Wenger's greatest skill is in identifying talents that had yet to fulfil their potential and ensuring they become elite stars.
"Wenger is a top manager, he has shown that unbelievably," Toure added. "The thing I like is this manager can make an average player one of the best players in the world. He did that with so many players."
He cited the examples of 1995 Ballon d'Or winner George Weah, who rose to prominence after joining Wenger's Monaco team in 1988, as well as Vieira and Henry, who had been making limited impact during spells with AC Milan and Juventus respectively before moving to Highbury.
Toure, who signed from Ivorian club ASEC Mimosas, added: "He made a lot of players into top players. He is a fantastic manager.
"He did that with me because I started from nowhere. He took me to the next level and I always respect him for that."