Arsenal boss Arsene Wenger told Liverpool's Jurgen Klopp to calm down
Arsene Wenger has revealed he advised Jurgen Klopp to "calm down" when the Liverpool boss confronted the fourth official during the 3-3 draw with Arsenal on Wednesday.
Klopp had been unhappy that Arsenal were awarded a throw-in during the game at Anfield and Wenger feared the former Borussia Dortmund boss would be punished.
Wenger told reporters: "I told him to calm down as they will send you into the stand here because at Liverpool you are very close to each other.
"He will explain that better to you than I would as I don't really know why. I think it was for a throw-in. There was no bad feelings at all."

Liverpool

Arsenal
Game Details
Klopp, who had praised Wenger in the build-up to the game, said: "I told Arsene why I was a little bit emotional. It was a clear throw-in for us in a good moment, a good phase. I said what I said, he [the fourth official] said what he said.
"Obviously it was too much and he told the referee, but I had nothing with Arsene Wenger, no problems.
Substitute Joe Allen had equalised for Liverpool in the 90th minute equaliser against Arsenal, who had come back to lead 3-2 after Roberto Firmino had twice given Liverpool the lead in the early stages.
Klopp added: "It was a great football game and ultimately we will talk about this game, maybe not for too long because on Sunday we play Manchester United but it is not easy to forget. I think overall we deserved a draw."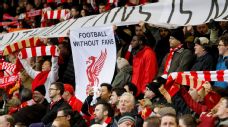 Meanwhile, Klopp brought on centre-back Steven Caulker, who joined on loan from QPR this week, as a makeshift striker as Liverpool chased the game.
"I thought it was a good idea, but after the goal he tried to stay as a striker and we had to shout really loudly to change our tactics!" Klopp said.
"He won three or four headers, important headers for us, and so it was a good change and for him, a good debut."