Frank Lampard backs 'shocking' Chelsea to improve current form
MANHATTAN BEACH, California -- Former England international and current New York City FC midfielder Frank Lampard says it's "shocking" to see Chelsea FC closer to the foot of the Premier League table than the top, but is still backing the club to climb into the top half this season.
Just eight months after lifting the Premier League trophy, Chelsea currently finds itself in 14th place, just four points above the relegation zone, despite being unbeaten in their last six games.
"We're not used to it," Lampard said about Chelsea's league position. "I was really fortunate to part of a really good era. A bad season was like second, third, or fourth at the most, so I think it's shocking. Now, I think the club will come back.
"They're a huge club, and there's obviously been issues there. You see that when they fire the manager who won the league six months before. I know a lot of people at the club. They will come back."
Chelsea's poor form ultimately cost manager Jose Mourinho his job, with the club dismissing him back on Dec. 17. Lampard said it wasn't clear-cut as to whether that was the right solution.
"I think it was a difficult call. It's not easy to say whether it was the right or wrong solution until you look back and how it goes in the future, the next two or three years," Lampard said. "Nobody was happy at Chelsea. The players wouldn't have been happy with its position. Jose Mourinho himself wouldn't have been.
"Sometimes that means a change. Chelsea are very used to change, but what they've always had is results, so I'd like to see them get back to the top half of the table very soon."
Lampard added that he expects there to be a revamping of the squad, but that he doesn't expect that to happen during the current transfer window.
"From seeing some of the games I saw when I was back in England over the Christmas period, I think they need a new injection around the team," he said.
"And it's strange because a year ago, you're thinking, 'They've got a great squad and if they add to it they can really go.' Now you're thinking, 'The need to revamp, to change some players.' I think that will happen in the summer. I think there will be three or four or five players and positions in the team that change around.
While Chelsea have struggled mightily, Leicester City have been the surprise package of the EPL campaign. The Foxes are currently in second place, level on points with first place Arsenal. Yet Lampard doesn't think Leicester will be able to last the pace, and win the title.
"I don't think they can [win it], but we've all been saying all season we've been waiting for them to fall," Lampard said about Leicester. "I don't want to sound disrespectful. It is the great story of the Premier League this year. I've worked with Claudio Ranieri, so I'm delighted for him.
"I think Leicester is a very good club and we should all be happy because it makes the league competitive. It's nice to see a club like Leicester fighting for the title, but I just get the feeling that when push comes to shove, towards the end, it will be between Arsenal and Manchester City. I think they are the two teams that are going to fight it out."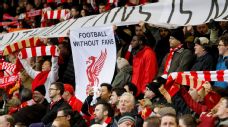 As for England's prospects at Euro 2016 this summer, Lampard noted he likes the young talent that is beginning to establish itself in the England squad. The likes of Harry Kane, Raheem Sterling, Dele Alli and John Stones are all poised to play more prominent roles this summer.
"We're a country of high expectations," he said. "That comes with the territory of playing for England. I think it's going to be difficult to win it this year. I think we've got an exciting young team. We'll all support them, and it's nice to see the development of the team of players.
"We didn't see the exciting young players two years ago. Now we see them in this squad. This might be a tournament too early for us to really challenge, but it's great to see that we've got exciting young players there."
Lampard also commented on the upcoming MLS season with NYCFC. The team endured a difficult season, albeit one that is fairly typical of expansion teams in MLS. That reality wasn't enough to save manager Jason Kreis his job, though Lampard was complimentary of his former boss.
"I think Jason Kreis is firstly a good man and second of all a good coach and he'll come back and have his time somewhere else now," he said. "I'm sure he's got a very good future as a manager in the MLS or wherever. I think as a club, decisions are made. As a player you need to keep your focus and worry about yourself."
The hiring of former Arsenal midfielder Patrick Vieira as NYCFC manager was described by Lampard as "a great choice." The two crossed paths during Lampard's stint with Manchester City while Vieira was coaching the team's U-21s.
"I spoke to [Vieira] at the back end of last season when he was appointed," said Lampard. "I think he spoke to every player one-on-one. I think he'll bring experience.
"He was a top, top player obviously, and he's been carrying experience as a coach in Manchester for a few years. One thing for sure is the players will all respect him and try and do our best for him."
Lampard indicated that after playing non-stop for the last few years, he welcomed the MLS offseason and didn't find it to be too long, especially given that NYCFC had a friendly in December. That said, he's eager to get started with preseason and start building some chemistry with his teammates.
"I'm really looking forward to it," he said. "A huge thing is resting and resting your mind, getting away from it, but I think for me now to have five to six weeks with the lads I think is important for me personally and important for us as a team to start working off each other, getting used to patterns of play and how we're going to play together this year.
"For me and the club, I think a real set preseason -- and Andrea Pirlo is here now as well from the start -- so we're all more positive going into it in this way."
Jeff Carlisle covers MLS and the U.S. national team for ESPN FC. Follow him on Twitter @JeffreyCarlisle.