German clubs dominated Europe in 1979-80 as Frankfurt took UEFA Cup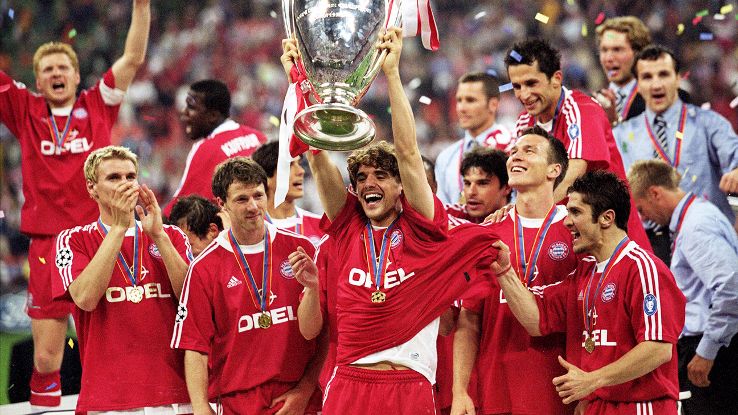 When European football resumes Tuesday night, it should be noted that six Bundesliga clubs are still active in the Champions League and Europa League. It is interesting, but it's not a record. That was set only two years ago, during the 2012-13 season, when seven German sides survived the group stages in the two major continental competitions.
However, despite Bayern's eventual 2-1 triumph over Dortmund in the Champions League final, it wasn't the most successful German campaign ever in Europe. More remarkable was 1996-97, when Borussia Dortmund won the Champions League and Schalke lifted the UEFA Cup (now the Europa League.)
Yet we have to go back even further to find the season in which the Bundesliga dominated European football to an unprecedented and since unmatched degree.
In 1979-80, seven West German teams competed in Europe. Six of them were still active in March, five still challenged for honours in April, and three made it all the way to the finals in May.
The great Hamburg team starring former Liverpool legend Kevin Keegan represented the league in the European Cup (now the Champions League), while Fortuna Dusseldorf competed in the Cup Winners' Cup (now defunct) for the second year running. These might have been the two premier competitions, but at the time, almost everybody agreed the true indicator of a league's quality was found in the UEFA Cup, which had the other five. Here is how that remarkable year played out.
Cup Winners' Cup
Only Fortuna were knocked out in the early stages. Drawn against Scottish giants Rangers in the First Round, they came away from Glasgow with a decent result, a 2-1 defeat, but the second leg in early October finished 0-0, and they exited a competition, which only a few months previously had seen arguably the greatest Fortuna game (the 4-3 final defeat at the hands of Barcelona.)
European Cup
On their way to a 1-0 European Cup final defeat by Nottingham Forest, the Hamburg team coached by Branko Zebec delivered possibly their greatest ever game in the semifinals; a match we have briefly mentioned before (Those Spanish nights live in my heart, April 13, 2013).
Having eliminated Hajduk Split on away goals in the quarterfinals, the Germans were drawn against mighty Real Madrid, who had German international Uli Stielike. At the Bernabeu, missing sweeper Ivan Buljan, Hamburg never stood a chance. Two second-half goals from Santillana won the game for the Spanish champions, who had another goal chalked off in the first half.
But two weeks later, things were very different. Dressed in blue, Los Blancos were down 2-0 after barely a quarter of an hour. First, Keegan won a penalty, which was considered controversial at the time but would be totally undisputed today, as Angel Perez Garcia's tackle was clumsy and late and missed the ball by a full yard. Then Horst Hrubesch converted Willi Reimann's cross with a flying header.
However, on the half hour, Hamburg's goalkeeper Rudi Kargus, who'd already struggled with high crosses in Madrid, blundered and gifted Laurie Cunningham a goal that put Real in a comfortable position. After all that, Hamburg now needed another two goals.
Amazingly, they got them even before the break. A great Manfred Kaltz strike from more than 20 yards and another powerful Hrubesch header made it 4-1 before Caspar Memering added a fifth in the dying seconds of the match.
Despite this triumph, Hamburg's season would end on a few sour notes. The team lost the final against a dour and defensive but well-organised Nottingham Forest team. When the players, in the company of their wives and girlfriends, drowned their sorrows at the team's hotel, something made Zebec snap.
The coach ordered five taxis, told the ladies to leave immediately and commanded the players to go to bed. On the following morning, he called off the next training session and told a reporter of kicker magazine: "I don't train with drunks."
Coming from a man who had such a serious drinking problem that he'd once dozed off during a game, this remark was too much for the players. From that point on, the relationship between the coach and his team deteriorated rapidly.
UEFA Cup
Bayern Munich, Kaiserslautern, VfB Stuttgart and Eintracht Frankfurt had qualified through their league positions, while Borussia Monchengladbach entered as titleholders, having won the 1979 edition against Red Star Belgrade. Yet no foreign club managed to eliminate a Bundesliga team -- they had do it themselves!
In the first three rounds, the West German contingent got past some good sides. To name but a few, Frankfurt defeated Aberdeen and Feyenoord; Bayern beat Red Star Belgrade; Stuttgart knocked out Torino; Gladbach eliminated Inter Milan; Kaiserslautern stopped Sporting Lisbon.
So it was inevitable that the teams would have to play each other. The first all-Bundesliga duel was staged in the quarterfinals, in which Kaiserslautern were drawn against Bayern. The Munich giants ultimately prevailed, but it was close. Kaiserslautern won the home leg 1-0, thanks to an 18-year-old kid by the name of Axel Brummer, who went past Hans Weiner and Paul Breitner to score from 18 yards.
In the following week, the two teams shared the spoils in the Bundesliga (1-1), and another four days later they met in Munich for their European return leg. With just 17 minutes left on the clock, Bayern were 2-1 up, a result that would have been enough for Kaiserslautern, dressed in unfamiliar green shirts, to progress on away goals.
But then Kaiserslautern's goalkeeper, club legend Ronnie Hellstrom, couldn't hold on to a Norbert Janzon free kick; Klaus Augenthaler went for the loose ball and was brought down. Breitner converted the ensuing penalty, before Dieter Hoeness added some insurance with a goal on 82 minutes.
While Bayern squeezed past Kaiserslautern, Gladbach convincingly beat Saint-Etienne, Stuttgart had no problems with Lokomotiv Sofia, and Frankfurt easily knocked out Czech side Zbrojovka Brno. (The aggregate score was 6-4, but two of the Czech goals came in the final two minutes of the second leg, when the outcome was no longer in doubt.)
Once the dust had settled, all four teams in the semifinals of the 1980 UEFA Cup came from the Bundesliga.
We have already mentioned one of the two semifinals a fortnight ago (Remembering the life of Austria legend Bruno Pezzey, Feb. 2, 2015), so let's summarise by saying Frankfurt knocked Bayern out after extra-time and instead look at the other all-German encounter: the Gladbach-Stuttgart tie. Stuttgart might have been slightly favoured because they were playing a fine league season, while Gladbach were clearly in decline and no longer the force they had been throughout the 1970s.
But under European floodlights, Gladbach were always able to recapture a bit of the old magic. In the away leg, they gave a masterclass in the counter-attacking game that had been their trademark for so long. Only two very late goals, one from a penalty Gladbach's coach Jupp Henyckes called "dubious" in postmatch, salvaged a narrow, 2-1 win for Stuttgart.
Heynckes also told kicker: "We will reach the final again!" He was proved right two weeks later, when a 19-year-old called Lothar Matthaus not only marked Stuttgart's playmaker Hansi Muller out of the game but also headed home Gladbach's first goal. The future coaching legend Winfried Schafer, playing his best game since rejoining the club three years earlier, added a second goal, and Gladbach were through to the two-legged UEFA Cup final for the fourth time since 1973.
The first player to find out whom they would meet in these games was Matthaus. According to kicker, he raced into the dressing room and told his teammates with a broad grin: "We are playing Frankfurt!" You can understand why he preferred Eintracht to Bayern, but not everyone shared the young man's enthusiasm. "The away leg will be a handful," Schafer told reporters. "Frankfurt are unpredictable in those midweek games at their own ground."
For their biggest game since the 7-3 defeat to Real Madrid in the 1960 European Cup final, Eintracht were missing their greatest player -- because of Matthaus. In the final stages of the two teams' league game in March, Jurgen Grabowski had been forced to come off with a foot injury after a collision with Matthaus.
The 35-year-old Grabowski never played again, and to this day Eintracht's fans deeply resent Matthaus because of what they consider a rude foul. (The referee didn't give a free kick. Some contemporary accounts speak of an unfortunate collision. Grabowski, though, says it was a foul.) In fact, the fans' long memory was a major reason Matthaus couldn't become Frankfurt coach in early 2001.
You could say it had a touch of poetic injustice that it was none other than Matthaus who was Gladbach's best man in the first leg. With only a dozen minutes left, a very strong Eintracht side held a thoroughly deserved 2-1 lead away from home. But then Matthaus, who'd already been instrumental in his side's first goal, equalised with a fine, left-footed shot from the edge of the penalty area. In the 88th minute, a flying header from Christian Kulik even won the game for the titleholders.
The return match was a nail-biting affair. Frankfurt were the better team in the first half but wasted a number of chances. When the hosts began to tire after the restart, Gladbach had a few dangerous counter-attacks, but the game was still scoreless after 77 minutes, when Frankfurt coach Friedel Rausch made a substitution.
He brought on a rarely used, 19-year-old player by the name of Fred Schaub. Under normal circumstances, Schaub shouldn't have been available because he had been suspended for eight weeks by the German FA (DFB) after being sent off in a reserve game. For the fourth time during the season, Frankfurt asked the DFB to be granted an exemption for a European match. (The other cases had involved Bruno Pezzey, twice, and Werner Lorant.)
For the fourth time, the DFB said yes. Four minutes after coming on, Schaub scored the goal that won the UEFA Cup from 10 yards -- and with his weaker, left foot -- as Frankfurt sealed a 3-3 draw on aggregate and won on away goals.
After the final whistle, the players carried the injured Grabowski, dressed in plain clothes, on their shoulders while the ecstatic Eintracht fans chanted his name. When captain Bernd Holzenbein received the trophy from the UEFA representatives, he immediately passed it on to Grabowski.
Less than four weeks later, two Hrubesch goals won the 1980 European Championship for West Germany to complete the Bundesliga's triumph and end a remarkable year of football for the country.
Uli covers German football for ESPN FC and has written over 400 columns since 2002.