Bayern and Real Madrid can take heart from Top Tenner of UCL comebacks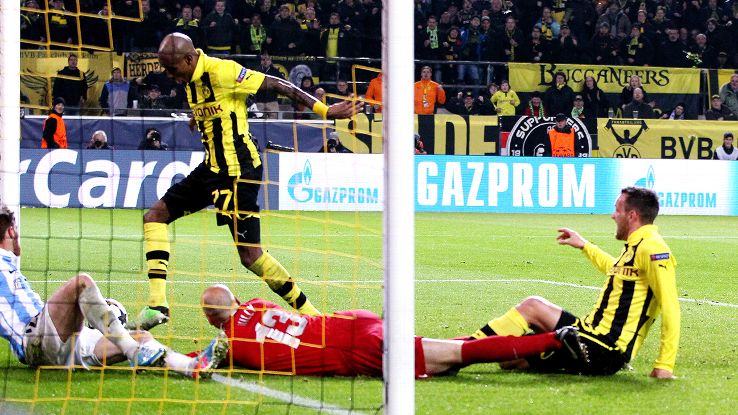 On Tuesday night, Bayern Munich will try to overturn a 3-0 deficit in the Champions League semifinal against Barcelona. The good news is, this sort of thing has been done before...
10. Borussia Dortmund vs. Malaga, 2013
This one isn't quite so much the tale of a first-leg lost cause turned around (it ended 0-0) but of an extraordinary, frantic and controversial end to the second game. With 82 minutes on the clock of this quarterfinal second leg in 2013, Eliseu put Malaga 2-1 in the lead vs. Borussia Dortmund and heading for an extraordinary appearance in the final, only for all hell to break loose in their penalty area. Marco Reus forced home in the first minute of stoppage time but Dortmund still required another; it duly came with seconds remaining as Felipe Santana bundled in a goal with a strong whiff of offside about it.
Jurgen Klopp called it a "wonderful story" but Malaga owner Abdullah Al-Thani wasn't quite so enamoured by the romance of it all, tweeting about the controversial late decisions: "This is not football, but racism and clear of all. I hope to open a thorough investigation [by] UEFA regarding the Spanish club [going] out in this way."
That investigation still remains unopened.
9. Red Star Belgrade vs. Panathanaikos, 1971
These days, teams like Red Star Belgrade barely register in the Champions League, largely serving as group-stage irritants for the moneyed established powers of western Europe. There was a time when they were a force, however, and in 1971 it looked like they were about to make their first European Cup final, having beaten Panathanaikos 4-1 in their home leg. However, the Greek side powered back in the return. Antonis Antoniadis scored in the second minute and added another before Aristidis Kamaras completed the 3-0 win that would send them through to the final (where they lost to the great Ajax side) on away goals.
Accusations of skulduggery soon flew, with Red Star defender Mile Novakovic claiming that among other things, their halftime lemonade was spiked. "A short Greek guy came into our locker room and brought us refreshments," he said. "We naturally drank up the lemonade and that's the last I remember of the match."
8. Hamburg vs. Real Madrid, 1980
Kevin Keegan won the European Cup only once, in 1977, his final year at Liverpool. He came close again in 1980, but his Hamburg side lost an attritional final to Nottingham Forest, although it's perhaps more remarkable that they were even there at all. They played Real Madrid in the semifinal, and after the Spaniards won the first leg 2-0, everything was set up for a dream final, which was to be played in the Santiago Bernabeu stadium.
Yet in the return game, Hamburg simply shattered their opponents, scoring four goals before halftime, two through the giant striker Horst Hrubesch, to seal an emphatic 5-1 victory over Real.
7. Juventus vs. Real Madrid, 2003
On Wednesday night, Juventus will be looking to hold onto a 2-1 lead in a Champions League semifinal against Real Madrid, but 12 years ago, remarkably the previous time they reached this stage of the competition, they had to overturn the same score. That perhaps does not look like the most implausible of tasks, but Real were defending champions, were on their way to a domestic title and did have one or two handy players in their side.
It was perhaps more the way Juve went about this comeback that was remarkable rather than the comeback itself, putting in one of the great European performances to secure a 3-1 victory and a place in the final, where they would lose to AC Milan on penalties. Alessandro del Piero and David Trezeguet put Juve up 2-0, and Gigi Buffon saved a Luis Figo penalty before Pavel Nedved added a brilliant third. Zinedine Zidane would grab a late, nerve-jangling consolation, but Juve held on.
6. Barcelona vs. Gothenburg, 1986
For many years, the European Cup was a crusade for Barcelona. The trophy that their fierce rivals Real thought of as their own had never resided in Cataluyna, and it became something of an obsession. Before their first success in 1992, one of the closest times they came to winning it was in 1986, under Terry Venables, when they were defeated in the final in an extraordinary penalty shootout by Steaua Bucharest. Still, they very nearly didn't even make it that far.
In the first leg of the semi against IFK Gothenburg, they slumped to a 3-0 defeat and a number of injuries in the leadup to the return dampened expectations even further. A beneficiary of those injuries was striker Pichi Alonso; he was only playing because Steve Archibald was out, but scored a remarkable hat trick, later describing the game as a "paranormal experience."
Barca would win the tie on penalties (celebrated by a ball boy that night, one Pep Guardiola) but fall in the same way in the final.
5. Monaco vs. Real Madrid, 2004
"My players did something extraordinary tonight," Didier Deschamps said after his Monaco side beat Real Madrid in the quarterfinal of the 2004 Champions League, and one player in particular. Fernando Morientes was on loan in the principality from Real (with the Spanish giants still paying three-fifths of his wages), but neither that nor UEFA rules prevented him from playing against them and indeed, from being a key man in their defeat.
Morientes had scored in the first leg in Madrid (Real won 4-2), but it was his work in the return that would prove decisive, finding the net once more, sandwiched between two strikes by Ludovic Giuly, to seal a 3-1 win and an away-goals progression to the semifinal. It was one of nine goals Morientes would score as Monaco reached the final, while the expensively assembled Real side featuring Ronaldo, Zinedine Zidane, Luis Figo and David Beckham slipped quietly away, their rejected forward the architect of their downfall.
4. Inter vs. Liverpool, 1965
The European Cup was dominated by Milan in the 1960s. AC Milan won in 1963 and 1969 and in the middle of those two triumphs Inter won twice, in 1964 and 1965. But the second of those very nearly didn't happen. Inter faced Bill Shankly's Liverpool in the semifinals and it didn't look good for them after losing 3-1 at Anfield in the first leg, with goals from Ian St John, Roger Hunt and Ian Callaghan putting them in some trouble. However, in the return they stormed back, going 2-0 up in the first 10 minutes before eventually winning 3-0 on the night and 4-3 on aggregate.
The Liverpool players, however, were suspicious after Inter's first two goals were controversially allowed, and St John had one mysteriously chalked off. Indeed tough-tackling defender Tommy Smith directed his ire at the referee after the game, kicking the official who he believed had a hand in the result. "To this day, I can still see the referee holding his arm up to signal an indirect free kick," Smith said of the first goal. "Next thing their left half Mario Corso pops up and chips the ball straight past Tommy Lawrence."
3. Real Madrid vs. Manchester United, 1968
There have been so many tussles between Manchester United and Real Madrid in recent years that the one in the 1968 European Cup semifinal is often forgotten. George Best scored the only goal in the first game at Old Trafford, but Real started the return fiercely, taking a 3-1 lead that they held until 15 minutes from time. Two goals in five minutes from David Sadler and Bill Foulkes, one of the survivors of the Munich air disaster a decade earlier, secured a brilliant comeback and a place in the final, where they would of course beat Benfica.
"It was very strange because I ran around the back of the goal in complete silence," Sadler recalled years later. "I scored between 25 and 30 goals in more than 300 games for United and without question it was my most important for the club. Forty-five years later, and here we are still talking about it." Immediately after the game, Bobby Charlton simply said: "I can't explain how I feel, except that it is a wonderful night for United."
2. Deportivo la Coruna vs. AC Milan, 2004
When you win the home leg of a European tie 4-1, as AC Milan did against Deportivo la Coruna in the 2004 Champions League quarterfinal, you can probably be forgiven for kicking back and relaxing with the idea that your place in the next round is secure. "The chances of us not going through were roughly equal to those of seeing Rino Gattuso complete an arts degree," Andrea Pirlo said in his autobiography, indicating that the Milan players (understandably) thought the game was in the bag. "We were already thinking about the semis as if we'd got it all sewn up even before we flew to Galicia."
In that book Pirlo went on to darkly hint that other forces may be afoot but there is little to suggest it was anything other than good old-fashioned complacency that allowed Depor to storm back. The Spanish side wiped out the deficit in just 43 minutes through goals from Walter Pandiani, Juan Carlos Valeron and Albert Luque. Substitute Fran added a deflected fourth 15 minutes from full-time to cap a 5-4 victory on aggregate and one of the most extraordinary comebacks in European football history.
1. Manchester United vs. Juventus, 1999
It wasn't looking good for Manchester United in the closing stages of the semifinal, first leg against Juventus in 1999. Antonio Conte had put the Italians 1-0 up, but Ryan Giggs equalised to at least give them a puncher's chance in the return. That seemed to disappear after just 11 minutes in Turin, as a Fillipo Inzaghi brace and a booking for Roy Keane, meaning he would miss a final that at the time looked like quite a long shot, putting United in some trouble once more.
However, that merely seemed to inspire Keane to win the game on his own, which he more or less did, scoring the first in the remarkable comeback that was completed, as so many things were that season, by Dwight Yorke and Andy Cole. "Our mental strength had an effect on the Italians, I'm sure of it," United defender Jaap Stam wrote in his autobiography. "They were used to teams rolling over after going 2-0 down. Not us."
Nick Miller is a writer for ESPN FC, covering Premier League and European football. Follow him on Twitter @NickMiller79.