Premier League money means Stoke can sign Shaqiri but never move up
Before you look forward, it is wise to look back. Stoke City's signing of Xherdan Shaqiri is a genuine coup. It wasn't long ago that the Swiss winger was at Basel, being trailed by most of Europe's super-clubs before eventually ending up as the heir apparent to Arjen Robben or Franck Ribery at Bayern Munich. Now he will be at the Britannia Stadium, hoping to latch on to Glenn Whelan's through-balls. A genuine coup indeed.
The one element of doubt, though, has to centre on why it is that he ended up in the Potteries. The first question that should always be asked whenever a player becomes available is simple: why is that club choosing or at least willing to sell them?
Often, it is perfectly straightforward: The club have a younger model or are going in a different direction tactically; the player is sick of sitting on the sidelines and wants to taste first-team action. More frequently, it is easier still: they need the money, the player has outgrown them or contract negotiations have broken down.
With Shaqiri, though, none of these reasons quite fit. He left Bayern after two-and-a-half years partly because he had failed to make as many first-team appearances as he might have hoped and partly because the club felt he had not developed quite as they would have liked him to. This was a transfer that made sense for all parties and could be easily explained.
Seeing him depart Inter Milan for Stoke is quite different. It is not immediately apparent quite why the Italians were prepared -- rather, perfectly happy -- to sell. They only signed him in January to considerable excitement and he played 15 times in the second half of last season. It's true that his form dipped as the campaign wore on, but as late as April his coach and the man who had signed him, Roberto Mancini, was insisting the winger had "his full confidence."
Inter have no shortage of ambition and no shortage of money. Shaqiri did not have to be sacrificed due to an absence of either. And yet they were willing to sell him without question; even when he seemed to turn up his nose at the prospect of a switch to Stoke, there were talks with Schalke, Everton and reportedly Newcastle, too.
Inter wanted rid. They were trying to create a market for him. But the question stands: Why? Without question, Shaqiri is an exceptionally gifted player. So what's the catch?
Stoke's hope, of course, is that there isn't one and that Inter (not for the first time) have acted in haste and will repent at leisure. They may well be right. And if they are, they will feel they have made the signing that can take them to what everyone in football calls "The Next Level."
It is not entirely clear what, or where, that level is. Nobody ever really defines it. It is not Champions League qualification: when clubs have set their targets on reaching that august competition, they tend to spell it out. It might be qualification for the Europa League, but that's a seemingly strange ambition for anyone in the Premier League given that as soon as they get there, they spend most of their time complaining about how terribly inhumane it is to make them play football on Thursday nights.
Still, wherever it is, "The Next Level" is where everyone is aiming to be. Well, almost everyone: the top seven of the Premier League are there already, while the bottom six or so have rather less grand ambitions -- they are happy just to stay here, thanks very much. But Stoke certainly are; Swansea City, too, as well as West Ham, Crystal Palace and Everton, and probably Newcastle.
Much has been made this summer of the rise of the Premier League's middle order. Swansea have signed Andre Ayew; Newcastle took Georginio Wijnaldum and Aleksandar Mitrovic from PSV Eindhoven and Anderlecht (a migration that has been bemoaned in this column already); West Ham snapped up Dimitri Payet from Marseille and prompted the French club's president to declare the Premier League "the NBA of Europe"; Crystal Palace trumped the lot by snaring Yohan Cabaye from Paris Saint-Germain, while Stoke adding Shaqiri to former Barcelona star Ibrahim Afellay is a deal in that class.
What is happening here takes no great explanation. It is not simply that the new television deal has led to this spending: it is the fact that everyone is desperate to get their hands dirty when the money starts coming through next year. The Premier League clubs need to speculate to accumulate and, lucky for them, they already have more money than almost every other team in Europe.
The players, meanwhile, are being sold a very simple idea: Move to Stoke, Swansea or wherever and advertise yourself to the Premier League's elite. Prove you can cut it and you are far more likely to get to Manchester City, Chelsea or Arsenal than if you continue to play in the Netherlands, Belgium or Italy. Whether this is borne out by the evidence is a different matter entirely, but that is the sales pitch. These are the stepping stone clubs.
This arrangement works for nearly everyone, except if you support a team in any other country, in which case you wave goodbye to the idea of ever seeing your side truly compete in Europe again. The players get their chance to shine in the Premier League and those clubs get to be a little bit better than they were before.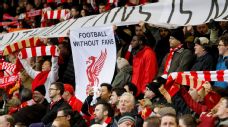 Jose Mourinho isn't the only one to have identified that the middle order are stronger than they used to be and that the gap is gradually, incrementally, reducing. It's partly because the elite are not quite as dominant as they once were and because managers across the league are more sophisticated and tactically astute. But it's also because they have better players.
Yet there is a flaw, almost a logical fallacy, in this whole arrangement. The mid-table clubs are buying players to take them to "The Next Level," promising to sell them to clubs already at "The Next Level" (or even beyond it) if they do well. The sales pitch seems to subvert the stated ambition.
A far greater problem is that it's virtually impossible for any of these clubs, no matter how well run, or how well managed, or how gifted their scouts, to break out of the gilded cage in which they find themselves. No matter how slow the top six go and no matter how fast their challengers move, they can never quite catch up.
Over the past decade or more, the top six have spent hundreds of millions of pounds to stay where they are. In a league where wage spending correlates so accurately to league position, it is fair to assume that the middle order would have to spend the same amount and more to catch them, let alone overtake them. Given that the top six are unlikely to stop spending, they would have to spend so much more that it is quite out of their reach.
This raises an intriguing question for Stoke, Swansea, Palace and the rest. It is easy to know what failure this season would look like: relegation, a place in the bottom six, even a place in the bottom half. But what does success look like?
Rory Smith is a columnist for ESPN FC and The Times. Follow him on Twitter @RorySmithTimes.