Alexis Sanchez, Spurs heroic; Chelsea midfield, 'football gods' gone missing
Iain Macintosh reviews the best and worst of the Premier League weekend, where Alexis Sanchez and Daniel Sturridge looked the part, while Chelsea's midfield and Tim Sherwood have gone missing.
HEROES
What with Wayne Rooney and Harry Kane, it was quite the weekend for the ending of goal droughts, but while those two broke their ducks with an inadvertent deflection and an illegitimate offside strike respectively, Alexis Sanchez did it in style. Arsenal, traditionally bothered by pace, partisan crowds and any sort of expectations, might have crumbled when they went a goal down to Leicester City. Not this time. Sanchez, who hadn't scored at all this season for Arsenal, led the fightback and the Gunners, a week after disappointment at Stamford Bridge, are just three points off the top.
What on earth has got into Tottenham Hotspur? They don't win games like this. They never win games like this. They don't wipe out teams like Manchester City, especially not after going a goal behind. Yes, there were some eccentric decisions from the officials, but don't let that detract from the quality of their performance. Tottenham had organisation, discipline, pace on the counter attack, ruthlessness in front of goal. Frankly, the whole thing was most disconcerting. They actually looked quite good.
There must have been times last week when Brendan Rodgers wondered if anyone had his back. Daniel Sturridge has provided an emphatic answer. Two goals of the highest quality gave Rodgers a crucial victory over Aston Villa and allowed him to hold court afterwards, lashing out at his critics. Sturridge's absence cost Liverpool dearly last season. While the zest and derring-do of Danny Ings is much appreciated, Sturridge is a class above, a player with the ability to turn a game with one thunderous touch. But has he returned in time to save Rodgers?
Who are you and what have you done with Aleksandar Mitrovic? The Mitrovic we know and fear gets himself booked within moments of taking to the field. But this proud warrior was smarter than that. He battled for every ball, but without ever losing his composure. He left his mark on Gary Cahill and Kurt Zouma, but without drawing the attention of the referee. He won the hearts of the Newcastle crowd by doing something they haven't seen in a while up there; backing up all the fist-pumping and arm-waving with a performance of courage and conviction. Do they have a new hero in the north-east?
Alan Pardew was fiercely critical of Wilfried Zaha last week, accusing him of lacking concentration and desire in Crystal Palace's defeat to Tottenham. Left on the bench for the trip to Watford, he responded with a fine cameo performance when he was brought on shortly after the hour mark. Zaha can be a force in the Premier League. Sir Alex Ferguson knew that and Pardew knows it. The only question now is whether or not Zaha realises what he has to do to make that happen. More of this sort of thing would certainly help.
VILLAINS
If anyone spots the Chelsea midfield anywhere, could they please alert Jose Mourinho? They've been missing for several weeks and he's very worried about them. Last season, it was nearly impossible to get at Mourinho's defence. This season in domestic football, only one team has failed to score against them. Hang your heads in shame, Arsenal. The key to Chelsea's recovery is at the feet of Nemanja Matic and Cesc Fabregas. If they can return to form, everything else will follow. But they were given the runaround by Newcastle on Saturday. Newcastle!
If you ever saw him for Malaga, you'll know that there was always a suspicion that Willy Caballero was less a man and more a genetically engineered octopus bred by scientists who were hell-bent on ruining people's Champions League predictions. But since he joined Manchester City, he's never looked more mortal. There were lots of reasons for City's defeat to Tottenham, but Caballero was responsible for at least two of them. How fortunate that Joe Hart's injury is not thought to be serious, otherwise City's woes might deepen still further.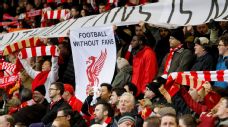 This column doesn't like to bleat about referees and their assistants, but three offside goals at White Hart Lane, two of which were clear cut, does seem a bit much. You can understand why Kevin De Bruyne's goal was allowed to stand, but Kyle Walker was so offside in the build-up to Tottenham's equaliser that there was clear airspace between him and the last City defender. As for Harry Kane's goal, well, at least he had the decency to look a little embarrassed during the celebrations. Not a good day for the officials.
What has Eddie Howe done to upset the Gods of Football? Bournemouth are great fun. They play positive football, they seem incapable of working the dark arts. Why have they been punished so? First they lost their record signing Tyrone Mings to a cruciate ligament injury, then the same injury wiped out exciting forward Max Gradel. Now they've lost top goalscorer Callum Wilson to what may very well be exactly the same injury. These casualties wouldn't be fair on any club, but Bournemouth? They move in mysterious ways.
It's all going very wrong for Tim Sherwood. Aston Villa haven't won in the league since the opening day and now they're playing so poorly, they can't even beat Liverpool. Sherwood certainly blew the cobwebs away when he replaced Paul Lambert last season, but you wonder now if his forthright style of management is still having the same effect. Honesty is a welcome, and indeed rare, attribute in the Premier League, but for how long will the players put up with being repeatedly and publicly blamed for everything? Next Saturday's clash with Stoke City now looks absolutely crucial. Lose that and this will be crisis already.
Iain Macintosh covers the Premier League and Champions League for ESPN FC. Follow him on Twitter @IainMacintosh.