Bayern Munich stay on top, Barcelona slip down the Power Rankings
The top two remain the same, but last season's treble winners take a big tumble down Shaka Hislop's Top 10.
1. Bayern Munich (no change)
My ESPN FC colleague Ale Moreno put it best when he said, in the aftermath of Bayern's 5-1 thrashing of Borussia Dortmund, that the Bundesliga title race is "100 percent over". With Thomas Muller and Robert Lewandowski each scoring twice, Pep Guardiola's side eased past the only other team who had shown any evidence that they could challenge this season.
2. Real Madrid (no change)
One point off the top in La Liga, having started the season unbeaten in seven games, represents decent enough form for Madrid, but not everything in the garden is rosy. Cristiano Ronaldo has scored in only one of those games -- admittedly, he got five! -- while Sergio Ramos has publicly questioned Rafa Benitez's tactics in last weekend's Madrid derby.
3. Paris Saint-Germain (+1)
After Marseille took the lead, PSG recovered to claim their third straight Ligue 1 victory. The match winner was Zlatan Ibrahimovic, who converted two penalties in three minutes and, in doing so, became the leading scorer in club history with 110 goals. Not that the Swede was the only PSG hero -- goalkeeper Kevin Trapp came up big later in the game with a penalty save from Abdelaziz Barrada.
4. Porto (+2)
Far be it from me to say -- again -- that this game is all about the goalkeeper. Instead, I'll merely point you to the moment Iker Casillas gave a present to a Porto fan. Casillas had a straightforward afternoon on Sunday as Porto scored four second-half goals vs. Belenenses to maintain their standing atop the Portuguese Liga.
5. CSKA Moscow (+2)
Leonid Slutsky's side followed up their Champions League win over PSV Eindhoven with an impressive 2-0 away victory at city rivals Dinamo thanks to goals from Pontus Wernbloom and Ahmed Musa. CSKA are now five points clear in the Russian league, having started the season with nine wins and two draws in 11 games.
6. Dynamo Kiev (+2)
The Ukrainian champions are also impressing at home and abroad. Kiev have won five consecutive games in all competitions, conceding a grand total of zero goals along the way. With four points from two games, their hopes of a Champions League last 16 place are high and, most recently in league play, they beat Vorskla 4-0.
7. Fiorentina (+2)
A week after "announcing" their Serie A title candidacy with a 4-1 win vs. then-leaders Inter, Fiorentina followed up with an impressive 3-0 win over Atalanta. After the game, which saw them move into top spot for the first time since 1999, manager Paulo Sousa called for the entire city of Florence to get behind the team!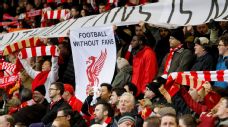 8. Manchester City (new)
For a few minutes it looked like my old club Newcastle, who went ahead and had chances to add to their lead, could spring a surprise at the Etihad. And then the Sergio Aguero show began. The Argentine was sensational, scoring five times in just over 20 minutes as City went through the gears to end a two-game Premier League losing streak.
9. Barcelona (-6)
These are increasingly difficult times at the Camp Nou. With Lionel Messi and Andres Iniesta injured, Luis Enrique's squad is being stretched and, at Sevilla on Saturday, the strain manifested itself in the form of another defeat. Barca were not terrible but that's two straight away league losses now for the champions.
10. Arsenal (new)
Is there another Premier League side more adept at bouncing back from terrible results than Arsenal? Just when you thought Arsene Wenger's side was on the brink of a full-blown crisis, the Gunners swept past Manchester United, racing into a 3-0 lead inside 20 minutes. The question -- once again -- is: Can they maintain this form?
Dropping out: Manchester United, Villarreal.
Shaka Hislop played for over 10 years in the Premier League and represented Trinidad and Tobago at the 2006 World Cup. Watch him on ESPN FC TV!