Wales, Northern Ireland lead heroes of the international break so far
It's the international break, but that doesn't mean there aren't heroes and villains. Iain Macintosh reviews the best and worst of the break so far.
HEROES
All they needed was a point and they didn't get it. But it didn't matter! Wales lost to Bosnia-Herzegovina and qualified anyway. Chris Coleman, a manager who struggled initially with the unenviable task of replacing the much-mourned Gary Speed, is the first manager to take Wales into a major competition since Jimmy Murphy guided the Welsh to the 1958 World Cup. Israel were the only nation that could stop them, but their unexpected defeat to Cyprus sealed Wales' progress. Expect a boom in holiday bookings to Ayia Napa from the residents of Cardiff, Swansea and beyond.
Don't let anyone tell you that Northern Ireland only qualified for the European Championships because the tournament was expanded. They aced their group, losing only once and scoring almost twice as many goals as their closest rivals. And all this from the fifth pot. Teams in the fifth pot aren't expected to be able to do more than five keepie-ups, let alone smash the rest of their group to pieces. Another win over a Greek side packed with recognisable names sent Michael O'Neill's side to France and kicked off a party that has been 29 years in the waiting.
It seemed an impossible job, not just before the game, but during it. With Scotland beating Poland in Glasgow, Ireland absolutely had to get a result against Germany, the best team in the world and an irresistible footballing force. Well...almost irresistible. Having somehow held the world champions at bay, substitute Shane Long was released, held his nerve and struck the goal that secured the most unlikely result of the week. Martin O'Neill's job would have been in jeopardy without that strike. Instead, he has a chance to secure automatic qualification from the toughest group in the qualifiers.
Joao Moutinho confirmed Portugal's place in next summer's tournament, and what a goal it was, too. The Monaco midfielder capped off a clever free kick move that seemed to have broken down, making space when none existed and then driving the ball home. Portugal have made hard work of qualification, losing their first game and failing to beat any nation by more than a single goal thereafter, but it doesn't matter. No one remembers that sort of thing when the real thing begins. And this means Cristiano Ronaldo has at least one more chance to win something on the international stage.
Under pressure, because the Dutch had actually remembered they're quite good at football and won a game earlier in the evening, Turkey had it all to do away in the Czech Republic. But they made it. Goals from Selcuk Inan and Hakan Calhanoglu ensured three crucial points. A draw at home to the already-qualified Iceland will now be enough to send the Turks to the play-offs, and the brink of their first tournament since their run to the semi finals of Euro 2008. Bad news for Netherlands coach Danny Blind, but a fine achievement for Turkey boss Fatih Terim.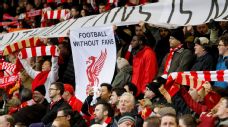 VILLAINS
Of all the bleak elimination scenarios that Scottish fans foresaw for their team, this one was the cruelest. They almost did their bit. It all went wrong elsewhere. No one thought that Ireland would beat Germany. No one. Not that it mattered by then. Indeed, did it ever matter at all? Scotland were doomed when they offered up a first-gear performance in Georgia and dropped those crucial points. It looks as if everyone else in the United Kingdom and Ireland is going to France without them.
The incompetence of the Greek side is numbing. Every time they lose, you become further desensitised to just how bad they are. So here's a reminder: They were the top seed in their group, but they have failed to win a single game, they have scored just three times in nine matches and they managed to lose home and away to the Faroe Islands, a tiny North Atlantic archipelago with a population of under 50,000. This is a shocking state of affairs and, while the Greek people do admittedly have more pressing issues, a major rethink is required before the next qualifying campaign in 2016.
Gargh, Albania! So close to their first ever qualification for a major tournament, and they let it slip in the closing stages of their penultimate game. And to Serbia too, with all the heavy historical meaning it brings. Still, though it would sound trite to say it at any other game, at least there were no major incidents of controversy, unlike the last meeting between these two teams. No mean feat given the strength of feeling between these two sides and, not least, the fact that the stadium was surrounded by rifle-wielding marksmen as part of a massive security operation. Better luck next week away at Armenia, perhaps. Thanks to Denmark's defeat, the dream can still be realised.
Someone at Manchester City walked under three ladders and over all the cracks in the pavement on their way to work this week. Sergio Aguero was left sobbing in the Argentina dressing room when he realised he'd miss at least a month with yet another muscular injury. A limping David Silva was withdrawn after just nine minutes while playing for Spain. City have great players, but they don't really have many players. In two weeks they face Manchester United. They'll do it without two of their most potent attacking threats.
If you, like me, thought the new, expanded format of the European Championships was going to make the qualifying stages boring, boy, did you get it wrong. Whether it was the new format that made the elite nations complacent or the increased chance of progression that emboldened the minnows, this has been one of the most eye-popping qualifying campaigns of recent years. It's going to be quite tricky to put a smile on the face of Michel Platini at the moment, given the awkwardness with FIFA, but at least he got this right. The jury is very much out on a 24-team tournament where it's possible to qualify from the group stage with two points, but the qualifiers have been utterly compelling.
Iain Macintosh covers the Premier League and Champions League for ESPN FC. Follow him on Twitter @IainMacintosh.