Netherlands fail to qualify for Euro 2016 leaving big questions over future
Three thoughts from the Netherlands' 3-2 loss against the Czech Republic in a qualifier for the 2016 European Championship.
1. The Dutch bow out ignominiously
It was an exit perfectly in tune with the skittish, error-strewn nature of the Netherlands' qualifying campaign.
While the team's qualification chances ultimately depended on the result of Turkey's match against Iceland (which Turkey won), Danny Blind's side might have been expected to at least keep its side of an unlikely bargain against a workmanlike but unspectacular Czech Republic team that had already booked its place in France. Yet the nature of the Netherlands' implosion on Tuesday made even that quickly seem like a pipe dream. It was little surprise to those who have seen one of Europe's superpowers self-destruct throughout their 10 Group A fixtures.
Only a win and a Turkish defeat to Iceland would do, and the Netherlands appeared suitably energised in the opening minutes. They are a "momentum" side to the extent that, if Anwar El Ghazi had not driven against goalkeeper Petr Cech's legs after just 40 seconds -- the Ajax winger should have scored -- the 90 minutes in Amsterdam could have been a very different story. Ten minutes in, Wesley Sneijder lifted over an equally good opportunity after El Ghazi's cross ran to him, and from there, the belief seemed to seep away.
Netherlands

Czech Republic
Game Details
There was a warning sign a minute after Sneijder's miss when a snatched clearance from Virgil van Dijk, the Southampton defender who was making his second senior international appearance, resulted in Vladimir Darida firing a snap shot off target. Nerves became more frayed when goalkeeper Jeroen Zoet, also winning his second cap, dropped a corner at the feet of Theodor Gebre Selassie, who wasted the chance. So it was little surprise when Van Dijk, stepping out too high and tight as the ball was played to Tomas Necid, was taken out by the forward's flick and Jiri Skalak passed to the unmarked Pavel Kaderabek, who finished well.
It said something that the second goal seemed a matter of time, and it came 35 minutes in when a simple Gebre Selassie throw-in found Josef Sural, who beat Van Dijk far too easily in the inside-left channel and drilled in low.
Marek Suchy's red card just before the break, a fair decision after Memphis Depay had seized onto a Wesley Sneijder pass and was fouled, gave a glimmer of hope that a comeback might be on if some momentum could be seized back. But the renewed optimism quickly abated and in the early stages of the second period it was the 10-man Czechs who would threaten again. Midfielder Georginio Wijnaldum was forced to prevent Vaclav Darida from scoring after the Dutch centre-backs had been split.
Robin Van Persie's own goal, inadvertently heading past Zoet midway through the second period, led to an exodus from sections of the Amsterdam Arena and their two consolations from Klaas-Jan Huntelaar and, at the right end, Van Persie met little genuine enthusiasm. The odds had been stacked against the Netherlands -- and Turkey's win meant whatever the Dutch did was ultimately academic -- but this was an ignominious, embarrassing end.
2. Netherlands may struggle to replace old guard
As signposts for a changing of the guard go, Van Persie's own goal was a powerful one. His goal later on was of no consequence: This was a humiliation for player and country, and an even more pointed one given that the Fenerbahce forward had again started on the bench.
We may never see Van Persie at a major tournament again, and we may never see Wesley Sneijder, almost invisible here save for a flurry of activity before half-time, either. The same goes for Arjen Robben, who was absent Tuesday with the injury he suffered in the first half of their defeat against Iceland on Sept. 3 -- a blow that may well go down as a turning point in the Netherlands' fortunes in this campaign.
In truth, the die was cast earlier than that, and there will be inevitable questions now over how the Netherlands move forward. Only four of the team that started here began their first Group A fixture, a 2-1 defeat in Prague, and while the Dutch are not short of players, there is a genuine concern that the quality is not what it was.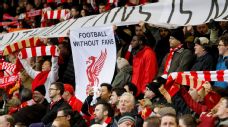 A return to their traditional 4-3-3 under Danny Blind has seemed forced, and this evening there simply were not the players to work within it -- a trio of Sneijder, Daley Blind and Wijnaldum offering little snap or balance. Defensively, the team is a shambles and there is little sign of a genuine leader coming through; Van Dijk, on this evidence, is certainly not that man.
Further forward, you feel that much is being invested in Depay, but there is no evidence yet that he can match the careers of his seniors and it might be that jettisoning too many of the older players in one go risks several years in the wilderness. It was depressing, though, to see the Netherlands resort to launching balls at Huntelaar throughout this match.
Any kind of style of identity appears to have deserted them, and the question now will be whether manager Blind is seen as the man to turn things around. In a recent interview, the Austria manager Marcel Koller said that an international coach needs between two and two and a half years before his ideas get through, Blind has had just three and a half months. Still, this could be seen as a blot on the CV that is impossible to remove easily.
3. Czechs show the value of a well-drilled unit
This is not a vintage Czech Republic side. There are no stars like Pavel Nedved, Jan Koller and Karel Poborsky, and the injured Tomas Rosicky will not be around for much longer either, but it is a highly effective team. It should not be taken as a slight that this seems to be enough at this level currently.
Teams such as Iceland, Northern Ireland and Albania may have lesser standing than the 1996 runners-up, but the trend is clear: If you can mould a coherent, effective, willing unit of decent players together in a short time, then you have a genuine chance these days. That is exactly what manager Pavel Vrba has done with a methodical team that has few stars but has deserved to win Group A. If they do have a big name for the future it is perhaps Kaderabek, the Hoffenheim right-back, who attacked with abandon in the first half and finished wonderfully to break the deadlock and shatter any Dutch confidence.
Kaderabek was his country's standout player in the summer's UEFA Under-21 championship and should excel on the senior stage in France. Gebre Selassie, nominally a right-back but deployed on the left to fine effect, is another high-class operator, and Darida, an intelligent schemer whose promptings behind Necid were prominent here, would also look comfortable in most company. Cech's calming influence in goal cannot be underestimated, too. But the most impressive facet of Vrba's team is its simple, orderly football, looking to play the ball on the deck but knowing when to opt for something more artisanal, too.
Vrba removed Necid at the break, upon Suchy's sending off, and introduced the defender Vaclav Prochazka. It did nothing to abate the Czechs' sense of authority, on or off the ball. The abiding feeling as the clock ticked down in Amsterdam was that teams like this stand a better chance than ever against more decorated opponents whose minds might not be as focused on the job.
Nick Ames is a football journalist who writes for ESPN FC on a range of topics. Twitter: @NickAmes82.