Remembering Howard Kendall's days as Athletic Bilbao manager
The day Howard Kendall said goodbye to Athletic Club in 1989, there were tears in his eyes. "If I go to England, or to any other club, it will [be a step] down; this club is the best," he said. He had been manager in Bilabo for two and a half years and the time had come to go -- he was convinced of that and so was the club -- but leaving hurt. He returned often and talked about it constantly.
Forever associated with Everton where, among many trophies he won the league as a player and then twice as a manager, Bilbao had become his home, Athletic Club too.
Quite literally, in fact: Kendall did not just work at the club's famous Lezama training ground, he lived there.
The current president Josu Urrutia was among those handed his debut by Kendall. The Englishman was not hugely successful, finishing fourth in his first season, seventh in his second, before being sacked in November of his third with the media talking of crisis, but there was no joy in letting him go. Few foreigners had embraced the club or city like him. When Kendall passed away last Saturday, aged 69, the reaction from Bilbao showed how fond they had become of him, and the feeling was mutual.
A few years after Kendall left Spain, Patxi Alonso, a Basque journalist who became his close friend, visited him in Liverpool where he was in his second spell as manager at Everton. When Patxi told Peter Beardsley where he was from and who he supported, the Everton striker rolled his eyes, joking that he was sick of hearing about Bilbao, this place Kendall kept talking about as if it were some kind of paradise, populated by his kind of people.
The warmth was as clear one windy, wet morning in Southport when Kendall looked back on his days at Bilbao many years later. That morning, it was easy to see why he had taken to them and why they had taken to him too: Kendall was generous, open, genuine and grateful for what was a life experience as much as a footballing one. Perhaps even more so.
It was the people he kept returning to and the way they embraced him, from taking him out to eat and looking after him to teaching him how to play the card game mus, loads of them together round a table, Basque berets on -- even if he admitted that he never did master it. "It's complicated, isn't it?" he said. He ate well. "Ah, yeah, just a bit," he grinned, adding: "And the Rioja too of course."
When Kendall arrived in Bilbao he did not know his players -- "when I agreed to go there I asked for a team photograph with the names written alongside it so that I could start to recognise them" -- and he did not know the language either.
"I had an interpreter but he didn't know football," he recalled. "One time, I said: 'tell the players to keep the penalty area clear'. He said: 'where's the penalty area?' I said: 'you don't need to know where the penalty area is, just tell them to keep it clear'."
It was not easy, but it did not matter. The ban from European competition imposed on English clubs after the 1985 Heysel stadium disaster had hit Everton, who won the Cup Winners' Cup that year, especially hard and left Kendall determined to try the European football he had been denied.
He had signed a provisional contract with Barcelona in 1986, only for Terry Venables to end up staying at the Camp Nou. Kendall was perhaps the most prestigious manager in Europe at the time and Athletic came for him next. Here was the chance to move to Bilbao and, Kendall said, "Bilbao was perfect." To start with he went it alone, but he was not alone for long. Soon it was home.
"At that time I had young kids and we went over to look at the schools and that wasn't really satisfactory because of the age they were at, and because of the language and so on, so I went on my own. But I didn't really want to be on my own. They had bedrooms at the training ground, at Lezama, and they used those on match days for the players. And there was an en suite one. And one day I said: 'Can I stay here?'
"There was a family there, an ex-player [Jesus Renteria], with two sons and his wife. He was like the janitor of the whole complex and I said: 'I'll pay my rent and everything but can I stay here? Then I'm not on my own.' And so that's where I was. I woke up in the morning, had a juice and a coffee, went down the stairs and I was on the training ground. All the kids would be there training, not just the first team."
So he watched the youth teams too.
"Oh yeah, yeah. I also had the advantage that Jesus, the ex-player that was living on the same premises, was a very good judge. When I was working with the first team, he would be looking at the kids. He had seen them all the way through. Such as [Rafa] Alkorta (who later joined Real Madrid and played for Spain before returning to Athletic). [Jesus} was the one who tipped me off: 'There's one in the reserve team who's ready now.' So I watched him play, brought him in and, yes, he was ready.
"The players were fantastic. It felt like one big family. I really did feel that. An example: During preseason we would play all sorts of games with them, dividing them into teams. There was a game where the captain of the team had to select the worst player in the group and the first time we did it the captains selected themselves -- they didn't want to upset anyone else.
"The whole atmosphere at the training ground was different; I was not used to it but I ended up feeling like we could have adopted some of the same approach in England. They changed the way I thought.
"When I signed the contract I said to the general manager: 'By the way, I don't want anybody coming in and watching my training sessions'. He said: 'No, Howard, oh no, no, no.' Haha! He said it's not possible. When you arrived at Lezama you saw all the open space there, the countryside, and it was the highlight of the day for so many people, especially the elder statesmen, with their txapelas (Basque berets) on. They would come and watch the team train, nattering away, giving their opinions to each other. Then they would wonder down to the bar for a couple of vinos. I used to love them being there; the more the merrier. And I was so happy that I didn't force that one through. I couldn't have forced that one through. I would not have been allowed. And it was so pleasing that it didn't happen."
That was not the only thing that Kendall couldn't change; Athletic's Basque-only policy was another. Not that he would have ever considered challenging that.
"No, no. I was never going to interfere with the policy. I knew that before I went there and I would never challenge that. No, no. Fernando Ochoa was the general manager. He came over [to persuade me to join] and he spoke English. He filled me in on the philosophy of the club straight away.
"While they will bring in a foreigner to be coach, the philosophy [was] to always have a Basque there as [his] number two. The foreigner comes in and when they are up and running he goes and the Basque, the second in charge, takes over. Txetxu Rojo was my number two and he went onto manage Athletic a couple of times. That was the philosophy. I accepted the way that the club was run and got on with it. I liked it.
"Then there are the players. No, I would never change the policy. I knew all about it, they were up front about it. It is a huge compliment to Athletic that even though they have been struggling over the years they have not changed their policy. It is very easy when you're down the bottom, when you want to survive, when the president wants to be re-elected, to be tempted to change your policy. But the attitude was: Having Basque players might make it more difficult in footballing terms but we are what we are and who we are. And we're not changing.
"I loved the way they had set up the club, the process. They had to find young players and develop them because if they lost them there would not be an Athletic Bilbao. All the parents in Bilbao wanted their son to play for Athletic, so there was no way of losing quality.
"And San Mames was special, without a shadow of a doubt. I remember Sammy Lee, who had played for Osasuna out there, played against Athletic with Liverpool and he said it was the best football stadium he had ever played in. We're not talking about magnificent stadiums like the Bernabeu or the Nou Camp, we're talking about atmosphere, about a proper football ground."
An English ground, for an English-style club.
"Yes. It was quite English. They had told me that. One of the most important men in their history had been Freddy Pentland, the manager (from 1922-25) who was English. I think there is a link with Sunderland too, and the ship yards and I think they got the shirts from Southampton.
"At the first meeting, they said it was very pro-English in the style of play. And I saw that quickly. We'd water the pitch before the game, whereas you would go down south, Cadiz or somewhere like that, and it would be rock hard. And they would say: 'You water it up there, revenge is sweet; we're not going to put a drop on ours today.' The ball was bobbling all over the place." It didn't do Athletic too much harm. At the end of his first season, Kendall's team finished fourth and qualified for Europe. After the game he went up to the boardroom.
"I went up there and they said to me 'look, look' and it was a painting on the wall. A big painting, by a famous painter in Bilbao. And it was of the Tyne Bridge in Newcastle (near where Kendall was from). They had sent him over there to paint it. They said: 'Do you recognise it?' I said: 'Yeah, the Tyne Bridge in Newcastle'. They said: 'Where would you like it?' 'For me?!' The thought that went into something like that as a gift. I have still got it hanging in my house. It is absolutely fantastic."
The picture hung in Kendall's flat at Lezama. By the end of second season, though, things looked different as Athletic slipped back to seventh. As winter approached in 1989, they were in trouble.
"I came to the point when I felt that the president was under pressure, there were elections [coming up] and I felt that I had had enough in terms of being away [from my family] and I felt that the time had come. We lost to Real Madrid away and this reporter sticks a microphone under my nose. I didn't have a clue what he was saying and I said: 'Well, you know, the first half was OK, the second was not so good.' 'No, no, Howard, no.' Microphone in my face again. Well, the third time he did it, I walked away, thinking I'd answered.
"I hadn't understood what he was saying. And what he had been asking was did I think I would still be coach the next week? I got to the hotel where we were staying and they were there interviewing the president and I thought 'hang on'. The interpreter told me what they were saying and I thought: 'Monday morning, I'm coming home.' I knew the president was under pressure, that he was in a difficult position, and they had been such brilliant people that I thought 'no, I'm going to make it easy for you.'
"I went in to see the general manager on Monday morning and I said: 'Fernando, we need to talk.' He said: 'We're having a board meeting this afternoon'. Probably they were going to do what I was going to do. And I said: 'I'll go.'"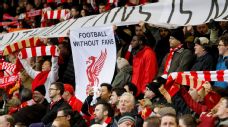 Just not immediately. First there was that press conference, the one where Kendall called Athletic the best club in the world, and then there were the farewells, which were unusually fond for a man who had just been sacked. No bitterness, no rancour, no recriminations, just thanks.
"I was given an unbelievable departure party. The president was there and all the directors, they were all there. Meal, wine and it was fantastic. I stayed on for the next home game. Not on the bench, in the directors' box. And the whole crowd around me applauded and I thought that was absolutely lovely."
"Absolutely lovely." Somehow, listening back to the tape of the interview, they feel like the perfect words. They sum it all up. Bilbao left quite a mark on Kendall. He left quite a mark on Bilbao.
"I'd like to think that. They are football people and to be respected by football people is pretty good," he said. "It's nice."
Sid Lowe is a Spain-based columnist and journalist who writes for ESPN FC, the Guardian, FourFourTwo and World Soccer. Follow him on Twitter at @sidlowe.