Xavi talks Qatar, Barcelona, el Clasico, Messi, Champions League finals, more
DOHA, Qatar -- The day after Barcelona won their fourth European Cup in a decade, the victorious team returned from Berlin to ride an open-top bus across the city. As the sun began to set, hundreds of thousands of people came to salute them.
The bus passed by to wild cheering but what struck this observer was not the mass of players dancing at the front, but one man who sat at the back, detached and alone in thought. The man was Xavi Hernandez.
Five months later, I meet Barca's most decorated player in Doha, where he now plays for Al Sadd Sports Club.
"The last time I saw you," I say as we sit down, "you were sitting right at the back of the team bus the day after Berlin, away from the other players, in contemplation. Just near Plaza Letamendi."
Xavi nods.
"I wanted to memorise as much as possible from that route," he explains. "Those were my final hours as a Barca player; I wanted to see the faces of the fans, to applaud them. I'll remember that parade until I die."
Now 35, Xavi is happy to reminisce as he adjusts to his new life on and off the field.
(Editor's note: This interview has been edited for brevity and clarity.)
How has your time been in Qatar so far?
Really good. I feel that I'm in the best place possible for my future in football. The project with the Aspire academy is fantastic; the facilities are the best in the world. I've been in many training grounds and this is, by a distance, the best. It's desert here so they have space to do everything exactly how they want it and it's not only a training ground for football; the top swimmers and cyclists come here too.
I have three possibilities here. One, to play football, which is what I've done all my life, though the level is different to what I've played. Two, I can think about a future as a coach or a sporting director. I've started to work with the under-23 team at the Aspire academy. Three, I can be here with all my family. My two oldest brothers work at the academy. My sister is here with her husband. She works in logistics at the academy.
My wife is here, too. She's seven and a half months pregnant with our first child, a little girl. There are two direct flights to Barcelona every day for when family need to go back, but we're happy living here. I did research, we visited here and I spoke to Raul and [Pep] Guardiola, who both played here.
What about playing here? It's hotter than Seville in the summer and coaches complain about that in Spain.
Yes, it's hotter than Andalusia here. We're talking now in November, the best time in the year for playing football. But in August and September, it's terrible. It's scorching, even when we play at night. For me, it's the only handicap for this country. That's why it's important that FIFA have changed the [2022] World Cup to December. You couldn't play games here in August. Many of the new stadiums will have air conditioning; ours already has it at Al Sadd. Games are played at 22 degrees, even when it's 40 outside; it's perfect. The games are not indoor, but cooled by air conditioning cannons.
What did you think when you played a game in September in a stadium without air conditioning?
It was horrible, terrible. The referee stopped the game for water in the middle of the first half. It was difficult to compete, it was humid and the game was full of stops. Now, it's better. Now, I'm enjoying it.
What's the playing level like when conditions are normal?
Technically good. Physically, the players are fine, too. They prepare well, they're professional, the Qataris are good physically. Tactically, the level is much lower than what I'm used to. They do little analysis of the opponents, there's too much space on the pitch. It's like the 80th minute of a European game after five minutes here. So, they need to work to raise standards and I want to help them.
But there are other positives for me. I've spent my life travelling with a team, week after week, spending a lot of time away from family. Here, almost all the away games are in or around the city of Doha. It's a big difference for me, as someone who used to spend 10 days away from family if I went on international duty with Spain. I love the tranquil life and can concentrate on football.
The decision to award Qatar the 2022 World Cup was deeply controversial. Will it stage a good tournament? (Editor's note: Xavi is an official ambassador for the 2022 World Cup)
Yes, but there's a lot of work to do. The traffic is bad at the moment; there's a lot of building. But they're building a metro line. The stadiums will be incredible and what's great for the players is that they don't have to travel during the tournament; they can stay in the same hotel. I was in Brazil [in 2014] with Spain and the long flights and changes of climate were terrible. For the fans, they can stay in Doha and watch more than one game a day. That's great for them. Economically, Qatar is very well-prepared. Things get done here.
But the decision to award the tournament was very controversial and it has been alleged FIFA is corrupt.
There are investigations going on; that's a political question. What I know is that Qatar is serious about hosting a great tournament, that the people are passionate about sport and that I think the tournament will be a success.
Did you receive offers to go anywhere else to play after Barcelona?
Yes, several: China, Japan, above all New York, to play for New York City. Last year, I spoke to (current Man City and NYCFC and former Barcelona chief executive) Ferran Soriano and we were 90 percent there about me going to New York. Then I spoke to Luis Enrique and Andoni Zubizarreta at Barca. They convinced me to stay at Barcelona. They said that I should enjoy my last year at Barca as captain. Oh, and Luis told me that we were going to win everything last season. He told me that before preseason training had even started. He said that on July 24, 2014: 'Be careful about leaving, you're captain and we're going to win everything.' In that moment, I thought: 'We've got a highly motivated manager,' but it's only talk. It's almost impossible to win everything. Yet I liked that talk with him, I had a good feeling about him as a manager. He was very supportive to me in my final year and I'd like to think that I helped him too.
Berlin must have been the perfect end for your time at Barca.
The best you could hope for. Of course I would have liked to have started, but I was 35, I understood. I came on the last 10 minutes and we scored in the last 10 minutes. It was an emotive night. I was captain and we won the treble. I was determined to enjoy the moment. I knew I was going; I'd signed the Qatar contract in February. I wanted to relax and really enjoy the last few months.
HAVING LEFT BARCELONA after spending almost 25 years at the Camp Nou, Xavi's current affinity toward the club is very much as a fan. He has watched every one of their games this season, including one in Qatar's Barcelona supporters' club.
What do you think of Barca this season?
Very good. I've seen them play some difficult games but then they've had some very tough fixtures right at the start of the season: Athletic [Bilbao] away, Atletico [Madrid] away, Celta [Vigo] away, Sevilla away. Celta played incredibly against Barca and deserved to win. Barca lost in Seville but deserved to win. Barca have gone behind in a lot of games and suffered, Bayer Leverkusen at home for example, but they've showed the spirit in the team by coming back to win. I've enjoyed their most recent games against Getafe and BATE Borisov.
They've reached a spectacular level without [Lionel] Messi. [Sergio] Busquets is incredible, Sergi Roberto is hugely confident, [Andres] Iniesta has returned to a high level, [Luis] Suarez and Neymar are incredible. In defence, there has been an improvement. [Javier] Mascherano is very good, [Thomas] Vermaelen is good, Dani Alves, too, and Jordi Alba. They have an intensity in defence, they press high, they give no time for the other team to think. Barca will win trophies again this season, I'm confident of that. Things are looking very good for the next games; I have a good feeling about them. It's a very, very good time.
The first player you mentioned was Sergio Busquets.
He's the best player in the world in his position. He understands football, he's ultra-competitive, he finds solutions all over the pitch. He's playing well, he never loses the ball, he always takes the best option with a pass. I have great admiration for him and I'm not just saying this because he's a very close friend.
You're painting an optimistic picture of Barca when they've had a lot of problems this year. There are sanctions against playing new players until 2016 and there are various ongoing investigations. They're likely to play more games than almost any other team, yet still staged a preseason in the United States. There have been UEFA fines because of fans waving the Catalan independence flag. And Messi has been injured.
Yes, all true. But you know what? When people start attacking Catalans from the outside, they come together. It's actually better for the team, they are more united. The Catalan is a tranquil person. He's relaxed, he enjoys life, he's peaceful. But attack him and he becomes a fighter.
But the team are playing a lot of games.
Those long preseason trips are difficult. Last season, we spent a week preparing in England which was perfect, at the national training centre, St. George's Park. Barca should go there every year as the conditions in England in July are ideal for training.
Do you watch Real Madrid?
Yes, I watch a lot of football. Madrid are very strong this season. They have a different philosophy to Barca. They work a lot on their defence, [Rafa] Benitez has improved that. They are very organised with two lines of four. Physically, they're strong. And Keylor Navas has been magnificent, proving he's a goalkeeper of the highest level which isn't easy in Madrid, especially after Iker Casillas. Madrid are a block, they concede very few goals. People say that Benitez is defensive and yes, they've conceded fewer goals than any other team. But Madrid have also scored more than any other team.
The forthcoming Clasico will be the first you are not a part of since 1998.
I'll have fewer nerves this year because I'm away from it, but I can't wait. I'm Barca, I hope they win, win everything. I think the teams are of a similar level if Messi doesn't play. Madrid have injuries, but their injuries are not as important as the one to Messi. It's difficult to win in the Bernabeu [and] very, very difficult without him. But I think Barca are in a good moment to do good things in the Bernabeu.
What's it like walking out at the Bernabeu as a Barcelona player, with 80,000 people on your back?
I love it, it's the best, it's football rivalry in the purest form. It's like being a gladiator going into the Colosseum. Like I said about the Catalans who come together and fight when people are against them, it's like that for Barca when Madrid are against us. It's the eternal rivalry, a wonderful sensation, an inspiration, to feel everybody against you. It's not just football, it's like village against next village, it means everything to all the people. And then you start to play, you score and you see only 200 supporters high in the stands. And you celebrate together. It's beautiful, one of the best feelings in life.
What do you really think of Madrid?
I have a big respect for them. They're a team of winners, look what they've won. They're one of the best in the world, ever. They've won in every generation. The demands are high and the crowd will whistle if they're not met. It would be impossible for Madrid to finish sixth in the league. They're always fighting for titles, to win, to get better.
What about the city itself?
I've spent a lot of time there when I've been with the national team. On a personal level, I felt fine, like the people respected me. I'm Catalan [and] I played for Barca, yet I felt great respect.
What were your best Clasico moments?
Imagine beating them 5-0 (2010) and 6-2 away (2009)? That 5-0 game was a triumph for Barca's [Johan] Cruyff-inspired philosophy. It was perfection.
Was that the best game in living memory?
That and the [2011 Champions League final] against Manchester United at Wembley.
You mention the Cruyff-inspired Barca philosophy. Has Luis Enrique changed that?
No. But, before Messi, we had more control of the ball, more passes, more play. Then he became the focus of the attack. Now, it's Neymar, Suarez and Messi. As soon as they get the ball they're out to attack. So there's a little less possession and a little more direct attacking. Luis Enrique likes the Barca philosophy of having possession, of being the protagonists. Luis is a winner. He's honest, he's a worker, he does it for the team.
He's a football fan. After he finished playing, he attended derby games around the world by himself.
He did, wearing a scarf and he was hardly recognised. When I have time, I'd love to do the same, but I think my wife would kill me. Can you imagine? 'OK, you stay with the baby for three days while I go and watch Liverpool against Everton!'
Is Messi the best ever?
Yes. Pele and [Diego] Maradona both made a huge difference, but football has evolved. The players are better than they were, the game is better. Physically, tactically, technically and psychologically, football is better than ever. And Messi stands out as the best at the best time in the history of football.
What do you think of Cristiano Ronaldo?
I don't know him personally. We've said hello before the Ballon d'Or, maybe spoken for two or three minutes. I think he's a good person. I think he has a worse image that the reality. He's honest, maybe too honest and not everybody appreciates that. He's an example of a great professional footballer, a great goalscorer, a winner. He's one of the greatest goal scorers in the history of football.
Look, Messi is the greatest footballer ever, but he wouldn't be as good without Ronaldo. He wouldn't have won all those Ballons d'Or. And I don't think Ronaldo would have won them all too. They push each other. The difference between the two is that while they're both great goal scorers, Messi is much more involved in the play of the team. There's a big difference.
How has Messi evolved as a player and a person? You don't get much insight in interviews.
He's matured, he's more responsible. He's become a man. He's shy, but when he has your confidence and trust you see what he's like and he's a very good person. He's a joker, one of the biggest in the dressing room. He's witty, very ironic in his humour. He's intelligent and he's clever. Most of all, he's a winner.
Neymar?
A fantastic boy. He's Brazilian, he loves life. Other cultures might not understand his humour [and] people think he's making fun of his rivals, but he's not. He's like this in the dressing room, in training. He and Dani Alves, the Brazilian boys.
Has Luis Suarez's quick adaptation and success surprised you?
No. He's starred for a great club, Liverpool. Now he's got Messi and Neymar with him. He's someone who finds a way to get something. Clever. He's a footballer from the barrio, from the street, he fights for everything, he wants the ball. He's very intelligent in the area. He also scores. He's hungry for goals. He's like [Samuel] Eto'o, always hungry to score. Suarez is a great signing for Barca.
THOUGH HE NEVER played for a club there, Xavi is a confirmed fan of the English game. He admits that Manchester United once tried to sign him and the Old Trafford club was one with which he became very familiar during his Barcelona career.
You've always enjoyed playing in British stadiums.
The atmosphere [in England] is different, the mentality different to the Latin one. The [English] respect the footballer. It's a respected profession. In Spain, it's not respected. The people say: 'You live too well, you earn too much money, you don't work.' That's not true.
Juan Mata told me a story last year. He said that when United finished seventh (in 2013-14), the fans applauded the team at the end of the season. Seventh! If that happened to us in Barcelona, they'd want to kill us in our cars! In England they understand. In Spain, there's no respect for the footballer.
Yet you're the ones with a pile of trophies at the end of the season. Barca have won four European Cups in the past 10 years.
Because of the pressure to succeed. If you can demonstrate that you're a player, then wooahh! Playing for Barcelona is an examination. In Barca, if you're a new signing, you have to demonstrate first that you are worthy of their support. Then the fans will give you the confidence. In England, you get it before you start. That's why it's harder for a player in Barca or Madrid.
Let's discuss the 2008 Champions League semifinal.
Ah, that's right. The final days of Frank Rijkaard. It was a pity. We weren't in good shape physically, and the stars in the team were not at a level to compete well. We'd had two incredible years, but a change was coming. We also had bad luck in the first leg, the 0-0, in our home.
So did United. Ronaldo missed a penalty.
That's true, but both teams were very equal. Then a goal from [Paul] Scholes decided the game in Manchester. Not a good moment for us.
That was the best atmosphere inside Old Trafford so far this century.
Old Trafford is an incredible place to play. I made my European debut there in 1998, I'll never forget it. [Barcelona manager Louis] Van Gaal was going to bring me on a substitute, just as [David] Beckham took a free-kick from outside the area. He scored, making it 3-2 to United. I thought he wouldn't bring me on, but he did. I thought 'my god, what a moment to come on!' Then Nicky Butt was sent off. We got a penalty, Luis Enrique scored. United defended, we had possession.
I'm going to let you talk about the 2009 and 2011 Champions League finals in Rome and at Wembley.
OK, United started very well [in Rome]. At first we were thinking, Cristiano is going to score a goal. Park [Ji-Sung], the South Korean, he was a danger. We had to rely on [Gerard] Pique and [Victor] Valdes. Then we got the ball: Iniesta, to Eto'o. Goal. It changed the game. We had control from the ninth minute and we didn't lose it until the 90th.
United were missing Darren Fletcher.
An important player. So United had Anderson, [Ryan] Giggs and [Michael] Carrick. They weren't as physical. Fletcher would have caused us more problems defensively. However, we were missing [Eric] Abidal, Rafa Marquez and Iniesta wasn't 100 percent. We played players out of position; Yaya Toure as a central defender. United were the European champions: [Carlos] Tevez, Ronaldo, [Wayne] Rooney; Giggs, Carrick; [Rio] Ferdinand and [Nemanja] Vidic, [Patrice] Evra. [Edwin] Van der Sar. . Very good team.
So, Wembley.
We'd had three years of [Pep] Guardiola. He turned around the story. We had experience and the habit of winning. We were spectacular. Messi was in his best form of the season, Iniesta too. I was feeling very confident.
Rooney scored a wonder goal to make it 1-1.
Golazo. From a throw: Pum, pum, pum, gol. Where did that come from, because we were dominating. I was really angry in the dressing room at half-time, it shouldn't have been 1-1. We were much better and it was 1-1. Well, we carried on in the second half and scored twice. Wembley is magnificent.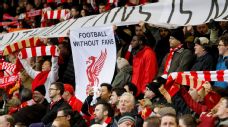 WHILE SOME PLAYERS who have been fortunate enough to play the game at the highest level see what they do as a job, Xavi is a self-confessed football fanatic. His love for the game -- and desire to stay in it in some capacity -- is apparent throughout the interview, as is his remarkable knowledge.
Do you want to be a coach?
I don't know. It's not easy. You suffer a lot. I'm forming my thoughts here and I'm in a very good place to do that. But I love football. Cruyff is a profound influence in my life and the history of Barcelona, someone I want to get better. He said to me: 'Look Xavi, when you stop playing, you're going to realise that the closest thing you can do to still feel like a footballer is to be a coach. You don't want to be in the office, you want to be by the grass. When I stopped, I didn't know where I was, I was lost. When I was a manager, I realised that was the place I wanted to be.'
I interview players all the time. You and Jamie Carragher are the biggest football addicts I have met.
I met Carragher on a beach in Ibiza when we were on holiday.
What did you talk about?
Football! He's a good guy, a fanatic. You can see that. He came back to Spain to interview me.
I bet I could ask you about lower-level teams in Spain and you'd know. Ibiza, from the second division?
Ibiza are now in the third!
Barakaldo, a tiny Basque team with a beautiful stadium?
They're leader of one of the four Segunda B leagues. Look (shows his phone), I read about all the leagues every day.
Alaves?
Near the top of the second, Gaizka Toquero has got five goals so far.
Huesca?
Near the bottom of the second.
(Regional fourth division club) San Andreu?
Mid-table. Started well. I have friends at these clubs, I follow how they do. Cornella, who play next to Espanyol, is another. I follow the Belgian second division because there are players from the Aspire Academy there.
What about lower level English football?
I follow Middlesbrough because Aitor Karanka is there. Brighton are top of their league. I met a boy the other day. English. He was wearing a Barca shirt but I asked him who he supported. He said: 'Sheffield United'. I know them, they have 20,000 fans in the third division. That's incredible. You get that in England. I watched some of a game with Charlton the other day. There was football on television, yet the stadium was packed with supporters. Incredible. If that was in Catalonia, Olot vs. Reus, then there were would be a few people there and the families of the players.
AFTER TALKING FOR more than an hour, Xavi has to go. The following evening, he plays for his team in the Qatari Stars League. Fewer than 2,000 fans watch Al Sadd in the 25,000 capacity stadium, which will be expanded to stage World Cup matches, at Al Gharafa on the outskirts of Doha.
Though few in number, those present are passionate and sing throughout. There are just 278,000 native Qataris but many watch live football and that population supports a 14-team professional league.
Admission costs as little as 20 riyals (£2/$3) and the fans look striking in their white dishdashas and play music from a fluted mizmar. The white is broken by a Spain flag that honours their star signing.
Xavi waves at his family in the crowd, plus former Barca president Sandro Rosell, before focusing on the game, which Al Sadd win 1-0.
"Some players come here for a holiday, but not Xavi," confides a club official.
It's a long way from Plaza Letamendi and a long way from Camp Nou, but Xavi has no regrets. Besides, he's got a job to do and is totally focused. He's already learned the full squad lists of Al Sadd's 13 rival clubs.
Andy Mitten is a freelance writer and the founder and editor of United We Stand. Follow him on Twitter: @AndyMitten.