Ronaldo beats Cristiano Ronaldo in modern era's most vital scorers
It is around the late stages of a tournament when you hear the football truisms: "It doesn't matter how you got there," "The results don't record performance." What matters -- the only thing that matters -- is that you pick up the trophy at the end, or so the argument goes. But there is one tournament award in which this argument isn't so straight forward: the Golden Boot.
At the 1994 World Cup, for example, both Hristo Stoichkov and Oleg Salenko won the Golden Boot. But did their six strikes apiece mean the same thing? Stoichkov scored the goals that fired Bulgaria to a historic semifinal for his country, while five of Salenko's goals came in an ultimately irrelevant 6-1 win over Cameroon, as Russia went out in the first round. Romario, meanwhile, scored five goals in that tournament, and almost all of them were crucial in bringing the trophy back to Brazil.
There was a similar dynamic at the 2016 Copa America Centenario. Eduardo Vargas finished top scorer with six, despite four of his goals coming after Chile were already up 1-0 in an eventual 7-0 destruction of Mexico.
In other words, not all goals are created equal.
It sometimes feels like there should be an award for the most valuable or most meaningful scorer -- the player who perhaps hasn't found the back of the net the most but whose goals have had the biggest influence on the tournament.
With that in mind, we wondered: In the modern era, who has scored the goals that most matter?
Our methodology: We looked at all World Cups, European Championships and Copa Americas since 1996. From there, a player was given one point for a goal that proved a final equaliser and two points for a match winner. For example, Olivier Bierhoff got a total of three points for the Euro 96 final. He scored Germany's equaliser in that game against the Czech Republic to make it 1-1 and score one point, then hit the golden-goal winner to make it 2-1 and secure another two points.
1. Ronaldo, Brazil: 23 points
This is perhaps the ultimate proof that the original Ronaldo was the best. O Fenomeno had a phenomenal impact on the tournaments he played in, more than any other player. The most obvious strike is his opening goal in the 2002 World Cup final, and that was the best of a series of key goals, from the finishes that took Brazil to that final, such as the winner in the semifinal against Turkey, to the five goals that won the 1997 Copa America. At his best, Ronaldo was almost impossible to stop.
2. David Villa, Spain: 12 points
The striker offered piercingly sleek finishes to so many Spanish passing moves and is possibly one of the most underrated players of all time. There is an argument that he was more important to Spain's dominant era than Xavi. Although Spain were always keen to keep the ball, they often struggled to get someone to put it in the net. Villa was a master at that. In some ways, he kick-started the whole era by scoring a hat trick against Russia in their opening 4-1 win at Euro 2008 before claiming the match winner in the next game against Sweden. When Spain started with a 1-0 defeat to Switzerland at the 2010 World Cup, it was Villa who dragged Spain back into contention by hitting the key, match-winning goal in four consecutive games, right up to the quarterfinal. He might well be the purest possible modern striker.
3. Cristiano Ronaldo, Portugal: 12 points
The second Ronaldo isn't that bad, either. The accusations that he does not perform in tournaments are inaccurate. In his first tournament, at Euro 2004, Ronaldo scored the key first goal in Portugal's 2-1 semifinal win over the Netherlands. He has continued in that vein by scoring at least one crucial strike in every competition since then, other than the 2010 World Cup. What probably stands against him is that he hasn't yet had that massive tournament-settling goal, but that might still come.
4. Rivaldo, Brazil: 11 points
This playmaker so often set up Ronaldo for Brazil and often did the job himself. From 1997 through 2002, Rivaldo was almost as influential as his star teammate. The strikes that stand out are his second-round match winner against Belgium and his quarterfinal equaliser against England at the 2002 World Cup. But this is also the player who settled the 1999 Copa America final against Uruguay. It was all the more remarkable that many of his key goals were scored spectacularly.
5. Luis Suarez, Uruguay: 11 points
In what has been another golden age for Uruguayan football, Suarez did so much more than put the gloss on games. He was often the driving force behind a Uruguay win -- and not just with that famous fighting spirit. Suarez scored the last-16 match winner against South Korea in the 2010 World Cup, the crucial opener in Uruguay's 3-0 2011 Copa America final win over Paraguay, to follow a fine tournament and, of course, that sensational double against England in the 2014 World Cup. Suarez often undercuts himself with his antics, but it should never be forgotten that he offers the ultimate cutting edge.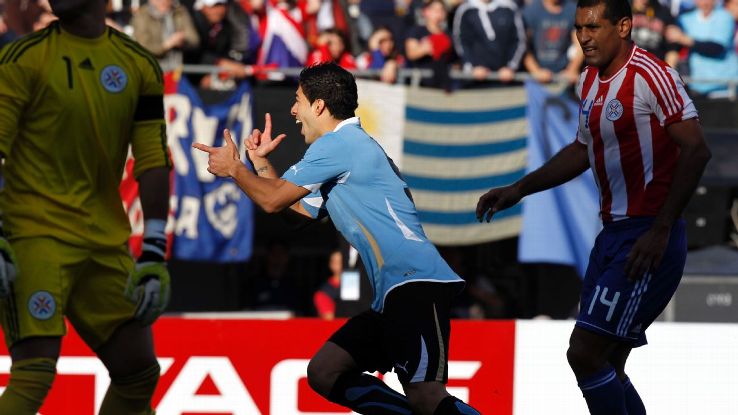 6. Miroslav Klose, Germany: 11 points
This is the player with the record for World Cup goals, a feat of genuine value. Klose might not have scored any true match winners when Germany won the 2014 World Cup, but he deserved the record for more than a decade of key strikes, especially in Germany's run to the final in 2002.
7. Zinedine Zidane, France: 10 points
In addition to being one of the greatest players ever, Zidane is one of the greatest big-game players. He stood up at almost every key moment and was responsible for his country's finest football achievement when his two headers sealed France's 3-0 1998 World Cup final win over Brazil. That would be enough to make one historic career, but Zidane went much further. He almost repeated the trick with his nonchalant chipped penalty in the 2006 World Cup final defeat, and in between, he offered moments such as the last-minute penalty against Portugal in the Euro 2000 semifinal and the last-minute penalty and free kick double in the Euro 2004 group game against England.
8. Alan Shearer, England: 10 points
It's amazing to think Shearer went more than a year without scoring in England's warm-up friendlies for Euro 96, given that he was so good when it mattered. Then again, that's what the best strikers do. Four of Shearer's five goals at that tournament were key strikes, and the other added a necessary and deserved flourish to his team's seismic 4-1 win over the Netherlands. He followed that with the only goal in England's long-awaited win over a German team at Euro 2000.
9. Hernan Crespo, Argentina: 9 points
A little like Cristiano Ronaldo, Crespo never had that one massive moment, but his consistency should not be overlooked. If Argentina needed a goal, as was the case when down 1-0 to Mexico in the 2006 World Cup last-16, Crespo was so often the man to provide.
10. Oliver Bierhoff, Germany: 8 points
Hitting the equaliser and match winner in the Euro 1996 final should be enough to secure your legacy, but Bierhoff went further to cement his reputation as a reliable striker with important finishes in the 1998 World Cup.
What about Leo Messi?
As for Leo Messi, there is obviously so much more to his game than goals, but his failure to score in the 2010 World Cup, the 2011 Copa America and most of the 2015 version of the latter counts against him to the point that he barely registers in this ranking. He has just two points from key goals in his seven tournaments: his last-minute winner against Iran in the 2014 World Cup. Other than that, at this level, he has been more of a supplier than a finisher. To illustrate how low that puts him in terms of key tournament scorers over the past 30 years, he would be behind defenders such as Laurent Blanc and Matthias Sammer.
Miguel Delaney covers the Premier League and Champions League for ESPN FC. Twitter: @MiguelDelaney.