Football's evolving rules not unnecessary meddling, they reward attractive play
It's hardly unprecedented for refereeing decisions to dominate football coverage, but the past week has been somewhat unusual. The debate hasn't been about individual judgment calls, but about football's laws themselves -- and one's particular interpretation of the wording.
The penalty kick won, and subsequently scored, by Harry Kane in Tottenham's 1-1 draw with Arsenal on Saturday was, most would agree, a stonewall penalty based upon Shkodran Mustafi's challenge on Kane. The confusion came when assessing the regulations themselves.
Kane was in an offside position, but was he "moving toward the ball with the intention of playing the ball" or was he "already ... challenging an opponent for the ball"? It's entirely possible to make a reasonable case for either interpretation to suit your personal preference, and ex-professional referees differed in their analysis. It's a grey area, and a law that probably needs to be revised.
It was also a timely reminder that the laws that govern football remain of fundamental importance, in the week the International Football Association Board announced a raft of small changes.
There's a contradiction in the nature of football's laws. On one hand, the basics have remained fundamentally unchanged for more than a century. On the other, there have been several tweaks in the modern era that have encouraged attractive football. The introduction of the backpass law in 1992 revolutionised the game, while laws governing tackling have become stricter, and the offside law has been adjusted to prevent stiflingly high defensive lines, to create a more free-flowing game.
The IFAB's most significant law change is relatively simple: goal kicks no longer have to be played to a position outside the penalty box. This has always been a peculiar law with no tangible benefit, and until the past decade it was a minor concern -- goal kicks would routinely be punted toward the halfway line.
The popularity of possession play, however, means more teams started playing out from the back, and in response their opponents started to press them in advanced positions. In the past couple of seasons, we've witnessed a familiar charade: a goalkeeper passing out to a defender on the edge of the box, the defender checking over his shoulder and seeing that he's being pressured, and the defender moving inside the box to touch the ball and force a re-take. The IFAB have decided to change this ruling, primarily because they believe it was increasingly used to waste time.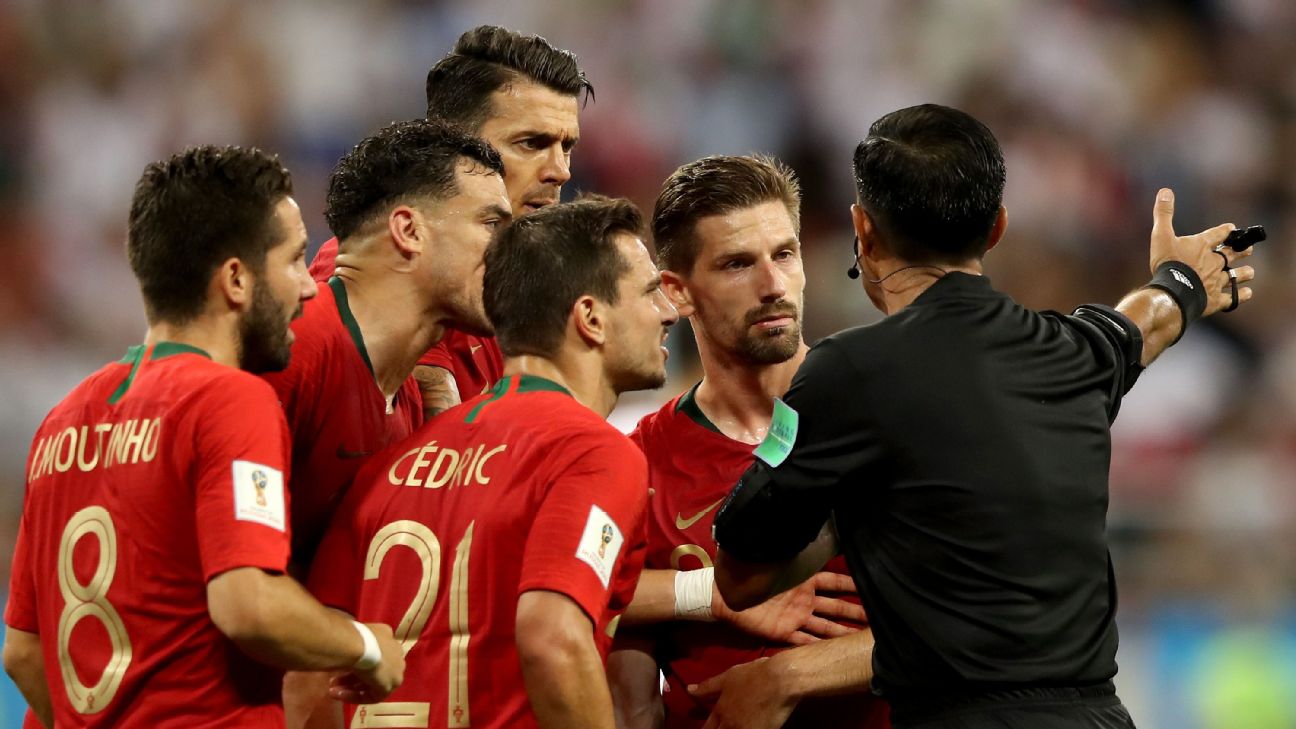 The change will be a fundamental difference to the way teams play out. We can expect to see Manchester City, for example, play out from the back with John Stones and Aymeric Laporte inside their own six-yard box, giving themselves freedom away from opposition pressure. In theory, this should make pressing at opposition goal kicks more difficult.
The other notable, and somewhat unexpected, change means teams will no longer be able to disrupt the opposition wall at free kicks, because attackers will be banned from standing within one metre -- in itself somewhat peculiar considering football distances are generally quantified in yards -- from the wall. The concern here, it seems, is that attackers are illegally disrupting defenders -- Alexandre Lacazette's free kick against Bournemouth last week, for example, was aided by Sokratis Papastathopoulos barging into the wall, and creating a gap to shoot through.
The referee is fully capable of punishing this without the new regulations, of course, but the IFAB presented this change as being for the spectacle of the game -- the pushing and pulling between opponents was considered somewhat ugly. Nevertheless, it's an interesting development and may prompt the odd debate about precisely what constitutes a wall.
There's also a change to the handball law, which -- for the first time -- means accidental handballs will be punished if a player scores a goal with his hand, or even if "possession is kept which leads to a promising attack" after hitting a hand, which might cause some debate. Sergio Aguero recently handballed over the line to complete a hat trick against Arsenal, which will, in the future, be punished. It's arguable that this has been an unwritten rule for some period of time -- albeit not enforced in the above example -- so the clarity is welcome.
Other changes are less riveting. Managers and coaches can now be shown red and yellow cards, something trialed by the English Football League this season, with Chelsea manager Maurizio Sarri recently being booked in the Carabao Cup semifinal against Tottenham. Meanwhile, players being substituted now must leave the the pitch at the nearest touchline. In one Nations League match last year, a player took nearly a minute to depart, which prompted the change. It's also now enshrined in law that a goalkeeper facing a penalty must keep just one foot on the goal line, although realistically this is a clarification of an existing law, rather than a genuine change.
It's also been suggested that the referee will now be allowed to award a drop ball "in some situations" when the ball hits him, although the precise wording hasn't yet been revealed. This will presumably be conditional upon when possession of the ball changes hands because of the referee's interference. This has felt like an obvious rule change for some time.
Other rumoured law changes have been scrapped. The IFAB has previously given consideration to a penalty being "dead" after the shot has been scored or missed, essentially meaning no rebounds are permitted. This would be a peculiar change, and go against the general intention of the IFAB in recent years, which is to keep the game flowing whenever possible.
There's a better argument that the penalty taker shouldn't be allowed to score a rebound from his own saved penalty, and should have to wait until another opponent touches the ball -- as is currently the case if the shot hits the woodwork. A penalty taker scoring a rebound from his own saved penalty ranks as among the least desirable goals in football.
The IFAB has, incidentally, monitored the development of the "ABBA" format of penalty shootouts, which eliminates the supposed advantage of taking first, by having teams take their kicks in tennis order: Team A then Team B, Team B then Team A. The EFL experimented with this system but scrapped it at the beginning of this campaign, incidentally -- it creates a surprising amount of confusion among takers and spectators.
Traditionalists might be angered, but there's room for further rule changes in the future. There is, for example, no obvious reason that throw-ins must be taken in their current manner, from behind the head. It can be relatively difficult for the throwing side to keep possession from the subsequent throw -- not at the top level, but in lower ranks -- and players should be able to reintroduce the ball by releasing it from a lower position, if they please, which would allow a neater pass to the feet of the opponent, and get the ball moving quickly again.
The popularity of "boxing in" teams taking a throw-in near their own corner flag is ugly, and essentially makes it a viable tactic to "kick for touch" and then press. This shouldn't be rewarded, and the solution is to enable sides to keep possession more easily from throws; as long as the ball is released with two hands, the precise manner shouldn't be an issue. Indeed, with referees routinely not punishing clear foul throws -- according to the current laws -- some kind of evolution is worthwhile.
Another positive law change would be preventing attacking teams from crowding the goalkeeper at corners, by preventing them from standing inside the six-yard box. Again, this isn't a particular issue at top-flight level, where goalkeepers can usually look after themselves, but too many lower-level and junior games are dominated by goalkeepers being pinned to his or her goal line by attackers who, while not technically fouling the goalkeeper, are standing in a position with the sole purpose of restricting his movement. With a whipped in-swinging corner, goals are almost impossible to prevent, but this surely isn't the type of football the governing bodies should be encouraging.
Whenever law changes are announced, there's a familiar cry of "Stop messing about with things," and "If it isn't broke, don't fix it." But football's continual evolution owes to the changes in laws, and also prompts changes in laws.
The revision to goal kicks is a perfect example: Not playing the ball outside the box has only recently become an issue, as teams have approached the game differently. This alteration fixes a relatively new problem to reflect more technical play, and in turn should encourage even more technical play. The IFAB continue to focus on rewarding technique, which has contributed to football becoming such an attractive spectacle. Their continual tinkering should be appreciated, rather than derided as unnecessary meddling.