FIFA wants to ban UEFA president Michel Platini for life - lawyer
Michel Platini's lawyer says FIFA's ethics committee wants to ban the UEFA president for life.
Platini and FIFA president Sepp Blatter are currently serving 90-day provisional suspensions handed down by the ethics committee and, after seeing their appeals rejected last week, formal proceedings were opened against the pair on Monday.
They were suspended over a two million Swiss franc (£1.35m) payment that Blatter made to Platini in 2011 for work that was carried out nine years previously.
Platini is taking an appeal to the Court of Arbitration for Sport (CAS) in the hope that he will be able to stand in FIFA's presidential election on Feb. 26 but his lawyer, Thibaud d'Ales, said the ethics committee wants the Frenchman banned for life.
The lawyer told AFP the requested ban was a "scandal" and "excessive."
"This ban is subject to the proof of corruption, but the punishment is clearly excessive," D'Ales said. "It's not based on anything in the case."
He added: "I'm wondering if the person in charge of the investigation shouldn't be called instead 'the person in charge of eliminating Michel Platini' from the FIFA presidency.
"It's a pure scandal, and by making it public there's clearly an intention to cause harm.
"The masks are slipping one by one at FIFA -- the electoral timetable's being manipulated and there's a stategy to get rid of Platini as a candidate."
D'Ales also told The Associated Press that FIFA's aim is to prove that there was no contract between Platini and Blatter for the payment.
"Obviously we've got the proof that such a deal existed," D'Ales said. "We will submit it to CAS, which will handle the case within a fairly short space of time."
On the proposed sanction, he added: "The overreaching of the request really convinces us of this commission's total lack of credibility. There is not a single tangible element in this case that can confirm the suspicions."
Blatter's representatives did not comment on whether the same request had been made against the FIFA president.
However, a spokesman for FIFA's investigative committee told AFP that Platini and Blatter's legal teams have been informed of the report, even if he did not confirm its content.
"I can confirm that Michel Platini and his lawyers have got the report and they have also received the request of the investigative committee," spokesman Andreas Bantel said.
"They know what is in the report and they are free to comment on it."
Blatter's spokesman Klaus Stohlker said the 79-year-old had yet to be informed of the recommended sanction but was "deeply surprised" to learn of that facing Platini.
Stoehlker told Press Association Sport: "Mr Blatter was elected by the FIFA congress and only the congress can remove his power."
A FIFA life ban has been overturned by CAS in the past. Mohamed bin Hammam of Qatar had his expulsion by FIFA overturned on appeal in July 2012, more than one year after a bribery allegation ended his presidential campaign against Blatter.
The CAS panel said a FIFA investigation did not prove Bin Hammam was the source of $40,000 bribes to Caribbean voters, though it suspected he was.
In a further FIFA legal development Tuesday, Switzerland's justice ministry said it agreed to a U.S. request to provide bank documents as evidence.
Details of the bank accounts involved were not given, though a U.S. Department of Justice indictment published in May identified accounts in Zurich used by marketing agents allegedly to steer bribes to sport officials.
Meanwhile, the FIFA Executive Committee will discuss ongoing reforms at a meeting in Zurich next week.
FIFA published an agenda for the Dec. 2-3 session on Tuesday, confirming that the Executive Committee will hear from reforms advisory chairman Francois Carrard.
A slate of Carrard's proposals -- which could include taking some decision-making away from the Executive Committee, and imposing age and term limits on senior officials -- will be sent to the FIFA congress on Feb. 26 for approval.
Executive Committee members will also be updated next week on the American and Swiss federal investigations into corruption in the sport.
Interim FIFA president Issa Hayatou is also scheduled to report on a Dec. 2 finance committee meeting. FIFA will likely report an annual loss next March after failing to sign any World Cup sponsor deals in 2015.
The meeting was originally intended to have been held in Japan on Dec. 17-18, on the sidelines of the Club World Cup.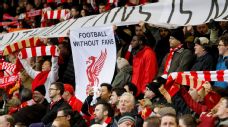 The switch to Zurich was made in September when Blatter still chaired the Executive Committee and did not want to visit countries having extradition agreements with the United States.
Two new delegates from South America could attend next week in Zurich to take over from colleagues implicated by U.S. federal prosecutors in taking bribes from Copa America marketing deals.
The 10-nation CONMEBOL confederation is scheduled to meet this week in Rio de Janeiro and could appoint replacements for Marco Polo del Nero of Brazil and Luis Bedoya of Colombia.
FIFA said the Executive Committee will next meet on Feb. 24 in Zurich, two days before the presidential election to replace Blatter.
Information from the Press Association and Associated Press was used in this report.