Barca can't afford any more injuries, Man United's tests, Inter loss not a blip
Lionel Messi's injury dominates the headlines, certainly more so than Barcelona's poor performance against Las Palmas, a team they should be pummelling by considerably more than the 2-1 margin they inflicted on Saturday.
Luis Suarez was the saviour and he can certainly carry this team in Messi's absence, as can Neymar. But missing eight games leading up to the Clasico at the Bernabeu (plus four World Cup qualifiers with Argentina) is very much a serious blow. Particularly when the schedule includes a trip to Sevilla (true, they only got their first Liga win Saturday, but they remain a tough out) and a visit from high-flying Villarreal.
Coupled with Rafinha's serious injury (he won't be back until the new year), the sale of Pedro now has a wholly different context. He was Barcelona's insurance policy and now, thanks in part to the FIFA transfer ban, they look short.
It's not just the fact that one out of Sandro and Munir will necessarily have to start every game; it's the fact that Suarez and Neymar won't get a breather either. And should something happen to them -- injury or suspensions can happen -- then things get really nasty really quickly.
This is not a big squad and it's one that has already been hit by injuries. Dani Alves and Jordi Alba have gone down at different times. Andres Iniesta can't be expected to last 90 minutes every game. Sergi Roberto did a fine job filling in at full-back but if he's playing right-back, he can't be in midfield at the same time.
Luis Enrique was being bullish as ever when saying that Messi's absence would offer "extra motivation." Needless to say, you assume he'd rather have a fit Messi than a bucket load of additional motivation.
Manuel Pellegrini needs to keep his cool
Losing three games on the bounce in all competitions (the League Cup doesn't count, it never counts, because it doesn't matter) when you've started the season with five straight victories brings talk of crisis. It's inevitable, one of those football truisms.
As a manager, you're either able to douse the flames in a credible way or you react in a way that makes it worse. Storming out of a post-game news conference while snapping "I am angry, I am not angry, no more questions? OK?" as Manuel Pellegrini did Saturday following the 4-1 defeat to Tottenham does not help matters.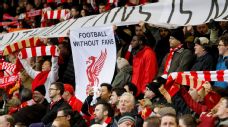 Sometimes you lose your cool. It happens to everyone and it happens less to Pellegrini than most other managers. In this case though, perhaps because it's so unlike him, it only fans the flames.
The standard thing for him to do would have been to retreat into "manager speak." Point out the important absentees (David Silva, Vincent Kompany, Joe Hart), remind everyone of the absurdly bad offside decision, lament some of the individual errors and praise Tottenham for playing well (which they did).
That would have been the textbook way of handling this. And it's been the way Pellegrini has handled defeats in the past.
Mancini must not treat defeat like an aberration
With five wins out of five, Inter (along with Bayern) were the last major team to have run the table this season. That streak ended in the most emphatic fashion Sunday night at the San Siro against Fiorentina.
Within 25 minutes, Inter were 3-0 down against Paulo Sousa's Viola and it seemed that everything that could go wrong did go wrong for Roberto Mancini's crew. Fiorentina didn't just outscore them in the 4-1 win on Sunday; they outplayed them and out-thought them, too.
What's interesting is that going into the game Mancini had seemingly worn Inter's "ugliness" as a badge of honor. And many had bought into it, saying that being solid and muscular had its merits and that winning 1-0 (something Inter had done four times in their five games, the other result being 2-1) showed great character, determination and personality. And besides, isn't knowing how to win ugly and getting the three points even when you're not playing well the sign of a great team?
It's all hogwash -- especially that last part, at least taken in its most simplistic reading. Inter weren't functioning properly and that's why they played poorly. They got the victories because this is a low-scoring sport and if you can nick a goal and defend your lead, you'll get the three points.
Mancini needs to take this defeat not as a disaster but as a wake-up call. There's a reason most top teams in Europe don't have three guys like Freddy Guarin, Geoffrey Kondogbia and Felipe Melo in the middle of the park: in the modern game, you need a midfield that can create as well as destroy, players who can retain possession rather than powering forward and unleashing 30-yard screamers.
Given the competition, Inter may still be favorites to win the Scudetto but the approach -- and the execution -- we've seen thus far suggest that even if they do, they won't be able to build on it. The worst thing Mancini can do is treat this result as a blip.
Are Man United for real?
Manchester United's 3-0 win over Sunderland sees them back at the top of the table for the first time since the end of the Sir Alex Ferguson era. In the last few outings, Louis van Gaal seems to have found the balance with two central midfielders and Wayne Rooney behind Anthony Martial. It means there's no room for Ander Herrera (unless you play him in the two, something Van Gaal has been reluctant to do) but what matters most is getting the mix right.
There's not much you were going to learn from beating a team in free-fall like Sunderland but the fact that Rooney got back on the league score sheet after a 1,000-minute drought means that folks will at least stop asking him about it. And with every game that passes, Memphis Depay and Martial learn the runs that are expected of them. The challenge will be whether this can work against tougher opposition.
The next three games -- Arsenal and Everton away, followed by the Manchester derby at Old Trafford -- will offer a fair indication of where Van Gaal is and whether United are for real.
Real Madrid's problems are not in attack
Much has been made about Cristiano Ronaldo taking no fewer than 14 shots on goal Saturday in their 0-0 draw with Malaga at the Bernabeu and failing to score. But break it down and you'll note they were mostly good finishes, not selfish bashes from impossible angles.
That part is less of a concern. Perhaps what Rafa Benitez might be a bit more worried about is at the other end of the pitch. And yes, I know it sounds absurd for a team that have conceded just one goal through seven games in all competitions. But Keylor Navas was forced to make two exceptional saves of the kind you don't expect a Madrid keeper to have to make. Not against this year's version of Malaga, and not at the Bernabeu.
We'll have a much clearer picture of whether things are working as they should defensively next week when they travel to the Calderon for the Madrid derby.
Chelsea's issues will be worked out at training
Jose Mourinho rated Chelsea's first-half performance in the 2-2 draw at Newcastle as a "minus one" on a scale of 1 to 10, adding that it was as bad he'd ever seen Chelsea play during his time at the club.
He's not wrong. Chelsea were awful and while they showed plenty of character in the fightback, lack of character isn't the problem. It rarely is on Mourinho-coached teams.
He pointed to "individual errors" and no doubt, there were plenty. The question now is how he addresses them. His squad is only so big; there is only that much wiggle room. Chelsea will get out of this (or not) on the training pitch. Individuals will make errors but the right tactical scheme will mitigate them. That's where the work needs to be done.
McClaren may regret not backing his players
Deep in injury time in that Newcastle vs. Chelsea game, the home side won a corner. Rather than attempting to score, Newcastle boss Steve McClaren opted to send a couple of guys over by the corner flag, play it short and let the clock wind down.
If you like to play the percentages, it was the wrong thing to do. At that stage of the game, the odds of either team scoring are tiny regardless. But if you don't even try, you're guaranteed not to score.
The fact of the matter is that a goal for Newcastle would have meant two extra points. Conceding at that stage would have meant losing a point. If it were a coin flip and the chances of either happening were 50-50, you'd go for it.
McClaren, whose team had allowed Chelsea to fight back to 2-2 from two goals down evidently had so little faith in his players that he chose to take the draw instead. You assume his logic had to do with the negative psychological impact that another Chelsea goal would have had on his men. That may be so, but if their self-esteem is that fragile, then effectively telling them "You're more likely to concede than score from a corner with seconds to go" probably didn't do much for their confidence either.
You hope, for Newcastle's sake, that come the end of the season they won't regret at least trying for those two extra points.
Bayern's depth gives Guardiola plenty of luxuries
One of the advantages of being Pep Guardiola right now is that you can experiment while knowing that no matter what you do, you'll likely win. So you can send out whatever lineup you like and even if things don't work as you'd like, odds are you'll get a break and get the three points. That was the case in midweek against Wolfsburg (1-0 down at the half, send on Robert Lewandowski who scores five by the hour mark and you're home free), and again on Saturday away to Mainz.
For 51 minutes, Mainz's barricades held, and then the floodgates opened. Lewandowski (who else?) bagged two (taking his seasonal total to 11) and Kingsley Coman, making his second start, added a third for a 3-0 win.
Between the league and Europe, Bayern have scored 26 goals in eight games, though only three have come in the first half. A statistical quirk or something to be concerned about?
Either way, it's a luxury for Guardiola and one he'd be wise not to take for granted.
How quickly can Allegri "fix" Juventus?
Too often it's a mantra in the way we view the game that if a team loses, we rush to point out their flaws rather than exalting the opposition. So the narrative following Juventus' 2-1 defeat at Napoli isn't about how Lorenzo Insigne looked like a slower version of Lionel Messi before getting hurt, or how (apart from one errant back-pass) Kalidou Koulibaly turned in as good a defensive performance as we've seen this season, or how Gonzalo Higuain had one of those days when he looked as devastating as any true centre-forward in Europe.
Nope, the focus is on Juve's flaws, which to be fair are manifold as you'd expect from a side having their worst start since the 1969-70 campaign.
To me, the issue against Napoli wasn't lack of quality or endeavour -- though, as ever, folks trotted out the old cliches about "personality" and "leadership." Nor was it solely about the absentees, though with Claudio Marchisio, Alvaro Morata and Stephane Lichtsteiner in the starting XI, this is a different side.
This time, it's on Max Allegri. He was out-thought by Maurizio Sarri, who got the tactical upper hand early and never relinquished it. Hernanes was asked to do stuff he hasn't done in a long time: play the Andrea Pirlo role and do it well. Simone Padoin at right-back in a back four is an aberration. Sending Paul Pogba into wide areas and asking him to invent something from nothing won't work against a tactically disciplined side like Sarri's.
Allegri needs his injured guys back and he needs to find the right balance for this team. He'll get there, but how soon he gets there will determine whether or not the defending champions will compete for the Scudetto.
Giroud vs. Walcott debate continues
Arsenal travel to Leicester, play Theo Walcott up front, he scores a goal and because they win 5-2, the Theo vs. Olivier Giroud meter starts leaning towards the English striker. (Giroud also scored in that game but that was late on, so it kinda gets forgotten.)
Walcott says all the right things, talking about how he's learning the position and growing and feels more confident playing up front. Giroud doesn't say much.
Meanwhile, there's a whole school of thought out there whereby the argument is moot because neither is good enough and Arsenal should have spent big on an Edinson Cavani or a Karim Benzema. As I see it, Giroud and Walcott are as different as a Range Rover and a roadster. Neither is necessarily better than the other; it just depends on your needs.
If you want a central reference point who can hold up the ball, distribute it intelligently and provide a physical presence, then Giroud's your man. If you want a speedster who stretches opposing defenses and can attack the space like few others, then it's Theo.
Arsene Wenger may be stubborn, but he's not a dolt. He's been doing this a long time. He has two strikers who are competent without being superstars (or particularly good finishers) and he's wise to pick based on the opposition (being on the road against Leicester's high line was perfect for Walcott) and how Arsenal want to play that day.
Bas Dost does it again
Yep, him again. Bas Dost. Clockwork. He scored in Wolfsburg's 1-1 draw with Hannover, bringing his season tally in all competitions to six goals in nine games. Given Dieter Hecking's tendency to substitute him though, his numbers are even more impressive: one goal every 115 minutes, not far off one per game.
At this pace, he'll break the 30-goal mark.
Gabriele Marcotti is a senior writer for ESPN FC. Follow him on Twitter @Marcotti.