Arsenal's title credentials, unstoppable Bayern, Madrid's derby draw
Sometimes things aren't quite as complicated as they appear. Arsenal go 2-0 up almost straight away against Manchester United, add a third inside of 20 minutes and then shepherd through Sunday's 3-0 win in the second half, showing intelligence and savoir faire.
It wasn't just an impressive attacking performance; it was as solid and grown-up a defensive performance as you're likely to see. And so the question is inevitable: why can't they do this all the time?
As I see it, part of the answer is that they generally don't get the benefit of a two-goal lead in the first seven minutes. It doesn't take a genius to figure out that things get a whole lot easier when you're spotted two early goals, particularly for a team like Arsenal, for whom passing and movement have long been hallmarks.
Part of it is that Theo Walcott hasn't been fit all the time and when he's played, and he hasn't always performed the way he did on Sunday. I'm not yet on the Theo-must-be-Arsenal's-permanent-centre-forward bandwagon, but when he plays the way he did against United, he's simply devastating and tailor-made to open spaces for the men behind him.
But part of it -- and maybe it's the least exciting part -- is that Arsenal do generally play like this quite often, at least when they have a full complement of starters. Results don't always follow because of weaknesses elsewhere, individual mistakes and the simple fact that creating chances and finishing them are two different things.
After Tuesday's Champions League doom-and-gloom defeat vs. Olympiacos, there are still those who see Arsenal as Manchester City's stiffest opposition for the Premier League title this season. You can see where they're coming from. Chelsea have too much ground to make up; Manchester United look at least a year away, and their struggles in Europe might even be a blessing in disguise when it comes to domestic success. Zero points in two games and a home-and-away set against Bayern suggest they do not have to worry about Europe (not even the Europa League at this rate) come the spring.
As for Manchester United, there's only so much second-guessing you can do of Louis Van Gaal. The back four, which had previously held up well, struggled (particularly Matteo Darmian and Daley Blind) but right now, it's not as though he has loads of options off the bench. Phil Jones hasn't played 90 minutes for the club since last season; Marcos Rojo is either unwell or on the naughty step; and Luke Shaw is injured.
The one decision that did seem a bit questionable was opting for the Michael Carrick-Bastian Schweinsteiger partnership in midfield. You obviously get plenty of quality and experience, but you lose in terms of dynamism and defensive oomph. Against opponents who sit deep, it's an effective combination. Against Arsenal away, you wonder whether maybe someone like Morgan Schneiderlin might not have offered something more.
Still, you can budget for a defeat here, and the fact of the matter is that United are still third. If this is to be another season that they remain near the top, make some inroads in Europe and watch Memphis Depay and Anthony Martial continue to develop, it will be a solid campaign.
Bayern set to run away with the Bundesliga again
I'm one of those people who genuinely thought we'd have a proper title race on our hands in the Bundesliga. I drank the Thomas Tuchel Kool-Aid, and in some ways, I still do. But having seen Bayern trounce Borussia Dortmund in their 5-1 victory on Sunday, I'm not so sure.
You wonder how much time Tuchel and Pep Guardiola spent ahead of the game trying to second-guess each other's schemes. Tuchel might have been prepared for Guardiola's initial Marcelo Bielsa-esque 3-3-1-3, but he was undone by two basic football truisms.
The first is the one whereby if you tinker too much, you pay a price. What makes Tuchel so interesting is his penchant for the exotic -- Lukasz Piszczek from right-back to left-back, Sokratis Papastathopoulos from centre-back to right-back, Sven Bender from defensive midfield to centre-back -- but the problem is that the more you change, the more things can go wrong. And while Pep made his adjustments early, switching to a back four when it became obvious Pierre-Emerick Aubameyang was running wild in wide areas, Tuchel's tweaks were either late or didn't come at all.
The other is that while scheme can beat personnel, personnel and scheme beat scheme alone. And the decision to drop Marco Reus (and to a lesser degree, Mathias Ginter) for a game like this seemed rash. Reus had not been on top of his game but in terms of quality, only Henrikh Mkhitaryan is in the same ballpark on this team. What it does confirm is that Tuchel genuinely is unafraid of the commentariat.
As for Bayern, they've won every game they've played this season apart from the curtain-raiser. They're so devastating that you wonder if people even noticed that Arturo Vidal, the big summer signing, only came on for the last 20 minutes. Or that Arjen Robben hasn't stepped on the pitch since August. And Franck Ribery has been out since last March.
The headlines went to Thomas Muller and Robert Lewandowski. Muller's opener epitomized his supernatural ability to anticipate where the ball is going to go, his physical freak status in having the pace and strength to reach it and his single-minded drive in ensuring he puts it in the back of the net. Muller has 10 goals in 10 seasonal appearances and, on any normal team, that would make you top scorer. But this is Bayern, and he's way behind Lewandowki, who has 16 in 11.
The fallout is that Dortmund are now seven points back from Bayern, with Schalke eight back in third. Given the absurd array of weapons at Guardiola's disposal, it doesn't look as if there will be much of a title race.
Madrid derby draw helps Real more than Atletico
A 1-1 draw at the Vicente Calderon is a good result, given that Real Madrid hadn't won away to Atletico in the past five attempts and had lost three games there last season. That's the "glass half full" reading of Rafa Benitez's Sunday night. It kept his team one point off the top of the table and showed that they can go toe to toe Atleti style and grind it out without being pushed around.
Benitez got a monster performance out of Casemiro in holding midfield, and until Luciano Vietto's late equaliser, his side didn't concede any genuine chances from open play (though Keylor Navas did have to save Antoine Griezmann's penalty). On a night when Cristiano Ronaldo was there in body only and Gareth Bale came on midway through the second half, you'll take that.
Yet there's also more than a sense of missed opportunity. The visitors seemed content to sit and wait in the second half, which allowed Atletico to get back into it to some degree. And when Rafa need to tighten things up by sending on Mateo Kovacic, it spoke volumes -- and not in a surprising way either -- that the sacrificial lamb was Karim Benzema rather than Ronaldo.
As for Atletico, Diego Simeone's insistence on Fernando Torres in big games borders on the morbid given his options up front: from Vietto to Antoine Griezmann and from Jackson Martinez to Angel Correa. At some point, you'd imagine it surely has to end.
Liverpool must get it right with Rodgers' replacement
The actions of Fenway Sports Group have been difficult to read over the past few months, but if you give them the benefit of the doubt, you can only conclude that Brendan Rodgers wasn't sacked because he failed to win the Merseyside derby on Sunday.
Rather, you presume that Liverpool's owners have managed to secure a guy they think will do a better job at the helm of their club -- most likely a guy they weren't able to nail down in the summer, and even if Liverpool had beaten Everton 6-1, Rodgers would have been dismissed. That's giving Fenway the benefit of the doubt. And it's the only way to explain Rodgers' firing.
Liverpool have played 11 games this season in all competitions. In those matches, they have three wins, six draws and two defeats. Which is exactly what they gained in the final 11 matches of last season.
In other words, it's same old, same old. Results have not improved but they haven't deteriorated either. If Rodgers wasn't the right man Sunday, he sure as heck wasn't at the end of last season. In fact, there's plenty to suggest that Fenway knew this back in May and the reason they didn't pull the trigger then was that they couldn't find a replacement. So they chose to bide their time while making signings that perhaps weren't quite Rodgers-specific but are quality players that any prospective new manager can work with.
That's the benefit-of-the-doubt scenario. If, on the other hand, they sacked Rodgers because he lost the derby and won only once since Week 2 of the season and in fact, they don't have a replacement lined up, well -- that's not a good sign. Their next six games see them play Tottenham, Chelsea and Manchester City away while hosting Southampton, Crystal Palace and Swansea (three teams who, among them, have a winning record on the road.) By that point, they could be out of the Europa League and double digits away from the top four.
Napoli might be for real again in Serie A
Few cities are as prone to letting themselves get carried away as Naples, so you necessarily need to take recent results with a bucket of salt. But there's something special coming together under coach Maurizio Sarri, as suggested by the victories of Juventus (2-1) and Lazio (5-0) in the past few weeks and as emphatically driven home by the 4-0 pounding inflicted on Milan at the San Siro on Sunday night.
Right now, Gonzalo Higuain is playing as well as at any point in his career -- not just scoring but also providing a steady supply of assists -- while Lorenzo Insigne is drawing blasphemous comparisons to diminutive Argentina and Napoli icons of yesteryear. (No, not that guy, let's be real. I was thinking of Ezequiel Lavezzi.)
Just as important is that Sarri seems to be doing what Rafa was unable to do: sort out this team defensively. With the magnificent Allan shielding the back four, Pepe Reina and co have given up just one goal in the past seven outings.
Trying to decipher Jose Mourinho's latest bizarre rant
It's the oldest trick in the book. Savvy managers do it to protect their players and their performance. They deflect attention onto themselves when things go wrong. And Jose Mourinho is nothing if not a savvy manager.
Still, few would have expected his incredible seven-minute, four-second monologue in answer to a single question after the 3-1 home defeat against Southampton, Chelsea's sixth of the campaign in all competitions. (Last year, they lost four all season long.)
What did he say? What didn't he say, more like. Referees are afraid to to give decisions Chelsea's way. The Football Association are free to punish him, if they want to, though they don't punish other managers. As soon as one little thing goes wrong, his team collapses. He's not going to quit; Chelsea will have to sack him. He's more than convinced that Chelsea will finish in the top four. And he's the best manager in the history of the club, and sacking him would mean blaming the manager for bad results.
Enough happened this weekend that there isn't enough space to delve into this level of Mourinhana in detail, but a few things are worth noting:
He can complain about the refereeing, but Southampton had two clear-cut penalties (Gary Cahill on Virgil van Dijk and Ramires on Sadio Mane) that weren't given and Mane was unjustly booked for diving. Few managers in the world, other than Mourinho, would be so honest and so cavalier about calling his players fragile. (If you're Nemanja Matic and you get dropped only to come on as a sub and then get subbed out again, might you not develop a tad of insecurity and mental fragility?)
And finally, given the way Mourinho has so consistently rattled off his own impressive resume and lists of honors and results, it seems a bit unusual to complain that Chelsea might end up blaming the manager for poor results. Particularly when Chelsea, for all the managerial revolving doors, have won four Premier League titles, four FA Cups, three League Cups, a Europa League and a Champions League in the past 11 years.
Barcelona's plight not entirely because of Lionel Messi's injury
Luis Enrique got a bit testy after Barcelona's 2-1 defeat away to Sevilla. He doesn't want to hear about how his team has lost twice in their opening seven Liga games, something that hadn't happened since Frank Rijkaard's first season in charge 12 years ago. (And, incidentally, Rijkaard's team hadn't won the Treble the year before.)
Nor does he want to be told that they've kept just two clean sheets in 12 games (compare/contrast to last year: 33 in 60) or that last year they won nearly two-thirds of their matches by two goals or more, whereas this year it has happened only once. But when you lose to an injury-riddled side that had won its first Liga game only the previous week? Well, questions will be asked: that's the nature of the beast.
Enrique is right when he blames bad luck and reminds folks that they created plenty on Saturday (as evidenced when they hit the woodwork four times). Stuff like that has a way of ironing itself out over time. More of a concern though are the defensive errors that continue to crop up. You can't blame them on the absence of Lionel Messi either.
Ibrahimovic breaks a record as PSG pad their Ligue 1 lead
Zlatan Ibrahimovic's two goals in a 2-1 win over Marseille on Sunday made him Paris St. Germain's all-time leading goal scorer, a function of the fact that the club has only been around since 1970 more than anything else. That Ibrahimovic would break Pauleta's mark in a little more than three years, while the Portuguese striker took five to set it, speaks to the Big Swede's impact in the French capital.
Marseille actually took the lead through Michy Batshuayi and looked as if they could get something out of this game, for a while at least. But there's a steel to PSG these days, one that perhaps emerged midway through last season -- and the Parisians came back quietly and efficiently.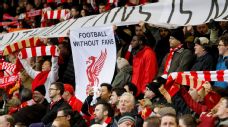 The gap is five points from PSG on down but neither of the second-placed teams, Caen and newly promoted Angers, look like genuine threats. Indeed, the other sides we thought of as potential contenders -- Lyon (eight points back), Monaco (10 back) and Marseille (a whopping 15 back) -- already look to have fallen by the wayside.
Sergio Aguero belongs in top striker discussion
Manchester City are back on top of the Premier League table with that 6-1 shellacking of Newcastle, with Sergio Aguero scoring no fewer than five goals. But there's one terrifying stat that stands out:
STAT (from BBC): In a 22-minute period between the 41st minute and the 63rd minute, Sergio Aguero had nine touches and scored five goals.

- sportingintelligence (@sportingintel) October 3, 2015
That speaks to two things: one is that a striker who takes so few touches to score is in the right place at the right time ready to take the right shot. The other is that his supporting cast excel at delivering him the ball where he can hurt opponents.
You can have an endless debate as to who the top centre-forward -- assuming you define it narrowly -- in the world is, whether Lewandowski or Higuain or Benzema or whoever. But Aguero has to be up there.
Title races in Italy, Spain have some entertainment
Don't look now, but Fiorentina and Villarreal are top of the league in Italy and Spain respectively. The Viola beat Atalanta 3-1, while the Yellow Submarine actually lost their first league game of the season 1-0, unexpectedly, at Levante.
You don't necessarily expect it to last for either -- though the way Serie A looks so wide-open this year, Fiorentina hanging on isn't quite as far-fetched as Villarreal -- but in the meantime, it's a fun ride. And it shows how even without massive resources, with a bit of chutzpah, creativity, coaching, lateral thinking and, of course, luck, you can make yourself competitive. At least for a while.
Gabriele Marcotti is a senior writer for ESPN FC. Follow him on Twitter @Marcotti.