Manchester derby lacked star quality, Mourinho woe, Madrid and Barca win
The Manchester derby wasn't a pact of non-aggression -- it just felt that way for the majority of the game. Never mind those who trot out the uber-fatigued cliche -- "not a great advertisement for the Premier League" -- neither United manager Louis Van Gaal, not his City counterpart Manuel Pellegrini are, strictly speaking, paid to advertise the league. (And, in any case, it's advertised more than enough.)
The game was dull and mostly lifeless game because of two factors. One was the way the teams set up. Van Gaal pursued the possession game, but with three-quarters of his front four devoid of threatening pace, Pellegrini's tidy back four and double midfield shield of Fernando and Fernandinho dealt with it comfortably, to the point that United didn't even shoot on goal in the first half.
The other key was that the stars didn't show up. In tight games, you look for your difference-makers to create out of nothing. City have plenty of them, but David Silva and Sergio Aguero were unavailable, while Raheem Sterling, Kevin de Bruyne and Yaya Toure turned in, by their standards, genuine stinkers.
For United, Wayne Rooney (more of him later) was anonymous, Juan Mata was stifled and Memphis Depay was on the bench. Van Gaal's most dangerous attacking option was Anthony Martial, a 19-year-old making his fifth Premier League start and that should make him think.
Van Gaal complained about a penalty not given for Sterling's second-half challenge on Ander Herrera, which was marginal at best. Other than that, United's two best chances came late in the game, once their manager ditched his original game plan and sent on Marouane Fellaini and Jesse Lingard for Bastian Schweinsteiger and Mata respectively.
You can look at those moves as a sign of creativity in shifting to a Plan B. Or you can wonder why, after 15 months in charge, Van Gaal's Plan A still seems so ineffective, even at home to an opponent happily conceding possession.
Then there's Rooney. He turned 30 on Saturday, he was poor on Sunday and so inevitably he'll be on trial. Van Gaal snapped when asked him about him after the game: "I have to talk every week about Rooney -- why? I don't give any more answers about Rooney because I am sick of it."
Well, actually, he needs to talk about Rooney because he is Manchester United's captain and one of the highest-paid players in the Premier League. And he has scored two goals from open play in the past 15 league games, going back to April. And he was played up front with Martial on the wing, something which is relatively new this season.
That's why people ask and it's a reasonable question. Personally, I don't think Rooney deserves to be thrown under the bus. He can still contribute in an important way, the key is getting the chemistry and timing correct, particularly in his interplay with Martial.
More to the point, there are only so many combinations available to Van Gaal. Assuming he doesn't want to play Fellaini as a target man, it's either James Wilson (who has nine minutes of first-team action this year), Depay (who was dropped and looks somewhat out of favor right now), Martial or Rooney up front.
It's not as if Van Gaal can drop Rooney and bring on Ruud Van Nistelrooy or Andy Cole. The reality is that, for better or worse, he's going to have to make it work with his captain.
All told, a point satisfied both teams. A defeat for United would have brought more unwanted controversy, while a loss for City would have seen them slip to second. As it happens, both live to fight another day. Right now, given United's issues and City's injuries, that's not a bad thing.
Points over performance for Real Madrid
Real Madrid huffed and puffed before locking down three points against Celta Vigo, with a lot of help from goalkeeper Keylor Navas.
Celta manager Eduardo Berizzo approached the game with his usual fearlessness and Rafa Benitez -- without Gareth Bale, James Rodriguez and Karim Benzema, AKA a fair slice of his galaxy -- responded by going safety first, with Lucas Vazquez and Casemiro protecting Madrid's back four.
"What I looked most about this game was the result," Benitez said, with total honesty. That was the key on Saturday, because it's a game Madrid could easily have lost.
Navas made at least three exceptional saves -- from Pablo, Iago Aspas and Fabian Orellana -- while Gustavo Cabral gave the visitors a man advantage for more than half an hour by needlessly getting himself sent off. Late in the game, John Guidetti fluffed the chance to make it 2-2 and Madrid's third goal only came deep in stoppage time.
The unavailable players offer Benitez a hefty alibi. What matters until they return are results, even if they arrive with a bit of luck.
Salah shines as Roma beat Fiorentina
It was first versus second in Italy and it was Roma who won 2-1 in Florence, leap-frogging Fiorentina to the top of the table. The man of the day, inevitably, was Mohamed Salah.
Six months ago, the then-Egyptian loanee made Viola fans fall in love with him but his decision to permanently pick the Eternal City ahead of Florence (a move which will likely result in a dispute that goes all the way to the Court of Arbitration of Sport and involve both clubs, as well as his former team Chelsea) resulted in 87 minutes of venom and boos, as you'd expect.
It ended with Salah receiving a second yellow card for dissent -- a controversial incident as replays don't show any obvious abuse or complaint being hurled at the referee -- but, before that, he scored Roma's opener and continually kept the home team on the back foot with dribbling runs.
This Roma side are still evolving but the encouraging part is that Rudy Garcia's team showed maturity and flexibility. They began with a high press and then, once in the lead, continued with an organized defend-and-counter set-up.
As for Fiorentina, it's the third defeat on the bounce and one that leaves you wondering whether -- their game with Inter aside -- their first place was more a function of a fairly weak schedule to that point. Still, Paulo Sousa has doubtlessly overachieved and, if he can get a spark, perhaps from a fully fit Giuseppe Rossi, they could yet be in the race.
After all, with the top five teams separated by just two points -- and Juventus working their way up the table -- Serie A looks set to be one of the tightest battles in Europe.
Mourinho's woes continue
Monday's English papers were full of doom-and-gloom for Jose Mourinho, with many suggesting that, if Chelsea lose at home on Halloween to Liverpool, it will be the end of the road for the Special One.
That's not my understanding. I've been led to believe that if Chelsea make a change, it will be based on performances, not results and that in any case, the idea is to give Mourinho until December to improve.
But, in any case, it speaks volumes of the climate around Stamford Bridge right now following Saturday's 2-1 defeat at West Ham.
It feels like a runaway train. Nemanja Matic gets himself sent off for two avoidable yellow cards in the first half. Chelsea were denied two goals, one by technology (amazing how much faith we have in a bunch of cameras and some computer equipment) and one by an assistant referee (to be fair, it could have gone either way).
Silvinho Louro, one of Mourinho's assistants, was also sent off for dissent from the bench. There was an altercation -- currently being investigated by the Football Association -- in the tunnel at half-time, after which Mourinho himself was banished to the stands.
The irony is that Chelsea played better than in recent outings and that's what Mourinho will be looking to build on. Still, you can't help but feel that some of the problems witnessed in the latter part of last season haven't been resolved and to make matters worse, new ones have cropped up.
And the reality -- one win in six games in all competitions, seven defeats overall in three months (as many as Mourinho's Chelsea suffered in the previous 19 months) and 15th place in the table -- is ugly.
Dortmund's dynamic striker
Three days after scoring a hat trick in the Europa League, Pierre-Emerick Aubameyang netted a Bundesliga treble as Borussia Dortmund thrashed Augsburg 5-1. (Encouragingly, two-goal Marco Reus is scoring again, too).
It's remarkable to see how smoothly the Gabonese striker has handled the transition from Jurgen Klopp to Thomas Tuchel. Few players combine intelligence, movement and flat-out speed the way that Aubameyang does : He has 20 goals in all competitions (and we're still in October) and he has clearly taken on board Tuchel's tactical diktats.
It's also telling that, while Tuchel likes to rotate his players, Aubameyang has started every single Bundesliga game. With every game that passes, he becomes more and more critical to Dortmund's success.
Arsenal keep finding ways to win
There have been so many false starts and half-season wonders at the Emirates that you don't want to get carried away, but what strikes you most about Arsenal of late is that Arsene Wenger's team seems to be able to deal with absences -- enforced or otherwise -- without missing a beat.
Everton are a tough out, but the Gunners took control early on Saturday and never looked back (though it did take a special Petr Cech save late in the game to preserve the result, Arsenal deserved the win).
Gabriel slotted in for Per Mertesacker, Alex Oxlade-Chamberlain replaced Aaron Ramsey and Olivier Giroud started ahead of Theo Walcott and the Gunners maintained the same combination of work rate, quality and tactical coherence.
Speaking of Giroud, maybe it's a good thing that Walcott's run of form up front had shifted the focus away from the Frenchman. He now has four goals in the past five games or, more tellingly, five goals in the past 161 minutes he has played.
Platooning Giroud and Walcott, as we've said before, might be a winning solution, at least if Arsenal keep playing like this.
Barcelona keep rolling
So far, Barcelona are weathering Lionel Messi's absence relatively well. Counting the Las Palmas game -- he went off injured after seven minutes -- it's five wins out of six in all competitions.
A bit like Real Madrid, whom they joined atop the Liga table after Sunday's 3-1 win over Eibar, Barca's results have been better than performances. In recent weeks they were held for a half away to BATE Borisov, they lost at Sevilla and needed late goals to come from behind and win against Bayer Leverkusen.
Against a very physical Eibar team, Barcelona went a goal down and, for a while, it looked as if it was going to be a long afternoon, particularly as referee Carlos Del Cerro Grande wasn't giving them too many breaks.
It fell to Luis Suarez to resolve the tie -- the Uruguayan scored an equalizer in the first half and two more in the second -- and it felt like a bullet dodged, particularly since Javier Mascherano was sent off with the game still in the balance.
Still, given manager Luis Enrique's laundry list of injuries, what matters most now is hunkering down and being stronger than bad luck and questionable officiating. And that's what Barcelona did.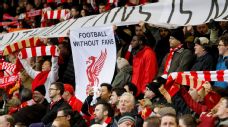 Mihajlovic looks to youth
As anyone who remembers his playing days will confirm, Sinisa Mihajlovic is a warrior, the kind who won't back down from a fight. On Sunday, he walked into the San Siro and was greeted by an Ultras strike (they did leave behind a big banner blasting both him and, especially, club officials including, as ever, vice-president and CEO Adriano Galliani).
Mihajlovic's Milan side had not won in a month and, most recently, had been defeated in midweek in a friendly by Inter's B-team. He was also getting unsolicited advice from club owner Silvio Berlusconi, which is never a good sign.
So what did Mihajlovic do?
He dropped starting goalkeeper Diego Lopez, who may have had a few rough outings of late, but was one of Milan's few bright spots last season. Further, he is a respected veteran pro who toes the party line and is the least of Milan's problems.
Mihajlovic replaced Lopez with Gianluigi Donnarumma, who is just 16 years old. That's right, he was born in 1999, the year his Milan teammate Philippe Mexes made his professional debut.
The risk with a guy so young is that he makes a mistake, it crushes his confidence and you effectively lose him for the rest of the season. It didn't happen, though Donnarumma was far from blameless for Sassuolo's goal.
More to the point, you wonder what the benefit of such a decision really is. Does Mihajlovic believe Donnarumma is some kind of prodigy? To the point that it's worth unsettling Lopez?
Time will tell if the Milan boss got it right. You just hope that Donnarumma has the kind of intestinal fortitude not to be fazed by what he's going through. There's a good reason why 16-year-olds -- especially goalkeepers -- don't often appear on top-flight team sheets.
New season, same Atletico
Atletico Madrid seemingly get shaken like a Magic 8 Ball every summer, but the results change little. Once the dust settles, manager Diego Simeone puts out a team long on aggression and quality in key areas.
It might have taken a little longer this season -- that Fernando Torres fascination remains a mystery -- but Atleti are getting there.
Their 2-1 win over Valencia was far more emphatic than the scoreline suggests -- Diego Godin gave up an uncharacteristically silly late penalty -- and the performance of Yannick Ferreira-Carrasco, who scored a peach of a goal, may soon lead folks to ask "Arda who?"
Only three teams -- Villarreal, Barcelona and Real Madrid -- have taken points off the Colchoneros in La Liga this season and Atletico are pretty much where they want to be, two points off the pace. What's more, you feel this team has several more levels to which they can go.
Dybala inspires Juve's improved form
For some reason, Paulo Dybala was held out as some kind of scapegoat for Juventus' poor start to the Serie A season. Hopefully, that kind of nonsense has now come to an end. The guys is 21 year old, cost a fortune -- €32 million -- and has had to find his feet quickly on a side hammered by injuries and departures.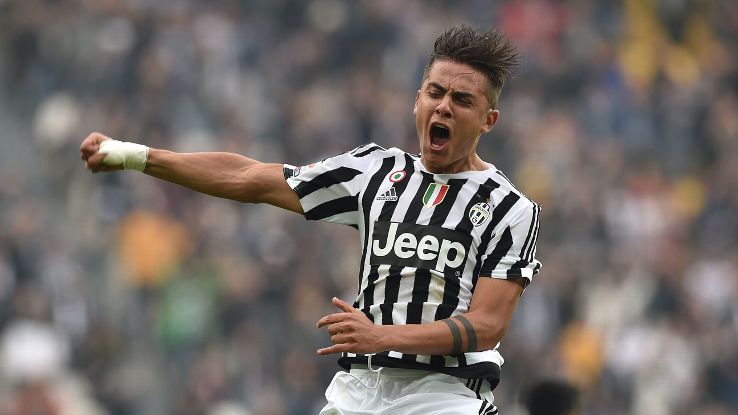 And, still, he has scored or assisted on more than half of Juventus' league goals this season. Those who grumble about the number of balls he gives away obviously don't understand that he's also fearless in attempting the difficult pass or shot. As long as he picks his spots, that's just fine.
Dybala was magnificent in Sunday's 2-0 win over Atalanta, opening the scoring and then setting up Mario Mandzukic's goal. Juve are six points out of second place. Count them out at your peril.
FIFA election deadline looms
Monday was the deadline to submit paperwork, complete with nominations from five different federations, to run for FIFA president. Among those filing was Sheikh Salman bin Ebrahim Al-Khalifa.
Sheikh Salman is a major powerbroker in the Asian Football Confederation and his initial backing of Michel Platini -- before the UEFA President was suspended -- was seen as integral to the Frenchman's chances. Now however, a number of human rights organizations have called for Sheikh Salman to be barred.
A member of the Bahraini royal family, he is accused of being part of a committee that identified individuals (including a number of footballers) who took part in pro-democracy protests back in 2011. Some players say they were tortured while detained by government forces when the sheikh was head of the Bahrain Football Association.
Sheikh Salman denies the allegations, but it does raise a sticky question. Should a clean human rights record be a prerequisite to run a sporting organization? And, if so, do we leave it up to FIFA's Audit Committee -- who run the integrity tests -- to decide on this?
Gabriele Marcotti is a senior writer for ESPN FC. Follow him on Twitter @Marcotti.