Has Liverpool's win over Chelsea swung title momentum away from Man City? PLUS: Humiliation for PSG
After another action-packed weekend in soccer, Gab Marcotti reflects on the big talking points in his latest edition of Monday Musings.
Jump to: LFC title charge | Lille thump PSG | Man City march on | Lazio-Milan drama | Man United win ugly | Juve easing up? | Barca take it easy | Dortmund win again | Spurs get rest | Bayern lose Neuer
---
Has the title race momentum swung back to Liverpool?
There was a literal slip, by Andy Robertson, but not a metaphorical one, and that's what matters most. If demons and hoodoo are real -- and not just things the media writes about because it sounds interesting and literary -- then Liverpool exorcised them on Sunday at Anfield, beating Chelsea 2-0 and pulling back ahead of Manchester City.
It was a very mature Liverpool performance, and what must be most encouraging is that it came against a Chelsea side that played very well, particularly in the first half. Then came the breakthrough early in the second, culminating in Sadio Mane's far-post header and, less than 180 seconds later, before Chelsea knew what happened, Mohamed Salah's thunderbolt from 25 yards out. Eden Hazard hit the post and Alisson denied him on another occasion, but as Maurizio Sarri said afterwards, Liverpool deserved the three points.
Salah's goal will stand out, and rightly so. It's not just the sheer ferocious beauty of his goal; it's the way he battled and plugged away even at the end of what was, from a goal-scoring perspective, the tail end of a fallow period marked by one goal in 10 games in all competitions. Not everyone can maintain the right frame of mind when mired in such a spell.
Credit to Jurgen Klopp for making the right choices -- Naby Keita ahead of Georginio Wijnaldum, and Fabinho anchoring the middle -- but also applying the right game plan. We saw more of the high press, but it was applied with a precision that often limited Chelsea's potential to counterattack. And unsurprisingly, the counter was evidently Sarri's plan given that he dropped Gonzalo Higuain and played with Hazard as a central striker and Callum Hudson-Odoi on the wing. A half-mistake more from Liverpool and it might have looked like a masterstroke, but football is about gambling at the right times, and Klopp's certainly paid off.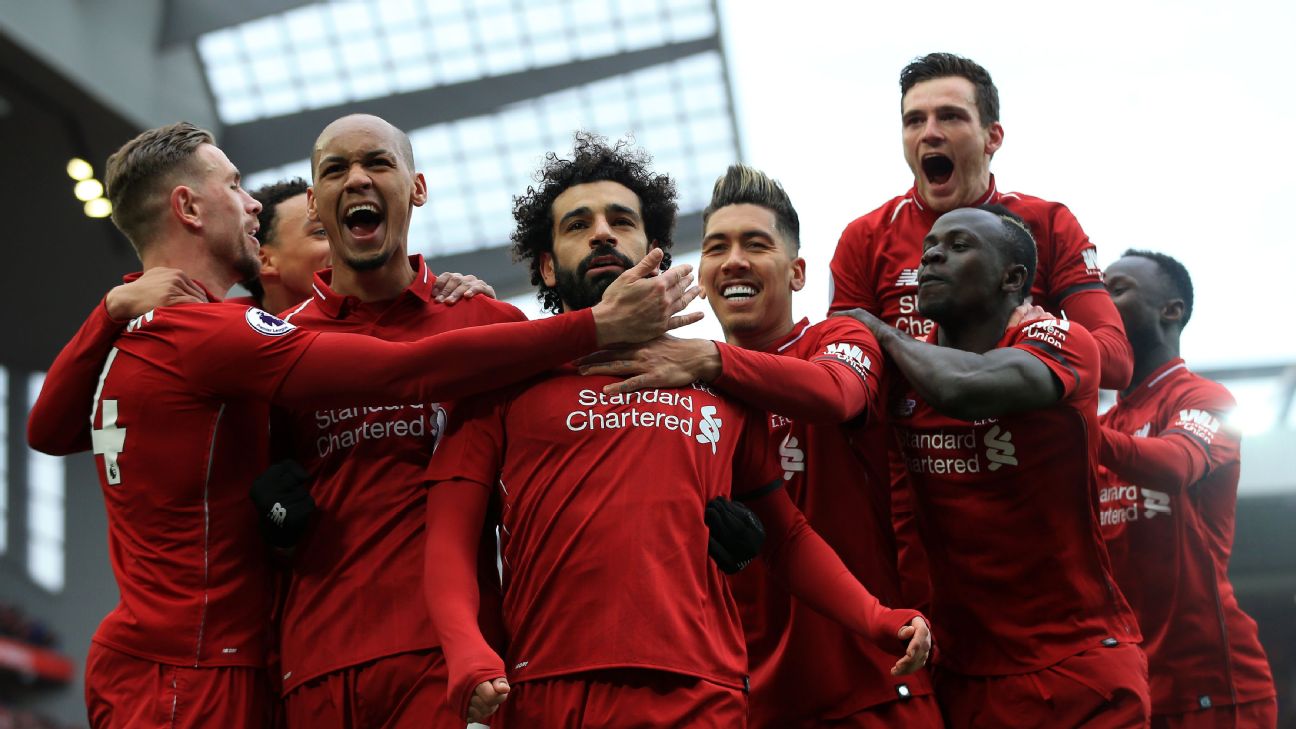 As for Hudson-Odoi, let this be a reminder that for all the hype, he's still less than six months removed from not being old enough to buy booze. He's massively gifted; let him grow at his own pace.
This was, on paper, the toughest hurdle for Liverpool to navigate. Look ahead and they'll be facing Cardiff, who could be eight points from safety by Sunday if they lose to Brighton in midweek, and Newcastle United (remember who their manager is) on the road, plus already-relegated Huddersfield and Wolverhampton Wanderers at home. That's three teams with nothing to play for plus Cardiff, whom they can relegate next weekend and is probably their toughest remaining test in the league with regard to motivation.
The chances that Liverpool run the table are very real right now, and while Manchester City do have that game in hand, they still need to face Tottenham at home and, of course, Manchester United away. (Yes, there's a narrative whereby some extreme United fans would rather see City win the title again rather than Liverpool become champions. While that may be true, the players and Ole Gunnar Solskjaer want to finish top four.)
This may be remembered as the weekend when the momentum shifted.
Lille grab headlines for thumping sorry PSG
It won't matter to the history books. Paris Saint-Germain will win their sixth Ligue 1 title in seven seasons, probably as early as Wednesday: a draw at Nantes, who are virtually safe and have nothing to play for, will get it done. But the 5-1 humiliation suffered in Lille on Sunday night will live on and, likely, have lasting effects.
You have to go back 19 years to find the last time PSG conceded five goals to a domestic opponent. It's a bloody nose not unlike the 6-1 hammering against Barcelona two years ago, with the difference that Loic Remy isn't Luis Suarez and Jonathan Ikone isn't Neymar. (That said, while Nicolas Pepe isn't quite Lionel Messi, 19 league goals from the wing this season tell their own story.)
Juan Bernat's needless red card, coupled with injuries to Thiago Silva and Thomas Meunier, put PSG at a disadvantage from which they didn't quite recover and, of course, Edinson Cavani and Neymar were unavailable. The spending limitations have curtailed the squad, and it has hurt, but that doesn't begin to excuse anything. It's pretty obvious that PSG have been going through the motions for a while now, as Kylian Mbappe hinted after the match.
"We must play with more personality," he said. "We looked like beginners."
Thomas Tuchel pointed to the fact that PSG created chances, and the match was closer than the scoreline suggests. That may be true, but the headline numbers will stick.
Amid all this though, you need to credit Lille as well. A year ago they finished one spot above the relegation zone and looked to be in serious financial difficulty. Now they are second in Ligue 1 and, since the halfway point, have gained more points than anyone -- even PSG. Champions League football is all but assured for next season and they have a clutch of youngsters -- Jonathan Bamba, Rafael Leao and, above all, Pepe -- who are among the most coveted in Europe.
Man City roll past their latest test
Manchester City rolled past Crystal Palace away, 3-1, buoyed by two goals from Raheem Sterling. He could easily have had a hat trick (he missed a sitter earlier in the match) and offered the kind of performance that underscores just why Pep Guardiola has such boundless faith in him.
Other than the result, the real good news for City was seeing Kevin de Bruyne start and deliver two assists, as well as Bernardo Silva returning from injury and playing nearly half an hour. Those two were missed in the Champions League quarterfinal, first leg against Spurs, and it's a safe bet we'll see plenty of them between now and the end of the campaign.
As we wrote above, momentum may or may not have shifted in the title race, but either way, it's going down to the wire.
Shirt swap drama after Lazio vs. Milan
It was almost a de facto Champions League playoff, and Milan got the three points they needed, beating Lazio 1-0 and jumping back into fourth place in Serie A. As so often happens these days, Gennaro Gattuso's side did it the hard way: they lost half their starting back four, they needed Pepe Reina (standing in for the injured Gianluigi Donnarumma) to pull off some remarkable saves and it wasn't pretty. But when you've taken just one point from your previous 12 on offer, you'll take it.
Lazio were annoyed at some of Gianluca Rocchi's officiating, mostly the fact that he made his decisions very quickly, especially when called upon to consult VAR. But he was right on the big calls: Riza Durmisi did foul Mateo Musacchio leading to Franck Kessie's successful penalty and Ricardo Rodriguez got the ball before his leg hit Ciro Immobile (and, by that point, the ball was no longer playable). When he did get something wrong -- Francesco Acerbi's handball -- VAR corrected him.
I get that it's rough to lose games like these, but complaining about right decisions because they are delivered too quickly is, frankly, silly.
Postgame proceedings were dominated by Kessie and Tiemoue Bakayoko. Acerbi had swapped shirts at the end of the game with Kessie -- the pair had needled each other on social media leading up to the match, and it was a way of ending the squabble peacefully -- but was incensed when the pair held it up to the home fans as if it was some sort of war trophy.
Acerbi said the gesture "fomented hatred," which was well over the top. It wasn't the classiest move by the pair, but on the Richter scale of footballing misdeeds, it barely registers. Bakayoko and Kessie apologized and, to his credit, Acerbi tweeted this. Let it end here.
Solskjaer and Man United's rough form continues
Say this for Ole Gunnar Solskjaer: he's honest and doesn't argue that results justify everything. Two Paul Pogba penalties -- by the way, he's up to 13 goals and nine assists on the season, despite the Jose Mourinho experience earlier in the campaign -- gave United the victory, but the performance was poor and refereeing errors favoured them.
"We got away with it," Solskjaer said. "They played better than us, I don't think anyone will disagree."
That may be an understatement. The penalty Juan Mata won was entirely made up, but beyond that, there was a worrying lack of fluency and intensity. Some of it may be down to fitness -- Anthony Martial and Jesse Lingard only just returned from injury, while Marcus Rashford looks tired -- but you don't expect this sort of lethargy from a side competing for a top-four finish. Certainly not with a new manager who supposedly "gave everybody a lift" when he was appointed.
Outrage over Juve taking it easy?
We get it. Juve have the Serie A title all but wrapped up, the return leg against Ajax in the Champions League is more important right now, so Max Allegri rests everybody away to SPAL. You expected something like that, although maybe not to this degree: three Juve players (Stephy Mavididi, Grigoris Kastanos and Paolo Gozzi) made their seasonal Serie A debuts while another, Hans Nicolussi Caviglia, had all of 11 minutes under his belt before the weekend.
A draw would have given Juve the title; instead they lost, 2-1, which means the party will, presumably, come next weekend. A number of clubs who, like SPAL, are fighting to avoid relegation were annoyed by Allegri's team selection. You can understand that, but the simple fact is that the Juve manager earned the right to do this by dominating Serie A. If he now wants to play the janitor, the groundskeeper and a bunch of kids, it's his prerogative.
What's screwed up is a system -- not just in Serie A, but around Europe's top leagues -- where the imbalance of resources is so stark that there's an abyss between the haves and have-nots.
Barcelona rest up for Man United's visit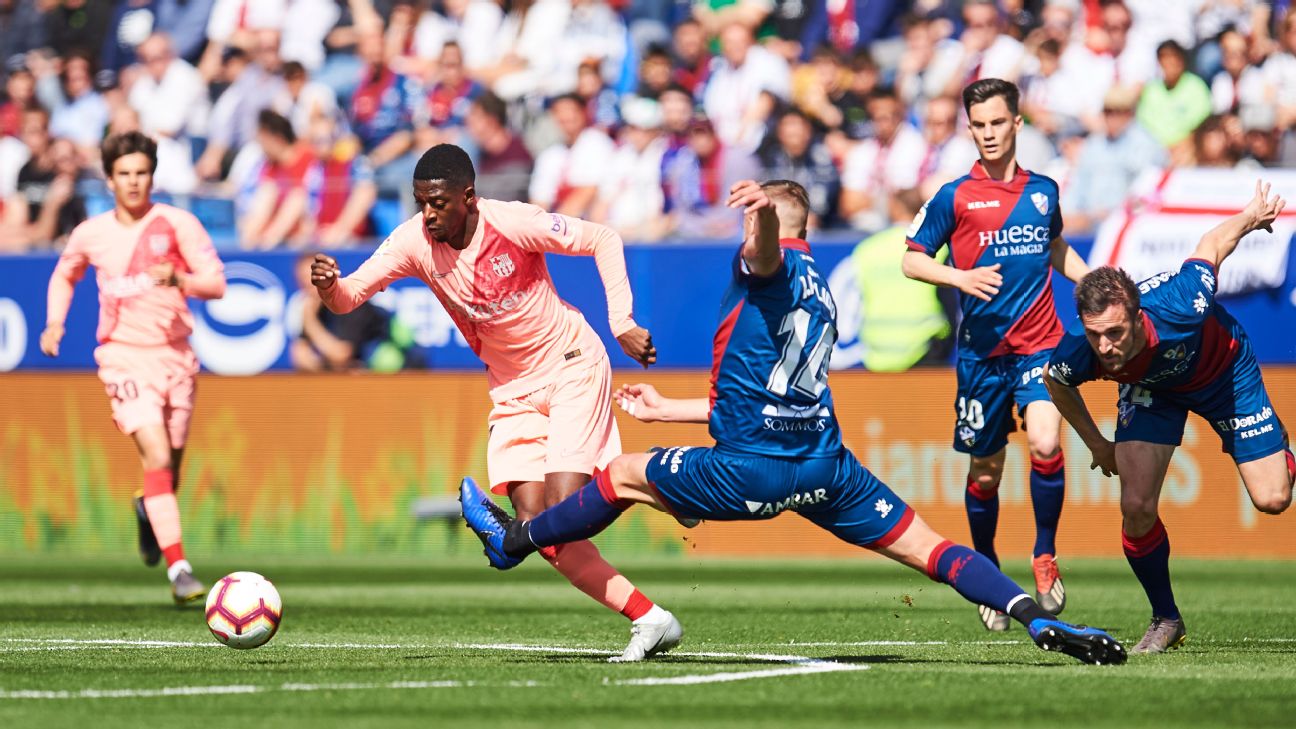 Like Juve, Barcelona also reached deep to send out a starting XI for their trip to cellar-dwelling Huesca on Saturday. Apart from Marc-Andre ter Stegen -- what does Jasper Cillessen need to do to get a game? -- and Ousmane Dembele (who was returning from injury and needed minutes), the rest of the side were second-stringers. In the case of Jean-Clair Todibo, Moussa Wague, Jeison Murillo, Riqui Puig and Kevin-Prince Boateng, they were extreme second-stringers.
It finished 0-0 and if Huesca stay up by a single point, whoever goes down in their place will be entitled to recriminate. But again, Barca earned the right to do this, and with the system the way it is, this stuff will happen. In the meantime, Barca's lead is down to nine points (which is really 10 points given they have the head-to-head over Atletico Madrid) with six games to go.
Their fourth title in five seasons beckons.
Dortmund win, unconvincingly, vs. Mainz
Lucien Favre was criticised after last week's heavy defeat at Bayern for playing Marco Reus at center-forward rather than Mario Gotze in Paco Alcacer's absence. It was somewhat over-the-top -- it wasn't the reason they were road-graded in Munich, and Gotze's game is nothing like Alcacer's anyway -- but he opted for Gotze his week and got the three points.
Still, there were nervy minutes in the second half, with Mainz coming back to 2-1 as Dortmund dropped off badly. If they're going to turn this into a title race, they're going to need to close out games like this one with more confidence.
Tottenham are ready for their Man City test
Looking for a cream puff to gorge on in between the two-legged challenge of one of the best sides in the world? Well, then Huddersfield are the team for you.
In that sense, the fixture list was very kind to Tottenham: they were due a good turn after the misfortune they've had with injuries, most notably Harry Kane's. They swept away the opposition, 4-0, with Fernando Llorente looking like a Spanish Zlatan Ibrahimovic and Victor Wanyama rampaging through the middle of the park like a young Steven Gerrard.
Mauricio Pochettino was able to give some of his key men a breather -- although weirdly, not Christian Eriksen who played 90 minutes, which seemed odd -- and the three points banked leave them in third place. Roll on Manchester City at the Etihad on Wednesday night.
Bayern win big but lose Neuer at a bad time
Bayern won away to Fortuna Dusseldorf, 4-1, on Sunday to reclaim top spot in the Bundesliga and re-establish their one point lead. Serge Gnabry continues to grow and Kingsley Coman popped up with two goals, yet the day was marred by Manuel Neuer's injury, which will likely keep him out for a minimum of two weeks.
Neuer will miss the home game against Werder Bremen next weekend, the trip to Bremen in the German Cup and possibly the away game at Nurnberg the weekend after that. Sven Ulreich, Neuer's reserve, will step in and while he has plenty of experience as a No.1 -- a job he held for five years at Stuttgart and, for much of last season, at Bayern -- his blunders against Real Madrid in the Champions League are fresh in everyone's mind.