Raheem Sterling and Philippe Coutinho save Liverpool from FA Cup exit
BOLTON, England -- Three points on Liverpool's come-from-behind, last-gasp 2-1 win over Bolton in their FA Cup fourth-round replay.
1. Coutinho takes Liverpool through
There had been plenty of other indications why Liverpool have awarded Philippe Coutinho a new contract. There was some impudent juggling, a couple of slaloming solo runs and a shot that thudded into the advertising hoardings. They all indicated why the past couple of months have brought the best form of his Liverpool career. Yet if anyone is wondering why they want to keep him at Anfield until 2020, the answer was supplied in sublime fashion.
Liverpool had entered injury time against Bolton after recovering from going a goal down to their Championship opponent, but they were threatened with another 30 minutes, three days before a Merseyside derby. Then Coutinho whipped a glorious shot into the top corner, and Liverpool progressed to the last 16 of the FA Cup.
The fourth round of the FA Cup had promised another giant-killing, an embarrassingly early exit for a fifth of the Premier League's top seven. Instead, Liverpool have booked a date against Crystal Palace, bringing back memories of their meeting in perhaps the competition's greatest semifinal in 1990.
Bolton Wanderers

Liverpool
Game Details
This was so nearly one of the low points of Brendan Rodgers' reign. Instead, he had two flair players and one lifelong Liverpool fan to thank. Neil Danns, a Merseysider in the Bolton ranks, was sent off for collecting two cautions. Thereafter, Liverpool's pressure eventually told on Bolton's 10 men. Raheem Sterling rifled in an 86th-minute equaliser after a lovely cross from Emre Can.
Sterling had been a threat throughout. He had struck the post with a deliberate clip, just as Jordan Henderson did with a drive that deflected off defender David Wheater's head. Keeper Andy Lonergan made a fine save from Sterling, following a wonderful last-ditch tackle by Dorian Dervite on the stand-in striker, and Liverpool could have paid a penalty for not being clinical enough.
Because when Zach Clough lured Martin Skrtel into an injudicious challenge, the youngster went to ground. Eidur Gudjohnsen displayed the composure to roll his penalty past Simon Mignolet. Bolton, which acquitted themselves superbly over two games, came so close to adding to the FA Cup's list of upsets. It was not to be.
2. Gerrard could yet reach Wembley
The banners can be brought out again. "Get Gerrard to Wembley" was the cry after the captain announced his summer departure to the Los Angeles Galaxy. The FA Cup final, falling on his 35th birthday, represents an ideal ending to Steven Gerrard's superb Liverpool career. He was five minutes away from seeing his dream of a valedictory appearance at the national stadium ended.
Instead, he may yet be a three-time FA Cup winner. He is already the third, and perhaps last, member of a select club in Anfield history. This was his 700th appearance for his hometown club. Now he forms a trio with Jamie Carragher and Ian Callaghan, whose club record of 857 appearances looks safe.
As he showed by relegating Gerrard to the bench at the Bernabeu in the autumn, Rodgers is not one for sentiment. He could have postponed the landmark appearance until what will almost certainly be his captain's final Merseyside derby. He did not.
Instead, he deployed Gerrard in the role he performed in the second half of last season. This was Gerrard the deep-lying midfielder, standing 10 yards in front of his centre-backs to take the ball from them and spread play. The presence of Sterling in attack allowed him to reprise his role as the Anfield Pirlo; he needs pace in attack to benefit from his ability to strike long passes.
He strode forward purposefully at times, and there was one early shot to mark his 700th appearance with what, fittingly, would have been Liverpool's 700th FA Cup goal, but Lonergan saved it. There were other attempts, too, to try to score a typical Gerrard goal. Instead, the comic-book hero rescue job came from Sterling and Coutinho. Given the huge void the veteran will leave when he goes, perhaps it is as well that others demonstrated a capacity for delivering under pressure.
3. Bolton provide a blast from the past
Bolton's 0-0 draw at Anfield was notable for the nostalgia as Emile Heskey made a last return to Merseyside. A hamstring injury denied him a final reunion. The veteran served as a pundit in the television studio instead.
His absence brought a remarkable rethink from his manager. Also shorn of seven ineligible players, Neil Lennon borrowed a trick from his mentor Martin O'Neill's handbook. When not selecting Heskey in attack for Leicester, he sometimes thrust centre-back Matt Elliott up front. Bolton possess a defender named Matt who happens to be Elliott's son-in-law. So Matt Mills was the emergency striker.
There was one 25-yard volley, well-struck but calmly held by Mignolet, that suggested his redeployment would be a masterstroke. Otherwise he seemed what he was, a stopper doing an impression of a striker. He was a target for long balls and goal kicks but did not bring much finesse. He left that to others.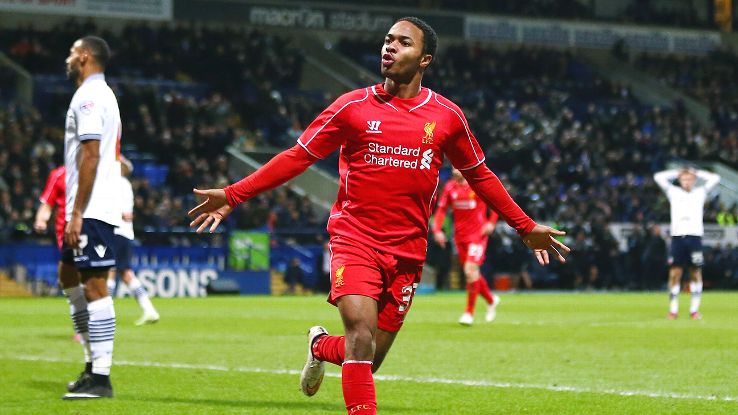 The forward duo of Mills and Gudjohnsen may have represented an odd couple, but the blend of the physical and the technical was a throwback to Wanderers' recent past. Sam Allardyce's teams often featured an aging maestro, feeding off an aerial presence (Kevin Davies, now in the press room, rather than on the pitch).
Yet while Gudjohnsen has a glorious past, the talent worth watching is young enough to be his son. The 19-year-old Zach Clough has the audacity of youth and the touch of an accomplished player, the combination of speed of foot and mind. It was a combination that proved too much for Skrtel when the Slovakian conceded the penalty. It was evidence Clough has the skill to outwit topflight defenders as well as their Championship counterparts.
He is a 2015 debutant, and with every appearance, it seems all the more ridiculous that he wasn't even allowed to train with Bolton's first team by former manager Dougie Freedman. Clough is already a firm favourite and departed to a standing ovation when substituted with Bolton leading. They lost their advantage without him, when Mills was left alone up front, rather than being brought back into defence, but the proof of Clough's promise is an abiding lesson from the night.
Richard Jolly covers the Premier League and Champions League for ESPN FC. Twitter: @RichJolly.