Manchester City suffer familiar Champs Lge disaster against Juventus
MANCHESTER, England -- The Champions League continues to haunt Manchester City. A team sweeping all before it in England, not even conceding a goal in five matches, suffered a familiar disaster against an opponent with far greater know-how in this competition.
Despite their summer shedding of Andrea Pirlo, Carlos Tevez and Arturo Vidal, Juventus held City's measure, staying patient after going behind against the run of play at the start of the second half to a Giorgio Chiellini own-goal.
Last season's finalists were clinical where City were wasteful, controlled and organised where City lost shape at vital moments. City could rue early misses from Raheem Sterling and Wilfried Bony, but Juve took three points back to Turin with goals that seized the moment with unerring venom. Mario Mandzukic's conversion of a Paul Pogba diagonal and Alvaro Morata's searing finish after stealing past Nicolas Otamendi onto an unfortunate bounce off Aleksandar Kolarov were moments of true Champions League class where City failed to find such inspiration.
Manchester City
Juventus
Game Details
If City are by far and away the best team in England -- and with Manchester United losing 2-1 at PSV Eindhoven -- this was a night to suggest the Premier League's problems in the Champions League look set to continue. Naivety damaged City mortally, and questions must again be raised against Manuel Pellegrini's continuing propensity to leave his team so open to being punished at this level.
Sterling joined City from Liverpool with Champions League football at the forefront of his reasoning but looked raw and panicky in front of goal. Juventus' veteran goalkeeper Gianluigi Buffon showed his continuing class in making two excellent saves from the £49 million man, but Sterling gave him a chance on both occasions.
"I don't think this result is just because of Raheem," said Pellegrini afterwards, not completely sheltering the 20-year-old from blame.
On a night when the Etihad Stadium again struggled for atmosphere in a competition that has brought the club's greatest disappointments of recent years, among the loudest cheers came when Sergio Aguero warmed up down the sideline.
Pellegrini had described his star striker's return from the knee injury sustained at Crystal Palace on Saturday as "unexpected," but that applause was tinged with relief from City fans. Aguero was only fit enough to be an emergency addition for the last seven minutes of the match. Jesus Navas was set to be City's third and final substitution before Morata's strike forced Pellegrini into risking Aguero. Once on the field, he was unable to make an impact as Juventus closed down any avenues to a late equaliser. Kevin De Bruyne, who replaced Sterling with 20 minutes to play, had been similarly anaemic in City's chase.
Without their Argentine genius, the Champions League is likely to remain a riddle to City. Last season, it was Aguero's goals against Bayern Munich in November that helped City through to the knock-outs. Only he alone, and Frank Lampard during his brief stint in Manchester, grasped the nettle of a competition in which his talents should be gracing the latter stages.
If Aguero gets knocks like the one he received from Palace's Scott Dann, then he needs an able deputy, but Bony looked less suited to this grade of competition than Edin Dzeko, whose transfer to Roma in the summer pushed the £28m January arrival up the City pecking order. Bony's first-half volley, which screwed wide, betrayed nerves and soon after he utterly misread a Kolarov cross.
"I don't think the result is just on one player," said Pellegrini when asked if a fit Aguero might have made a difference. "Sergio will always be a very important player but we played better than Juventus. We played better than them but finally they score their goals."
City really needed their own galactico to be shining, especially when Juventus' own No. 10 showed off his limitless class. They have been heavily linked to Paul Pogba, and their fans would especially enjoy ownership of a player allowed to escape Old Trafford in 2012 for £800,000 compensation. But they are not alone in coveting the French prodigy. The European rumour mill currently has him signing for Barcelona next summer for a fee of €100m, while Chelsea and United have also been linked.
There are moments when Pogba looks worth every last cent, such as the raking pass to supply Mandzukic's equaliser. Then there are times when his control inexplicably lets him down as he loses focus. Juve coach Massimiliano Allegri's fielding of him in an advanced midfield role lessened his defensive responsibilities, to which Pogba has never quite given his full concentration, and his attacking qualities eventually pulled the game into Juventus' grasp.
After he wafted a volley into the newly refurbished South Stand, City fans had compared Pogba unfavourably to Yaya Toure. But it eventually became a night when the 22-year-old suggested the future is his, while the Ivorian repeated his fade when this competition comes around. Only when City were facing defeat did Toure rouse himself to fire in a long-ranger, but 38-year-old Buffon was equal to the task.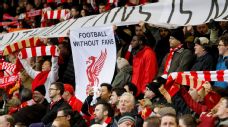 "Buffon is someone who is [an] extraordinary goalkeeper, perhaps the best ever in the history of football," a smiling Allegri said. "He never fails."
Joe Hart, at the other end for City, and currently playing at the top of his game, could do little about either of the Juventus goals. It was those in front of him who had caused City's downfall with the loss of Vincent Kompany five minutes after Mandzukic's 70th minute equaliser ridding Pellegrini of his captain just as Juve began to smell blood.
For City's goal, Kompany had climbed all over Chiellini in the style the Italian destroyer has made his trademark in a long career of grappling opponents. With Sterling and Bony misfiring, and David Silva never able to exert the influence that continues to tear opposing teams apart in England, it was perhaps the only way a home goal was going to arrive.
John Brewin is a staff writer for ESPN FC. Follow him on Twitter @JohnBrewinESPN.