Man United back on title track with easy 3-0 win over subdued Everton
LIVERPOOL, England -- Three quick observations from Man United's comfortable 3-0 win over Everton at Goodison Park on Saturday ...
1. Man United back on track with big win
Louis van Gaal demanded a response for that humiliating defeat at Arsenal a fortnight ago and rather wisely, his players delivered. Everton, a club in mourning after the passing of their legendary manager Howard Kendall, were crushed not by an exhilarating onslaught of attacking flair, but by a cold, calculated display of strength.
According to Juan Mata, United's manager screamed in the faces of his players at half-time a fortnight ago when they were losing at the Emirates. In turn, they were rumoured to be aghast at his choice of tactics on the day. But both parties came together at Goodison Park to put their title challenge back on track, not that they faced much resistance. With the notable exception of a 15-minute spell after half-time, Everton were terrible.

Everton

Manchester United
Game Details
United's desire to monopolise possession, slowly shifting the ball among themselves, has been criticised in the past and it's certainly not very entertaining. But when faced with opposition as compliant and tentative as Everton, it's only a matter of time before that possession is converted into chances. And when teams defend as badly as the home side did on Saturday, those chances become goals.
There have been many midfield combinations in Van Gaal's relatively short time with the club, but the three who started here look the strongest selection. Ander Herrera is a creative and dynamic menace, so much so that it's still hard to understand why it took him so long to win over his manager. Morgan Schneiderlin is tenacious and always aware, able to break down an attack and quickly start one of his own. And while Bastian Schweinsteiger may not be quite the marauding force he was, he is a natural leader, exerting a calming influence on everyone around him. This is the triangle that best suits United.
There was no bright start for either club. Eighteen tepid minutes passed before the first serious effort on goal, but it was a corker. Herrera stung Tim Howard's palms with a rasping long-range shot and the deadlock was broken from the resulting corner. Everton, in a first hint at the incompetence that would follow, just couldn't clear their lines, the ball fell to Schneiderlin and he was free to stroke the ball beyond Howard for his first United goal.
Three minutes later, Herrera did score. Marcos Rojo galloped into space on the left flank and swung a cross into the penalty area that found the former Bilbao man in an unforgivable amount of space to make it 2-0. Defending like that will always be punished in the Premier League.
It could have been even worse before half-time when Rooney found space on the right and teed the ball up for Anthony Martial. Fortunately for Everton, the youngster's shot was weak and easily blocked. It was all too easy for United, at least until the opening stages of the second half.
United withstood heavy pressure after the break for a period but were granted an escape route when Everton blundered once again. Phil Jagielka, who captained England last week, strode towards the halfway line and then inexplicably scuffed a pass into the path of Schneiderlin. The Frenchman slipped it to Herrera, who released Rooney and the full-time England skipper took his time before blasting the ball past Howard for his second goal of the season.
Rooney, pilloried usually by the Goodison support but far less so on this occasion, will doubtless have enjoyed that one. Everton's resolve wavered again and far from mounting a most unlikely comeback, it was United who most threatened to score again. Honour has been restored.
2. Everton don't rise to occasion
There are times when the death of an old hero can inspire a team to a famous victory, moments when the invocation of his memory serves as a catalyst to everyone connected with the club. This was not one of those times. Before the game, tributes were paid to Kendall on the big screen, both sets of fans rattled the rafters of Goodison Park with applause and then the referee blew his whistle. Everton sagged.
While Merseyside's other manager was in North London imposing a new era of gegenpressing, Roberto Martinez's team were very much the polar opposite. They allowed United space to calmly keep the ball, pressing only when absolutely necessary so as to maintain their shape. United, for their part, were careful and cautious. As a result, the football was gentle and the atmosphere muted -- until Herrera imposed himself upon proceedings.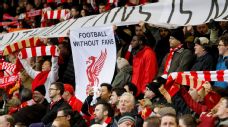 Throughout the game, Everton's passing was woeful and at half-time, Martinez took drastic action, removing the wasteful Naismith and replacing him with Arouna Kone. The 31-year-old has struggled for first-team football since his arrival thanks to various injuries, but his urgency was just what Everton needed. Five minutes after the break, he slalomed into the box, teed up Seamus Coleman and the Irishman delivered a floating cross to the back post where Ross Barkley lurked. Sadly for him, so too did Matteo Darmian.
Minutes later, David De Gea was forced to stab out a leg to stop a goal-bound Romelu Lukaku effort. Everton were on top, piling on the pressure. And then they conceded a third.
3. Ross Barkley back to being frustrating
We have seen some of the best of Ross Barkley this week thanks to his promising performances in an England shirt. What he offered up here was not the worst of him, but it was some way short of his potential. What doesn't seem to help is the absence of patience in some sections of Goodison Park.
With very few exceptions, the Everton players were poor across the board, but mistakes by Barkley brought a louder, more vicious response from some supporters. The 21-year-old is far from the finished article, and it would be nice if he could acknowledge the fact that other Everton players are allowed to take shots, but he is the club's best prospect and the repeated groans of disapproval and furious shouts don't seem to be helping with the cultivation of his talent.
Iain Macintosh covers the Premier League and Champions League for ESPN FC. Follow him on Twitter @IainMacintosh.