Petr Cech is the difference for 'big match' Arsenal in their win vs. Bayern
LONDON -- There is a most curious development at the Emirates. Quietly, and without arousing attention, Arsenal appear to have discovered a big-game mentality.
They beat Jose Mourinho's Chelsea in the Community Shield. They beat Tottenham Hotspur in the League Cup. They beat Manchester United in the Premier League. And on Tuesday night, against all odds and expectations, they beat Bayern Munich in the Champions League. For seasoned observers of Arsenal, this is all very odd.
A clue to the source of this new-found mental strength was evident early in the first half and though it was a moment of minimal importance, it whispered volumes.

Arsenal
Bayern Munich
Game Details
Bayern whipped a cross into Arsenal's penalty area from the right flank, head height but with enough power to be problematic. Goalkeeper Petr Cech simply plucked it out of the air and stopped dead. The men in front of him scampered away into space, howling for the ball, but Cech shook his head and told them to calm down. He waited. He took a breath. Then he distributed the ball.
Cech has been there. Cech has seen things. Cech knows that when you're playing a team that will dominate possession statistics, there is very little to be gained in rushing to give them back the ball. This is the benefit of having an experienced and proven goalkeeper, a man with a Champions League medal among the many others in his collection. This is the sort of goalkeeper that Arsenal have lacked since the days of Jens Lehmann.
Earlier this month at the annual general meeting, a section of Arsenal's support called for an "independent review" of the club's transfer policy, a move that you suspect only Arsenal supporters could ever take with a straight face. They were incensed at Arsene Wenger's failure to buy an outfield player this summer and they wanted answers. It is far too early to suggest that the Frenchman will give them one if he secures a very shiny and prestigious I-Told-You-So in May, but there's no mistaking the improvement in Arsenal's composure at the back.
Analytics will tell you much about footballers' strengths and their weaknesses, but there is still a lot to be said for the intangible, psychological effect on a defender who can look behind him and think, "He's got this." It's one less problem to occupy the mind.
Cech is more than capable of the sensational -- and there was much evidence of that in his eight saves on Tuesday night as well -- but it is the prosaic that can often be more important. The simple things; the positioning, the angles, the strength. The way that he can advance from his six yard box, holding his stance, staying tall, daring the striker to take his best shot rather than hot-footing it out of the box like a startled cat or, indeed, falling out of the way like poor Tim Howard on Saturday at Goodison Park.
It hardly needs saying but Cech is far beyond his rival, David Ospina, and the former holders of his position, Wojciech Szczesny, Lukasz Fabianski, Vito Mannone and Manuel Almunia.
Not that big-name, experienced goalkeepers are infallible, of course, as Cech's opposite number discovered. After making one of the finest saves ever seen in the Emirates Stadium to deny Theo Walcott's close-range header in the first half, Manuel Neuer then delivered one of the worst punches in the second.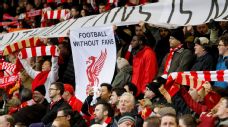 Neuer, the man who is always in the right place, slightly in advance of the right time, messed his scheduling up horribly, rising and falling, fists outstretched, nowhere near the ball at any given moment. Such are the perils of playing in the most isolated, exposed position, his first stop will soon be forgotten. His mistake gave Arsenal a lead they would go on to double.
Pep Guardiola did his best to soften any incoming criticism. "In the first half he had some great saves," he said afterwards. "Never in my life have I criticised a player for taking decisions, correct or not correct. We did not lose because of Manuel Neuer. This is football, he took a decision in that situation and that's it."
Neuer was rather more open about the whole thing, admitting that the error was entirely his fault. "Perhaps a draw would have been fair," he said. "But I made the mistake that gave Arsenal the lead. On we go."
Cech has made mistakes too and doubtless, he will again. There hasn't been a stopper yet who was flawless but there's no question that he gives the Gunners more assurance and more stability. He might not make them winners, but he'll certainly get them closer.
Of course, Arsenal's steady improvement cannot be attributed to him alone. The performance in last season's FA Cup final, with every player weighing in to avoid a repeat of the year before when they nearly lost to Hull City, was an indication that this team is less likely to choke. So too was the win away at Manchester City earlier that season -- a victory like this one, built on a calm rearguard. And then there is the progress shown by Francis Coquelin, once little more than auxiliary set of legs to use from the bench or to send to Charlton Athletic and now, a key member of the first team. Across the board, Arsenal are getting better.
The final piece in the puzzle, you suspect, is a striker with the mobility of Theo Walcott and the power of Olivier Giroud, ideally with the price tag of Joel Campbell. But in the absence of any compelling candidates and with promise still offered by the two forwards in use, that's easier said than done.
But sometimes you don't need to sign an outfield player to improve a team. Sometimes the most important name is the first one on the teamsheet. No wonder Jose Mourinho was so reluctant to let Cech move to north London.
Iain Macintosh covers the Premier League and Champions League for ESPN FC. Follow him on Twitter @IainMacintosh.