Chelsea earn a Champions League point but are uninspired in Kiev
Three points from Dynamo Kiev's 0-0 draw vs. Chelsea in the Champions League.
1. Chelsea held in stalemate
Jose Mourinho had targeted four points from Chelsea's two-match mini-series with Dynamo KIev, and a win at Stamford Bridge in a fortnight will land him that haul. The Ukrainians, timid until the dying moments, did not suggest they are an outfit of high grade. Not that Chelsea are exactly reaching for the stars at the moment.
Cesc Fabregas, who was granted a more advanced role as Ramires was accompanied Nemanja Matic in midfield, had a first-half penalty shout turned down when Serhiy Rybalka's trailing leg tripped him.
Dynamo Kiev

Chelsea
Game Details
Matic, who has only ever scored four goals for Chelsea, should have opened the scoring soon after that, but a driving run straight past the Dynamo defence was followed with a rushed finish by no means the equal of the excellent work that preceded it.
At that point, Kiev looked for the taking, with Chelsea close to a fluency lost since last season. Mourinho's side looked most dangerous on the break, with hard-pressing of their opponent in marked contrast to the rather lazy fare they have supplied in the Premier League this season.
But chance creation is still a problem. A Willian free kick that rattled the crossbar at the beginning of the second half was the closest Chelsea came until the same player drifted a shot wide in the last minute. Chelsea no longer attack in relentless waves; fits and starts are the order of this troubled season.
Diego Costa looked to be enjoying his battle with Kiev's centre-backs, yet he was feeding off scraps only. There is still a distinct disconnect between midfield and the lone striker.
Mourinho had made yet another defensive reshuffle with Baba Rahman, described in pre-match by his manager as lacking experience and proficiency in defending dead balls, dropped.
Cesar Azpilicueta returned to his usual left-back role, while Kurt Zouma was given the right-back position vacated by an injury to Branislav Ivanovic that some say was timely, considering the Serb's ruinous form.
Azpilicueta did much to stop danger man Andriy Yarmolenko, while Chelsea at least looked solid. Their manager had been forced to return to basics and Ramires' energy made Matic, at least, look more comfortable. Chelsea, though, are still a shadow of their former selves.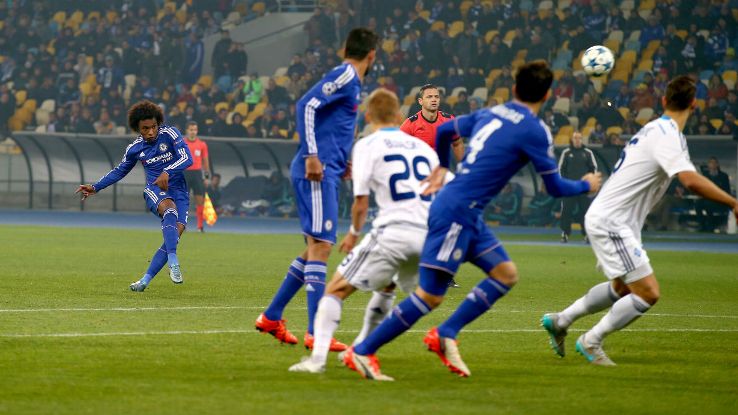 2. Hazard struggles, Willian shines
One of Mourinho's key motivational techniques is to make a player respond to adversity to increase his level of performance. His dropping of Hazard vs. Aston Villa on Saturday, and post-match criticism, looked along those lines. A player who the manager said earlier this year was better than Cristiano Ronaldo now must prove himself worthy of a starting place.
It is almost impossible to believe that any manager of Ronaldo would attempt such a stunt, but then Real Madrid's all-time leading goal scorer never lets his levels drop to the anonymity to which Hazard has descended this season. The sight of him bursting past opponents and into the heart of opposing defences is in danger of becoming a piece of sepia-tinged nostalgia.
An early surge past Danilo Silva suggested a desire to try and recover past glory, before a ninth-minute shot, from the left-hand channel from which he was previously so deadly, rattled off the base of the far post after a fingertip save from Kiev goalkeeper Oleksandr Shovkovskiy, who looked pretty sprightly for a 40-year-old.
When, with the first half drawing towards its end, Hazard spun and burst away from his markers, last year's PFA Player of the Year was reasserting himself, but then came a dither before any shot or key pass could be played. For the Belgian, the pieces are not currently fitting together.
Meanwhile, last season's workhorse has become Chelsea's leading man. While Hazard's star sinks, Willian is currently Chelsea's most potent weapon. That's not the highest of accolades considering the low level of most of their attackers, though the Brazilian is shining, particularly from the dead ball. He now takes all corners and free kicks.
Costa should have got to a first-half Willian free kick that whipped across Kiev's defence with venom. The hosts clearly recognised the former Shakhtar Donetsk man's danger and he was the recipient of some rigorous challenges.
His 47th-minute strike of the crossbar from a central free kick was further evidence of a player in the zone. Hazard, though a little improved after that enforced rest, still reaches for his mojo.
3. Yarmolenko provides rare dynamism
Dynamo were smarting from Shakhtar ending a run of 38 games unbeaten in domestic football on Friday, though this match was higher priority.
The club has a genuine chance of getting past the opening group stage for the first time since the 1999-2000 season, when current coach Serhiy Rebrov was a star striker. They hoped to become the latest team to take advantage of Chelsea's fall from grace, but also looked pretty happy to settle for a point from their all-star opponents.
Winger Yarmolenko, linked with Everton among many suitors over the summer, was always destined to be key man. Chelsea obviously viewed him that way, with Azpilicueta twice getting tight to him in the opening moments.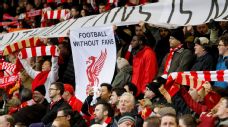 Out on the right, though always looking to cut inside and capable of playing long passes to the opposite flank and striker Artem Kravets, the greater proportion of Kiev's attacks were channelled through Yarmolenko.
When he was on the ball, Kiev's quality and threat increased exponentially, though Vitaliy Buyalsky, from a central position, should have put them ahead in the 27th minute only to fire wide when Asmir Begovic had been exposed by a Chelsea defence not exactly blessed with pace.
Not that Dynamo much lived up to their name in testing that weakness. Their approach was largely conservative, with Yarmolenko alone given freedom, in the hope he would supply magic to deliver a famous victory that Kiev never looked as if they quite believed in.
It was his pass that supplied Derlis Gonzalez with Kiev's best chance in the second half, but Begovic saved well.
John Brewin is a staff writer for ESPN FC. Follow him on Twitter @JohnBrewinESPN.