Olivier Giroud impresses, Arsenal beat Everton to top the Premier League
LONDON -- Three thoughts on Arsenal's 2-1 win Saturday vs. Everton in the Premier League.
1. Arsenal win to go top
Arsenal's victory sends them top of the league for the first time since February 2014, underlining their title credentials. It wasn't the prettiest victory; they started slowly and conceded before half-time when they'd appeared in a commanding position, meaning there was more tension than necessary going into the second half.
Their two goals came in the space of 106 first-half seconds, two headers from two Frenchman: Olivier Giroud and Laurent Koscielny. When the former opened the scoring, it seemed inevitable a second would follow shortly, because this is generally what Arsenal do: They play in spells.

Arsenal

Everton
Game Details
Their goals in the recent 3-0 thrashing of Manchester United, for example, came in the space of 13 minutes, exactly the same period of time in which a trio were scored against Watford a week ago.
It's rare to see Arsenal play scintillating football for an entire match, but when they have momentum, they're capable of blowing away opponents. Few teams are so dependent upon confidence, and the quality of atmosphere at the Emirates is also largely based around form.
Arsenal's game management, though, was poor. They pushed men forward and left themselves open to counter-attacks, and the drop in intensity in the second half was very noticeable. It was hugely surprising Wenger didn't introduce a substitute until the 82nd minute, as Arsenal badly needed fresh legs at an earlier stage.
Even then, it was odd to see sub Mathieu Flamini fielded in a relatively attacking role. He had a headed chance which would have wrapped up the game, but missed, and Everton immediately broke quickly, leading to an excellent Gerard Deulofeu chance which Petr Cech did well to save.
How long Arsenal stay in first depends heavily on Manchester City, who travel to Old Trafford for the derby Sunday knowing that victory will send them back to the top of the table.
Either way, Arsenal must remain focused; it's worth remembering that the last time they were the league leaders, they were subsequently thrashed 5-1 at Liverpool. This time around, they must maintain their good form to stand a chance of lifting the title.
2. Giroud takes his chance
Following two goals as a sub in the victories over Watford and Bayern Munich, Giroud was handed a start at the expense of recent regular Theo Walcott. Clearly, the Frenchman is an entirely different proposition to his English teammate, offering strength and height rather than raw speed.
The use of Giroud changes the way Arsenal play, and at times they missed the option of Walcott sprinting in behind the opposition. Alexis Sanchez played a little higher than usual on the left flank to provide some of that speed, but the hosts didn't have a cutting edge in more central positions.
Mesut Ozil rarely sprinted beyond Giroud and Alex Oxlade-Chamberlain doesn't have the same goal-scoring instincts as Aaron Ramsey, who was absent through injury. After Everton had looked particularly sluggish at the back during last weekend's 3-0 home defeat to Manchester United, omitting Walcott seemed like an error.
But then, Giroud offers his own qualities and that's entirely the point. Arsenal don't have a carbon copy of their first choices in reserve -- they have tactical options -- and Giroud's major involvements summarised his style.
Early on, he threatened when darting toward the near post in search of a low right-wing cross, his trademark move. Midway through the first half he beat Phil Jagielka and John Stones to an aerial ball and headed into Ozil's path toward goal, only to be harshly adjudged to have committed a foul.
And then came the opener, 10 minutes before half-time. Ozil strolled out to the right and whipped in a beautiful left-footed cross onto the head of Giroud, who beat Tim Howard to the ball and nodded in. It was a goal Walcott wouldn't have scored.
Giroud had further chances: He nearly reached a low Oxlade-Chamberlain cross from the right, and on 70 minutes curled a wonderful left-footed shot onto the crossbar from an inside-right position.
Giroud was constantly dangerous, which justified Wenger's selection to start him and also rewarded Arsenal's change in approach with the ball, as they consciously provided Giroud with a different type of service from Walcott. That might seem like common sense, but Arsenal have often been guilty of overlooking such details.
3. Everton disappoint as Howard struggles
Everton arrived at the Emirates determined to play on the counter-attack, with manager Roberto Martinez fielding two wingers in Deulofeu and Aaron Lennon, while also encouraging his players to hit the ball forward quickly to Ross Barkley and Romelu Lukaku.
Peculiarly, the approach worked better when Everton were trailing. At 0-0 they offered little, with Barkley struggling to influence the game and only a couple of set-piece chances seriously threatening Cech. They'd barely shown any good football in open play by the time Arsenal took a two-goal lead.
At 2-0 down this reactive approach should logically have been less viable against a team happy to sit back and preserve their lead, but Arsenal pushed too many men ahead of the ball when losing possession, which gave Everton space to break into, and flashes of good play followed.
Deulofeu drifted in and out of the game but was responsible for his side's best moments. A run and pass teed up Barkley's heavily deflected goal; the Spaniard also made a dangerous burst through the defence which ended, disappointingly, with a disgraceful dive.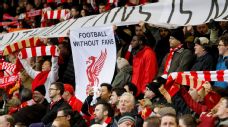 In the second half, his burst of pace down the right nearly resulted in another good chance for Barkley, with Gabriel making a timely intervention. Deulofeu is very inconsistent -- as you might expect from a 21-year-old winger -- but he's also very dangerous.
Everton had chances to score a late equaliser. Twelve minutes from time, a left-wing cross by Gareth Barry, who would later be sent off, was headed onto the top of the crossbar by Lukaku and, eight minutes later, Cech denied Deulofeu by showing great anticipation and speed off his line.
The same can't be said of Everton's goalkeeper, and this will be a major Martinez concern. Howard hasn't performed well for more than a season now, essentially since his heroics for the United States at last year's World Cup. At the Emirates, he was guilty of not commanding his six-yard box properly, allowing Giroud and Koscielny to nip in ahead of him and score two very similar goals.
Howard ended the game with the captain's armband after Jagielka's injury, but he's hardly leading by example. He's somewhat fortunate Everton don't have a more reliable backup than Joel Robles, or else the American might find himself dropped for essentially the first time in his 10 seasons at Goodison Park.
Michael Cox is the editor of zonalmarking.net and a contributor to ESPN FC. Follow him on Twitter @Zonal_Marking.