Pressure grows on Jose Mourinho as Chelsea's problems mount
LONDON -- For the first time this season, Jose Mourinho looks genuinely vulnerable. He has been given public votes of confidence. He has seen his star players paraded in the media to speak well of him. But Chelsea continue to lose and lose badly. They have no style, they have no discipline and they have no excuses. And it all leads back to the manager.
On the pitch, the problems are mounting. Saturday's 2-1 defeat at West Ham was their fifth in the Premier League already this season and leaves Chelsea in 15th, having conceded 19 goals, the same number as Newcastle and Sunderland. In all competitions, they've won just one of their past six games.
West Ham United

Chelsea
Game Details
Off the pitch, it's the same story. After their latest setback Chelsea will face two FA charges: One for amassing seven cautions at Upton Park and another for refusing to fulfil their media obligations after nobody -- Mourinho or otherwise -- from the club showed up for the post-game press conference.
That discipline follows hot on the heels of Mourinho's misconduct charge for comments made after the defeat to Southampton earlier this month and, of course, it would be remiss to forget the internal turmoil caused by the Portuguese manager's treatment of his own medical staff. This has been a miserable season and there's no indication that it's going to get better soon.
Mourinho is a brilliant strategist, a man so cunning and expedient that sometimes you wonder if football's gain has been the military's loss, but there is a payoff. He is short-tempered and he can be rash. He starts fights that do not need to be fought and he makes enemies who might otherwise, with careful handling, prove useful allies. And right now, Mourinho needs allies.
Despite having to answer to the FA, in the aftermath of defeat and of Mourinho being banished from the touchline by referee Jon Moss at half-time, it was rather wise of Chelsea to ignore their press obligations on Saturday evening. It meant their manager was able to leave Upton Park without comment.
From the club's point of view, no good could come from further scrutiny of whatever Mourinho said. Whatever the eventual implications of their boycott, they will be far easier to bear than what might have happened.
Mourinho already has a stadium ban suspended and hanging over his head. It doesn't take a great leap of imagination to conclude that, had he spoken, it would not have remained suspended for long. Indeed, given that he said on Friday that "you don't get from me good and funny headlines," perhaps we should have seen this coming.
Mourinho does not respond well to days like this and could easily have gone supernova had he spoken after the game, lashing out at everyone from the Football Association to his own players to adverse weather conditions. If the Premier League do fine Chelsea on Monday, expect the cheque to be signed without hesitation.
But while that immediate danger was easily fixed, it is the future that will trouble Chelsea's hierarchy now. Where do they go from here? Even their most ardent loyalist can no longer claim that the problems are transient or that the media is overreacting. Chelsea are floundering in the league, struggling in Europe, playing bad football and losing their heads, on and off the pitch.
Can they really dispense with the most successful manager in their history? It didn't work out well last time. Inertia saw a self-reliant Chelsea canter to the Champions League final in 2008 before Avram Grant was eased out at the end of the season.
Grant oversaw 54 games, 18 more than his ill-fated successor Luiz Felipe Scolari. Guus Hiddink excelled in a short-term role but even Carlo Ancelotti's stylish league and cup double in 2010 provided no protection from the sack in 2011.
None of Andre Villas-Boas, Roberto Di Matteo or Rafa Benitez managed to rack up 50 games as manager and eventually, in 2013, owner Roman Abramovich was forced to return to Mourinho, the man he'd shaken off six years earlier. But nobody envisaged a season like this.
Oddly, the most likely replacement, should Mourinho go, would be Ancelotti. He is available, he is proven and with the rumour mill suggesting quite strongly that the players are unhappy with Mourinho's authoritarian style, he'd be the perfect soothing balm for those sore egos. Ancelotti excels with the more fragile modern player, as well as the demands of an expectant owner.
Beyond the Italian, the options are problematic. Pep Guardiola's contract with Bayern Munich expires next summer, but even if he does decide to leave Bavaria, he has turned down Chelsea before. Other, more stable environments, like Manchester City, may beckon.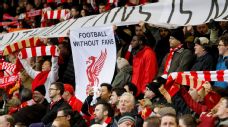 Elsewhere, Diego Simeone would be a popular choice. Fiery and successful, he just signed a five-year contract with Atletico Madrid in March and would not come cheap.
And expense, of course, is a major deterrent for Abramovich because if he did sack Mourinho, that would cost him dearly, too. A new four-year contract, thought to be worth as much as £30 million, was signed in the summer.
More than that, Chelsea's owner will not want to look stupid. We are led to believe that he wants Mourinho to turn this around and that he wants to avoid a repeat of the instability Chelsea experienced between 2007 and 2013. But how long can his patience hold out?
Before the next international break, Chelsea league and cup trips to Stoke and they will host Liverpool and Dynamo Kiev. It goes without saying that they can ill afford a continuation of this form.
For now, you suspect that Abramovich will wait and see but in the background, expect contingency plans to be drawn. This is now a genuine crisis. Something has to give.
Iain Macintosh covers the Premier League and Champions League for ESPN FC. Follow him on Twitter @IainMacintosh.