Italy stunned as Sweden beat Azzurri on aggregate to reach World Cup
MILAN, Italy -- Here are three quick thoughts from Italy's 0-0 draw with Sweden in the second leg of their World Cup qualifying playoff that saw the Swedes qualify for next summer's World Cup in Russia.
1. Italy stunned as Sweden reach World Cup
Four-time world champions Italy will miss Russia 2018 after Gian Piero Ventura's team failed to score in two legs against Sweden, enabling the Scandinavians to qualify for next summer's tournament with a 1-0 aggregate playoff victory.
In a stunned San Siro, Italy dominated possession but simply could not find a way through against their well-organised opponents.
A series of controversial penalty decisions by Spanish referee Antonio Mateu Lahoz -- none was awarded -- were the story of the game.
But with Ventura controversially starting without attacking stars Lorenzo Insigne, Andrea Belotti and Stephan El Shaarawy, Sweden were able to hold firm and qualify for the World Cup for the first time since 2006. Italy were lacking in imagination and flair, and the failure to qualify for the first time since 1958 will almost certainly see 69-year-old Ventura sacked by the Italian federation.
The home team had chances to overcome the Swedes and win the game, but they failed to produce the quality required to put the ball into the net. Italy now join fellow big guns such as Chile and the Netherlands in missing out on Russia 2018.

Italy
Sweden
Game Details
Sweden's success, meanwhile, is likely to prompt calls for Zlatan Ibrahimovic to return to the international fold. The Manchester United forward, due to return within the next six weeks following a cruciate ligament injury, retired from international football after Euro 2016, but the prospect of a World Cup swan song might now prove irresistible.
2. No more proof needed that VAR is a must
The makeup of next year's World Cup finals might have looked a lot different had FIFA been bold enough to implement the Video Assistant Referee (VAR) system for the qualifiers for Russia 2018.
The United States would almost certainly have made it, with Panama's "ghost" goal against Costa Rica guaranteed to have been ruled out by VAR, and Northern Ireland rightfully feel aggrieved that they lost their playoff to Switzerland courtesy of a penalty awarded for a handball that never was in the playoff first leg in Belfast.
Now we have the catalogue of penalty appeals during this Italy-Sweden clash, all of which were overruled by Lahoz.
Sweden had two strong shouts for handball rejected in the first half in the San Siro, but television replays suggested that both should have been given. Similarly, Italy were denied twice by Lahoz after fouls on Marco Parolo and Matteo Darmian. Ludwig Augustinsson's challenge on Parolo might have been a 50-50 call, but Darmian was clearly fouled by Mikael Lustig.
Lahoz did not have access to the VAR system, so he had to make a decision on one rushed view of each incident.
As we saw during the Confederations Cup earlier this year, VAR is not flawless, and there are kinks to be ironed out. But even in its most basic form, it would surely be better than the status quo, which sees officials castigated for honest mistakes and teams denied a place at the World Cup as a consequence.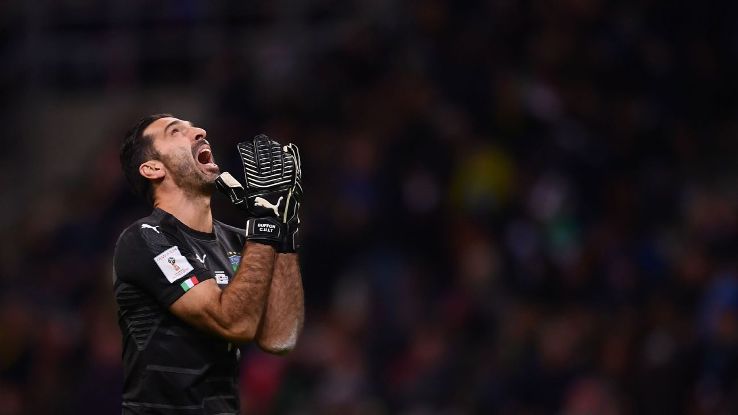 3. FIFA needs to rethink the playoffs
Football is all about drama, and one way or another, the World Cup playoffs provide it. After all, one team suffers the agony of missing out on the finals while the other can celebrate wildly after qualifying.
But the series of playoff games for Russia 2018 have seen fear of failure drown out ambition, and that has led to some desperately dull encounters and precious few goals.
Between Sweden claiming their 1-0 first-leg win against Italy in Stockholm on Friday and the start of this second leg in Milan, five playoffs were played across the globe, and none of them resulted in a single goal. In 450 minutes of football, from New Zealand to Denmark, Honduras to Switzerland and Greece, not one team or player was able to score.
Hopefully, that sequence of results will not be a sign of things to come in Russia next summer, but there is a real danger of the World Cup becoming a tournament in which defences come out on top.
If the playoffs are being dulled by the determination to shut out the opposition, perhaps it is time for FIFA to update the format.
Too many first legs have been spoiled by negativity, so why not get rid of them altogether and have each playoff resolved over 90 minutes? FIFA could stage the playoffs in one country over a long weekend, with all ties settled on the day.
A mini tournament to decide who qualifies for the real thing? It could work.
Mark Ogden is a senior football writer for ESPN FC. Follow him @MarkOgden_