Ajax add substance to style vs. Juventus to raise hopes of UCL upset
Johan Cruyff famously once remarked: "Italians can't beat us, but we can certainly lose against them." It summed up the clash of footballing cultures at the time. His Ajax and Barcelona teams could outplay their Serie A counterparts but give up one chance, allow one counter, make one mistake and expect to be punished.
Cruyff's words rang as true Wednesday night as they did back then. Ajax dominated the first leg of their Champions League quarterfinal against Juventus. They deserved to win but yet, their streetwise and vastly experienced Italian opponents fly back home with a draw and an away goal from their only shot on target. The advantage is now with the Old Lady and history stands by her side. On the seven occasions Juventus have drawn the first leg away from home 1-1, they have progressed six times including against Ajax in 1978.
That said, Ajax must draw strength from this encounter. A team that has scored 100 goals in the Eredivisie, 44 on the road, will back themselves to score at the Allianz Stadium even with Juventus' captain and best defender Giorgio Chiellini expected to return for the seven-time defending Italian champions.
On the eve of Wednesday's game, Jordi Cruyff told La Gazzetta dello Sport: "My father would have liked this Ajax side." Wednesday's showing did nothing to change that opinion. Ajax stayed true to their values and managed 60 percent possession. Frenkie de Jong commanded, giving and going, twisting and turning, always moving, losing whomever it was who followed him.
The Barcelona-bound midfielder had almost double the touches of his Juventus counterpart Miralem Pjanic, who often found himself surrounded or rushed by Donny van de Beek. The ease with which Ajax and De Jong in particular circulated the ball highlighted the limits of Juventus' midfield and the absence of Emre Can. The German international, whose role in the comeback against Atleti -- dropping deep to facilitate the Bianconeri's build-up, which in turn allowed the full-backs to push up and stretch Diego Simeone's side -- was arguably more keenly felt than that the Chiellini-shaped hole in this team.
Juventus did not set out to play a defensive game with Allegri's intention to avoid a repeat of the 2-0 defeat in Madrid. Escaping defeat was one thing but ensuring Juventus were not as passive and came away with a precious away goal was another. From that point of view, the night was a success. Juventus will not need another epic night to book a place in the last four, but Ajax caused them a lot of problems.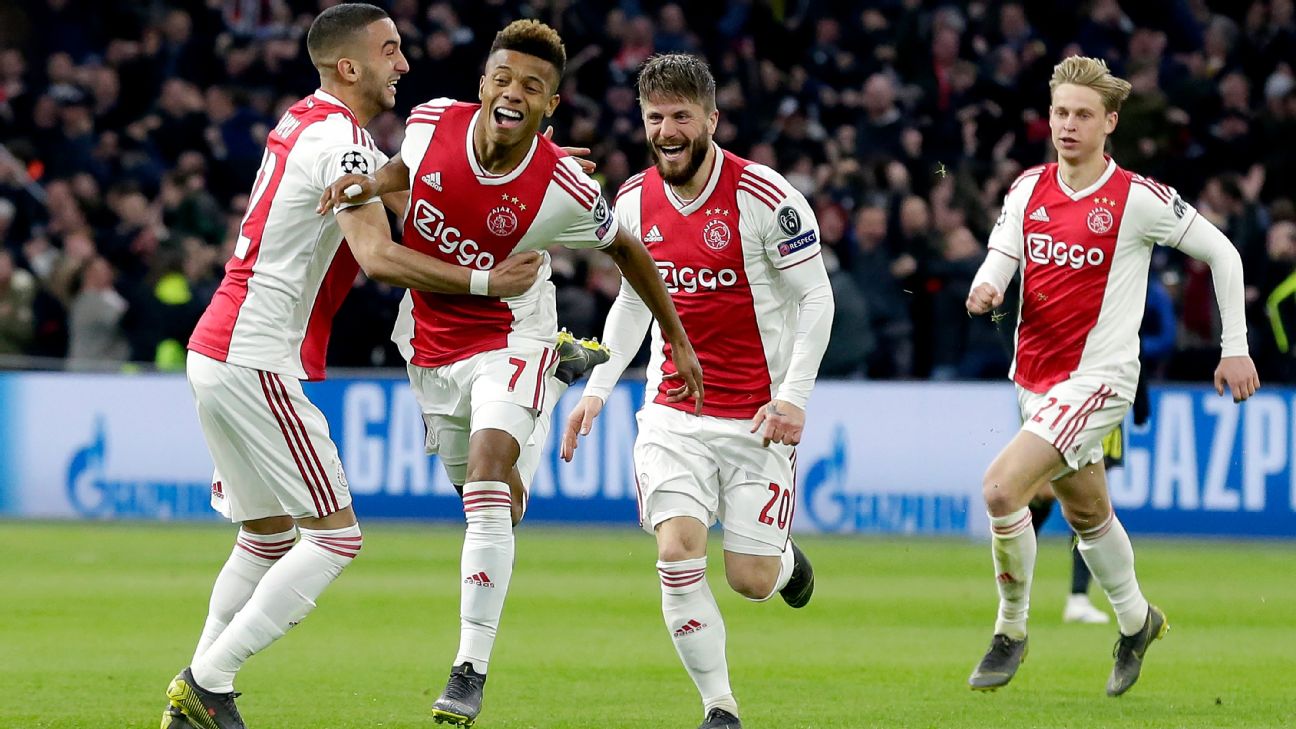 Hakim Ziyech, for one, will be cursing his accuracy. The Moroccan's aim failed him as the game wore on, but Wojciech Szczesny still needed to produce a world-class stop in the 17th minute to tip over one of Ziyech's seven shots. Van de Beek blasted another chance high and wide soon afterward, and Nicolas Tagliafico, who will miss the second leg through suspension, caught Joao Cancelo napping but couldn't steer Ziyech's far-post cross on goal.
The inability to take the opportunities they created risked coming back to haunt Ajax and so it proved. Cristiano Ronaldo had not been peripheral. He'd volleyed a Miralem Pjanic corner wide and set up Federico Bernardeschi with a knock-down. But his opener -- the last act of the first half - definitely came against the run of play.
Daley Blind stepped up to confront the Portuguese as he came short and linked the play. The former United defender, one of Ajax's most experienced players, then made the fatal mistake of not following Ronaldo. A hole opened up in the middle of the area as Rodrigo Bentancur, who started the move, made a run and took Matthijs de Ligt with him. Cancelo, Juventus' worst performer up until then, spotted Ronaldo and watched his compatriot dive to head the ball past Andre Onana in the Ajax goal.
As Ronaldo likes to remind everyone, this is why Juventus signed him. It wasn't just the 23rd headed goal of his career in the Champions League. It was his first appearance since the hat trick he scored to eliminate Atleti and complete one of the greatest comebacks in Juventus' history a month ago.
"He's a different class," Allegri said. "Extraordinary."
During the interval, the DJ at the Amsterdam Arena captured the mood by playing Bob Marley's "Three Little Birds" on the PA system, featuring the line, "Don't worry, about a thing." The last line before the second half kicked off was, "This is my message to you." Ajax received it loud and clear, and Ronaldo wasn't the only No. 7 to impact this game. David Neres, his opposite number, did too, punishing a Cancelo mistake within a minute of the restart.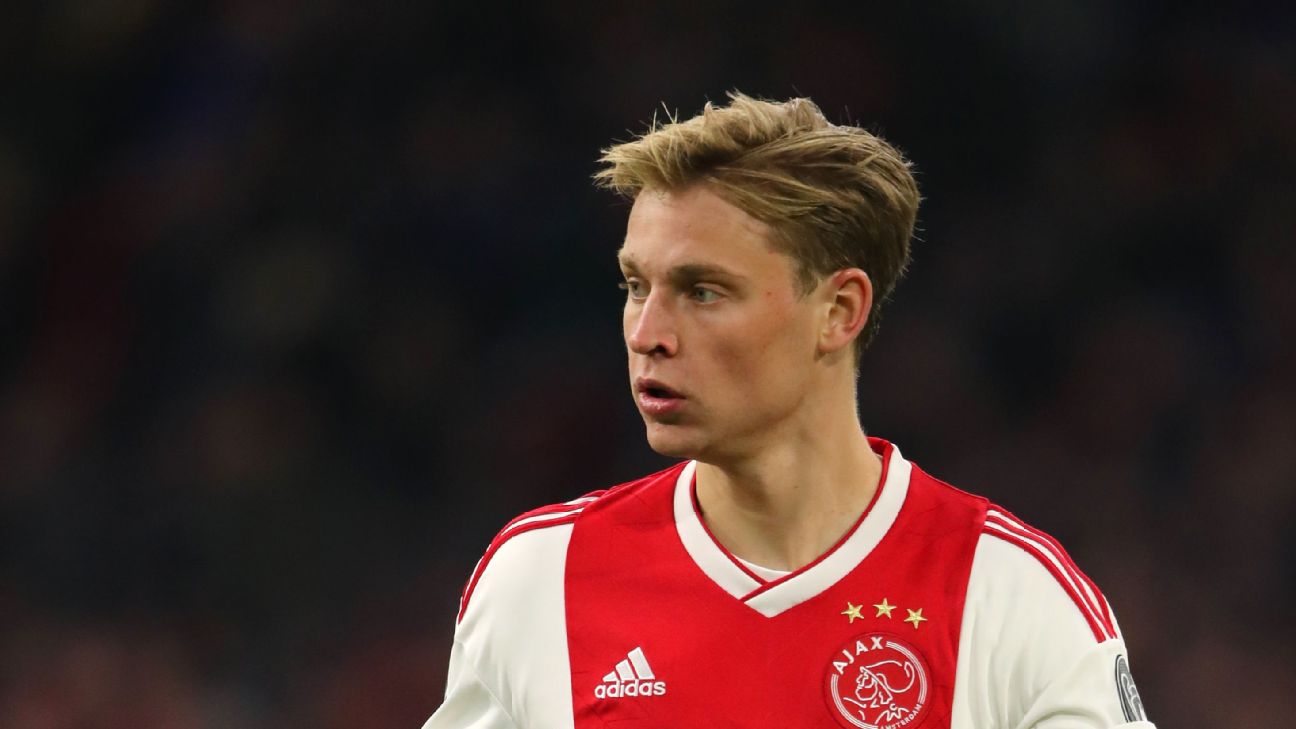 "We should have avoided that goal, a lapse in concentration cost us," Szczesny said. "It's a shame."
Momentarily, Juventus looked rattled with Daniele Rugani, who otherwise impressed in Chiellini's place, making a back pass that risked catching Szczesny out. The Pole then mishit his clearance and Cancelo scuffed another chance to get the ball clear.
The Ajax plan was to isolate Neres and Tagliafico against Cancelo, concentrating play on the other side then switching through clever flicks between the lines from Van de Beek.
Without the ball, Allegri had to make an adjustment in how his team defended and Juventus moved to a 4-4-2 with Matuidi on the left and Bernardeschi on the right with the task of covering Cancelo more diligently than Ronaldo.
Erik ten Hag's side still retained control of the game and it must be said there was something quintessentially Ajax about replacing the oldest player on the team, Lasse Schone, with an unknown teenager Jurgen Ekkelenkamp who almost made an instant impact, threatening to score off a Dusan Tadic back-heel with eight minutes to play before Juventus snuffed the opening out.
Just as Ajax seemed on the brink of a winner, Cruyff's old adage echoed as loud as Douglas Costa hitting the post on his first appearance in over two months. The Brazilian's emergence from the bench and that of Paulo Dybala offered a reminder of Juventus' depth and just what Ajax were up against.
Allegri left the Arena satisfied. "You can always do more," he said. "But the team came away with a positive result -- 1-1 is better than 0-0. It was important to score an away goal against Ajax, who played a beautiful game."
Encouragingly for the home supporters, there was more than just style to the Dutch team's display. Once again, there was substance. Ajax may not have won, but they convinced. Tagliafico was the only casualty of the night, as De Ligt avoided a booking that would have ruled him out of the second leg, and De Jong was a little lucky not to see a second yellow after Costa left him for dust. What it means is Ajax still have their best players available for next week's trip to Turin and after winning 4-1 at the Bernabeu, Ten Hag and his players know nothing is impossible.