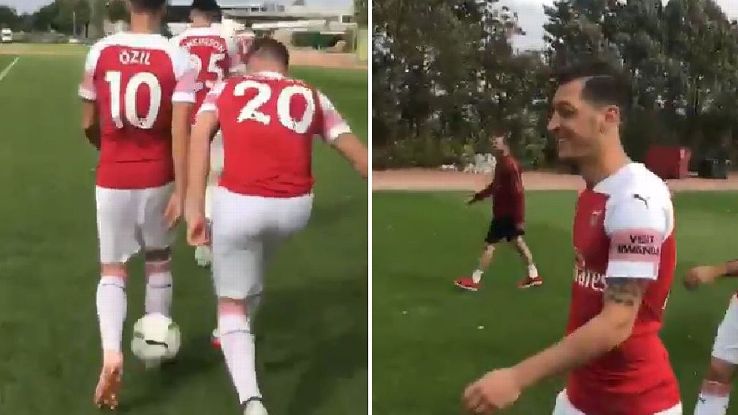 To celebrate Mesut Ozil turning 30 on Monday, it was left to Arsenal teammate Shkodran Mustafi to provide the special "birthday gift."
As the players walked out at the Gunners' training ground, Mustafi claimed Ozil's very soul with a stealth nutmeg before fleeing the scene entirely.
Thankfully, there were more traditional birthday messages on offer from elsewhere, with several teammates past and present expressing their best wishes to their old pal on his big day.
Congratulations to this brilliant footballer and great friend, who is celebrating his 30th birthday today! Alles Gute, Mesut Abi! ❤👊🏼 @MesutOzil1088 #happybirthday #YaGunnersYa #gibgäs #M1Ö #SeoKol pic.twitter.com/GpHWxMsmuB

— Sead Kolašinac (@seadk6) 15 October 2018
Alexandre Lacazette wishing Mesut 'Mesutinho' Ozil a happy birthday. 😂 pic.twitter.com/AZqoowHbMv

— Arsenal FC News (@ArsenalFC_fl) 15 October 2018
Happy birthday to My friend and top player @MesutOzil1088 i hope you have a great day,all the best a Hug 🎁👍👏🎂 pic.twitter.com/2MOhdj9rfU

— Santi Cazorla (@19SCazorla) 15 October 2018
There was also a wish of many...