Toe Poke Daily: Carabao Cup draw to be held in ... a supermarket
The Toe Poke Daily is here every day to bring you all the weirdest stories, quirkiest viral content and top trolling that the internet has to offer, all in one place.
JUMP TO: Diana Ross: 25 years on | Chicharito becomes a father | 29-goal thriller in Macau
Carabao Cup draw in ... a supermarket
The EFL has never shied away from trying something different when it comes to the Carabao Cup, and this year will be no different -- with the first-round draw taking place in a supermarket in the suburbs of London.
For reasons largely unexplained the draw will be carried out by League Cup winners John Barnes and Ray Parlour at the Morrison's store in Colindale (situated roughly four miles down the road from Wembley Stadium) on Thursday evening. And the promo image shows Barnes outside a store with a trolley stacked with Carabao products.
Shoppers will be making their merry way around the store picking up their groceries, while in one corner the two footballing legends are drawing teams out of a hat. It's a surreal picture.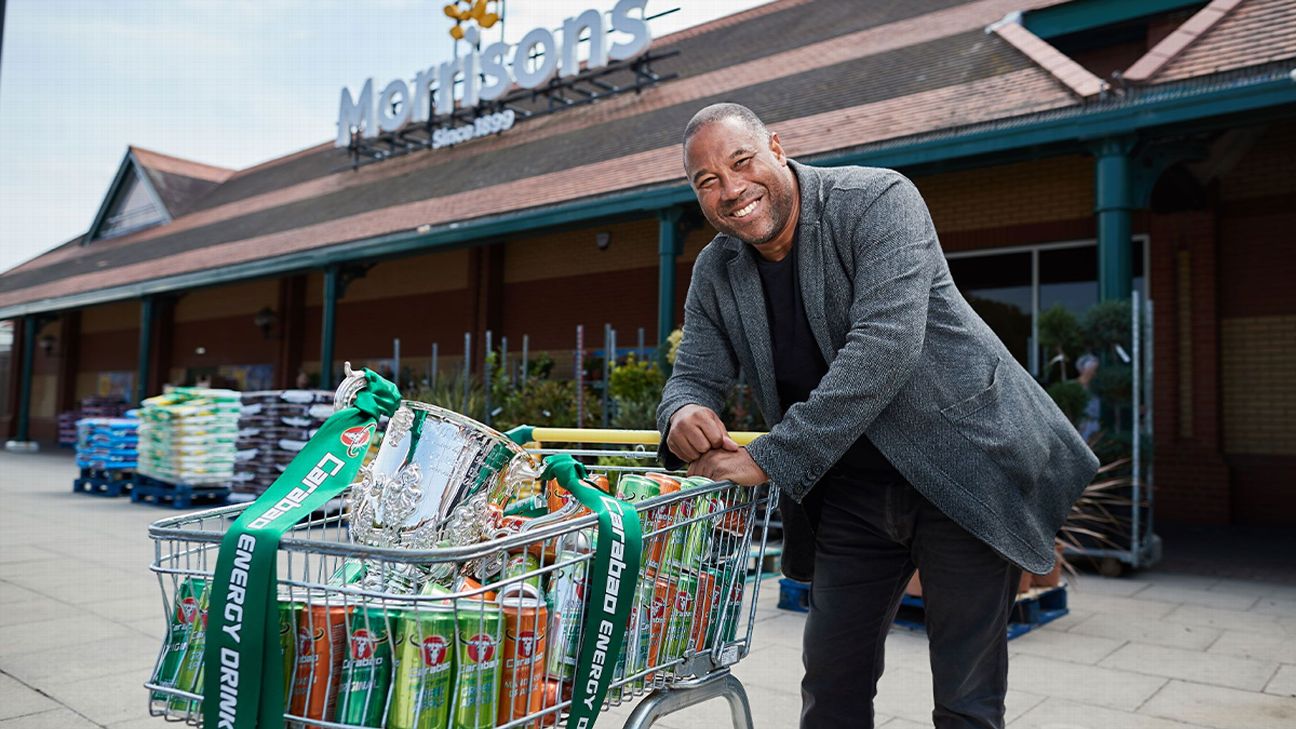 Over the past few years, the Carabao Cup draw has taken place under some incredibly odd circumstances. In 2017 the first-round draw was held in Bangkok, after the EFL signed a three-year sponsorship deal with Thai energy drinks company Carabao.
That draw took place at 1 p.m. UK time, so at least fans could watch.
- Stars come out for Sergio Ramos' wedding
- Meet all the other Messis! Baby, Mini, Kiwi, Snow and more
- Mbappe courtside as Raptors win NBA Championship
Move forward to the third round when the Premier League's big boys join the competition ..... the draw was held in Beijing at 11.45 a.m. ... China time! That's 4.15 a.m. UK. So unless you were an insomniac there was no chance of watching the balls being drawn out.
Last season, the draw moved to Ho Chi Minh City, taking place at 10.45 a.m. UK.
Here we look back a few other strange draws, starting of course with the Carabao Cup!
---
Diana Ross: 25 years on
Today is a special day because it marks 25 years since the very first ball was kicked at the 1994 World Cup in the United States.
Germany beat Bolivia 1-0 at Chicago's Soldier Field stadium in front of more than 63,000 fans, with Jurgen Klinsmann scoring the only goal of the game.
While the match itself might have been largely forgettable, those watching around the world will never forget the opening ceremony.
Motown legend Diana Ross was drafted in to provide the entertainment, but turned into a comedy act.
Singing her 1980 hit "I'm Coming Out," Diana jogged towards a makeshift goal, and the stadium held its breath as she prepared to complete the simple task of kicking the ball five yards into the net.
Sadly for Diana, her finish wasn't Supreme as she dragged her shot three yards wide of the goal. It kind of ruined the effect of the goal actually breaking in half, but they did it anyway.
She will forever have a place in World Cup folklore.
Chicharito becomes a father, on Father's Day
Javier Hernandez opted out of this summer's CONCACAF Gold Cup due to the impending birth of his son.
Mexico seemed to do ok without their all-time leading goal scorer, however, as they thrashed Cuba 7-0 on Saturday in their opening group game.
What better way to celebrate such a huge win than to become a father? Noah Hernandez was born on Sunday lunchtime, coincidentally on Father's Day.
"Early this morning at 12:27 am our baby son, Noah, was born," said his partner, Sarah Kohan. "I have never known love like this, thanks @ ch14_ for giving me the best gift I could ever imagine. I love you both."
And Chicharito posted a photo of his new family on Instagram.
29-goal thriller as Macau teams stage protest
A Macau FA Cup match ended in farce as the two teams involved appeared to deliberately avoid defending in protest at their FA's decision to pull out of a World Cup qualifier.
The game between Ka I and Hang Sai finished 21-18, with Youtube footage showing defenders stepping aside and goalkeepers comically diving out of the way to allow the attacking team to score.
The Football Association of the territory in southern China had pulled its squad out of the second leg of a World Cup qualifier away to Sri Lanka over security concerns -- a decision that angered its players who had built a 1-0 lead from the first leg and were excitedly hoping for an extended run.
Footage at the end of the game shows the wrong result on the scoreboard of the Lin Fong stadium, with officials appearing to lose count of the number of goals scored.