Bayern and Shakhtar open Champions League round of 16 with sour draw
Three quick thoughts on Shakhtar Donetsk's 0-0 draw with Bayern Munich in the Champions League round of 16 on Tuesday night.
1. Shakhtar, Bayern turn sour
Far from a landmark match from the Champions League favourite, far from a landmark to remember for Xabi Alonso. On the occasion of the Bayern Munich midfielder's 100th appearance in the competition, he was sent off for a second yellow card, which went some way to ensuring a creditable first-leg 0-0 home draw for Shakhtar.
The Ukrainians have at least prevented Bayern from scoring an away goal, allowing that prospect to hang over the return leg, which should ensure that is a bit more tense than this tepid encounter. Alonso's 65th-minute dismissal was almost a reflection of Bayern's frustration, and it was one of the few moments of action in the game.
Shakhtar Donetsk
Bayern Munich
Game Details
It was certainly a reflection of the surprisingly sour mood, which so often gave way to anger and aggression, without quite spilling over.
Even Alonso's foul was along those lines. As the Germans dominated but still struggled to break Shakhtar down, one of those temporary gaps that presents itself in games of such patterns opened, and Alex Teixeira looked to break through.
Alonso, who was already on a yellow, found himself on the wrong side of the attacker. He opted to take him down, in a clear professional foul, but still one without conviction.
It was oddly meek, much like this poor game itself.
2. Guardiola's struggles on the road
The one positive for Pep Guardiola and Bayern Munich is that this is not a new feeling. The Catalan has an oddly poor record on the road in the Champions League knockouts -- relative to the quality of both his coaching and his team -- going back to his time at Barcelona. He has won only 25 percent of his 16 away legs in the competition, and the only one of those of real note was the semifinal first leg against Real Madrid in 2011.
The flip side is that his teams frequently then blow the opposition away, and this match fit the pattern of so many of Barca's. Bayern started superbly and could have been 3-0 up within the first 10 minutes -- with Bastian Schweinsteiger going closest -- only to then step back and almost concentrate on control rather than cracking the opposition open.
There was certainly very little happening, and Bayern barely entered Shakhtar's box in the second half, with Arjen Robben the only player really trying to force the issue. Not even the introduction of Robert Lewandowski for the ineffective Mario Gotze could change that, and the closest Bayern came was when a run suddenly seemed to break for Robben in the box, only to be disrupted.
It shouldn't be forgotten that Bayern's approach was disrupted too, and Alonso's red card seemed to make Guardiola even more insistent on just managing the game rather than going and making something happen.
There was just such a curious lack of intensity to their performance and a slowness to their play. The biggest worry is that they continue to struggle for genuine consistency in terms of high performance, especially after an 8-0 win over Hamburg over the weekend. They are fluctuating a bit too much, which could leave them vulnerable on the wrong night against the wrong team in this competition.
It was certainly not the display of champions, although Guardiola has navigated similar situations to become a champion in the past. The feeling is that they will get through, but the concern is that it need not be so nervous.
3. Shakhtar's game plan pays off
Bayern's poor display didn't take place in a vacuum, and Shakhtar deserve praise for their vigour.
That they had not played in two months makes this all the more admirable, although you wouldn't have guessed that beyond the first 10 minutes. That spell -- when Bayern opened them up three times -- was all it seemed to take for Mircea Lucescu's side to get back up to speed, and it was then snapping into tackles with impressive quickness.
Shakhtar denied Bayern space to move into and closed off so many avenues to goal. At the same time, the runs of players such as Taison did cause Bayern a few problems, and he made progress on more than one occasion in the first half.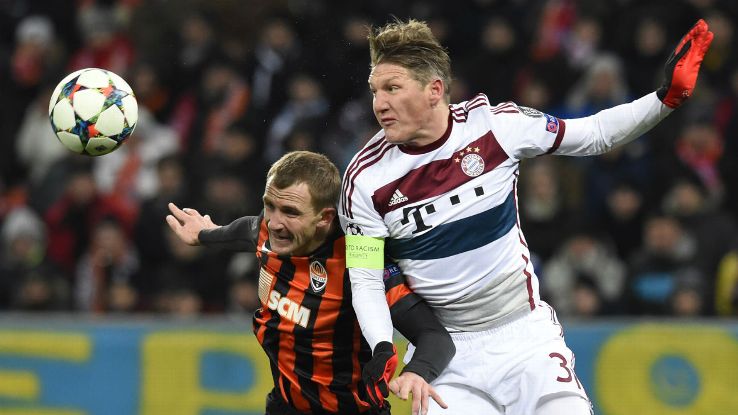 There was also the realpolitik aspect of Shakhtar's overall approach. Essentially, their tenacity unnerved Bayern, getting them to commit more fouls and receive more bookings than the Germans would have been used to. You could almost say Guardiola's team lost its usual cool, and there were more than a few times when the coach was ranting on the sideline, furious at what was happening in front of him.
By contrast, Lucescu kept his cool, much like his team. The calculated game plan paid off, at least for this first leg.
The only issue is that Lucescu has an even bigger job for the second leg, and tenacity is not likely to be enough to get Shakhtar through.
Miguel Delaney covers the Premier League and Champions League for ESPN FC. Twitter: @MiguelDelaney.