Chelsea doctors Carneiro, Fearn to be absent vs. Man City - Mourinho
Chelsea manager Jose Mourinho has confirmed that club doctor Eva Carneiro and first-team physiotherapist Jon Fearn will not be on the bench for Sunday's Premier League clash against Manchester City at the Etihad Stadium.
Sources had told ESPN FC earlier in the week that Carneiro has had her role with the club reduced in the wake of criticism by Mourinho.
The Chelsea boss was angry that Carneiro and Fearn rushed onto the pitch in stoppage time of Saturday's 2-2 draw against Swansea to treat Eden Hazard, meaning he had to leave the field as they had a free kick in a dangerous position in search of a last-ditch winner.
Carneiro herself appeared to reference the incident in a Facebook post on Sunday, stating: "I would like to thank the general public for their overwhelming support. Really very much appreciated."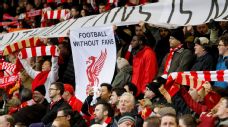 Carneiro and Fearn will officially continue with the same job titles but will only work out of Chelsea's Cobham training complex, and will not travel with the squad to games or elsewhere. However, Mourinho said that change will not necessarily be permanent.
Mourinho said in an opening statement at his prematch news conference on Friday: "Look, I hope this room is full because the champions will be playing against the former champion, because we have hopefully a big match on Sunday.
"But I knew it already. It is not a surprise. No question. I don't want to run away from it. I accept the question, and understand.
"First of all, I want to say I have a fantastic medical [team] led by Dr Paco Biosca, more than a dozen professionals, have a very good relation with them and as they tell me all the time, they were never praised so much as in last few years.
"I have praised them many times these last couple of years and they don't forget that, I don't forget that. And as they also told me yesterday, we have disagreements during this period, we need disagreements to improve. We work together, we'll improve together and that's the way we do things. And this I want to make it very, very clear.
"Your question about the bench, I have to say that for some people the bench is very important, and I understand for you it is also very important. But for other people it is not important. For other people the most important thing is not what other people think you do, it is what you do. And the bench is my responsibility, yes. And when you ask me, obviously it is my decision, it is nobody else's decision.
"Jon Fearn and Dr Caneiro, they will not be on the bench. But it doesn't mean that Sunday is the rest of our season, or the rest of our careers. They will not be on the bench on Sunday, that is clear, it is my decision, it is my responsibility. But that doesn't mean that they can't be in the future.
"If you want to speak with me about football, I'm here. But if you want to speak about other issues, I am not here."
Mourinho's decision has been criticised this week from several quarters, including the Premier League Doctors' Group and FIFA's chief medical officer, but has also received backing from Chelsea's former club doctor, Ralph Rogers.