Chelsea haven't closed door on John Terry exit, says club spokesperson
Chelsea insist they have not closed the door on the possibility of extending captain John Terry's contract beyond the summer.
Terry revealed after Chelsea's 5-1 victory over MK Dons in the FA Cup fourth round on Sunday that he had been informed his current deal would not be renewed prior to the Blues 1-0 win against Arsenal earlier this month.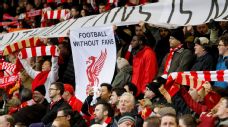 But while Chelsea have confirmed they declined to offer Terry a new contract at a meeting requested by the 35-year-old, they are keen to stress that no final decision has been made on whether to let him go.
"John requested a meeting with the club the week before last," a Chelsea spokesman told ESPN FC. "In that meeting he asked about the possibility of an extension to his existing contract.
"John was advised that while no new deal was currently on the table, that situation could change in the coming months. The club has the utmost respect for John and everything he has helped us achieve to date.
"He is a fantastic servant of Chelsea Football Club and a superb captain and, as such, the club will keep the channels of dialogue open."
Terry claimed that he requested the meeting to discuss his future after his agent was first notified of Chelsea's position over the phone, and added that he will not consider the possibility of following in the footsteps of fellow Blues legend Frank Lampard by playing for a Premier League rival once he leaves Stamford Bridge.
"My agent made the call like we do every January," Terry said. "He got told over the phone and I called to set up a meeting the following day. The club immediately set that up which was great of them to do. I wanted to hear it face to face. They told me.
"Unfortunately it's not going to be. I feel as though I'm in great nick, I'm playing great and I've got a couple of years to go. It'll just be elsewhere.
"I couldn't play for another Premier League club. It will be elsewhere for sure. I don't know where and I leave that to the people in charge of me and the clubs who make offers. It certainly won't be in the Premier League."
Liam is ESPN FC's Chelsea correspondent. Follow him on Twitter: @Liam_Twomey.