Arsenal glow amid German glory
A trio of Arsenal players became world champions on Sunday night.
In the wake of Germany's victory over Argentina, joyous scenes unfolded in the middle of the Maracana pitch; Per Mertesacker, a late substitute, danced with surprising dexterity to the sounds of Daft Punk's "Get Lucky". Mesut Ozil, who had produced his best display of the competition, had his shirt nabbed by a starstruck Michel Platini. Meanwhile, Lukas Podolski let his young son take penalties in front of the cavorting German fans. The next generation is already being groomed for success.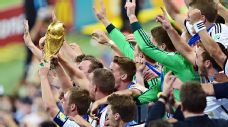 In France 16 years ago, a flowing move saw Patrick Vieira provide the pass for Emmanuel Petit to score the third goal in Les Bleus' World Cup final victory over Brazil. The next morning, The Mirror ran with the unforgettable headline, "Arsenal win the World Cup".
There will be no such bold claim this time around, but the Gunners certainly made their presence felt. The success of Arsenal's German contingent merely adds to the optimistic mood around the club.
It began with the FA Cup win in May. That victory snatched away the albatross that had hung around Arsenal's neck for nine years. As Mikel Arteta said at Arsenal's recent kit launch: "It's a different summer when you win something." Players were able to head off on their holidays with a medal in their cabinet and a spring in their step.
The exceptions, of course, were those players who had business to attend to in Brazil. Jack Wilshere and Alex Oxlade-Chamberlain's FA Cup high might have been somewhat dampened by England's poor showing this summer. However, most of the Arsenal players involved enjoyed positive tournaments. Olivier Giroud contributed well to the French cause, starring in a resounding victory over Switzerland during the group stage, while Joel Campbell impressed for the Costa Rican upstarts.
And then the Germans. Podolski, Mertesacker and Ozil return to London with another medal for the collection. Winning is a habit, and these men are getting in to the groove. Once they've rested their weary limbs, their return to training will see the scent of triumph continue to linger over London Colney.
- Mangan: Sanchez swoop shows ambition
Ozil must be particularly delighted. His decision to move from Real Madrid to Arsenal was widely questioned, but less than a year later he has won both the FA Cup and the World Cup. It's inevitable that a player with his price tag and reputation will attract scrutiny, even criticism. However, it's far easier to deflect that carping when you can point to a healthy collection of silverware.
For Ozil and Arsenal, it's very much a case of so far, so good -- but it ought to get better. Gunners fans will hope that next season he takes to the field with the swagger befitting a World Cup winner.
The good mood around Arsenal has been reinforced by the acquisition of another World Cup star, Alexis Sanchez of Chile. A year after Ozil's arrival, the signing of Sanchez signals Arsenal's intention to kick on again. The FA Cup is not enough for this illustrious club. They want to challenge for the Premier League and Champions League and are finally prepared and permitted to spend big money to do so.
Arsenal are club with momentum. With Arsene Wenger now due to return from his sojourn in Rio, preparations for the new season will begin to ramp up. Despite the inevitably glowing atmosphere at the training ground, Arsenal still require further reinforcements ahead of the new season. The club must act decisively to ensure that the summer of 2014 is remembered as the start of a glorious era rather than a brief window of respite.