Five things we learned from the Emirates Cup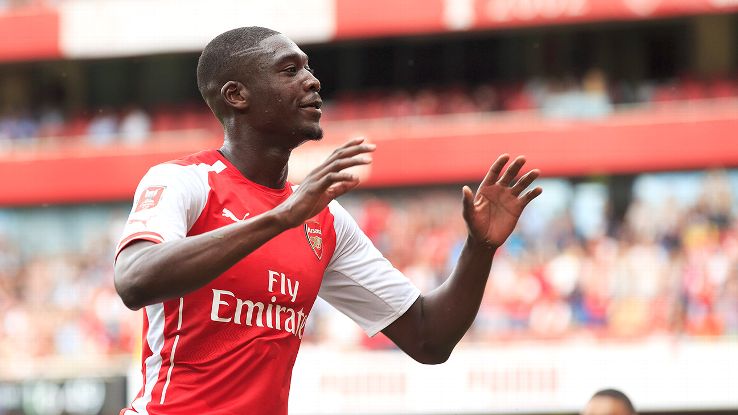 Arsenal competed in the Emirates Cup at the weekend as their preseason preparations continued -- but what did we learn from the tournament?
Ames - Wenger must make pieces fit
Yaya Sanogo can score goals
The young French striker's inability to find the net had become something of a tired trope: Yaya Sa-no-goal, as the Twitter wags would say.
However, with four against Benfica he's broken a mental barrier, if not an official one. Goals in preseason don't count, but just the fact that he put the ball in the back of the net will have taken a burden off him. To add three more will have done his confidence the world of good.
As will the words of Arsene Wenger who clearly has him in his plans for the season ahead, saying, "We have worked very hard with him; we want him to stay. He has a big future here."
Of course he's got to do it when it really matters, but the Emirates Cup strikes will hopefully have taken the shackles off and he can play with more freedom from now on.
Joel Campbell impressed but needs to get fitter
The Costa Rican forward got a lovely goal against Benfica and showed some classy touches throughout the first hour of his performance. However, he faded as the game went on, much like he did in certain World Cup games, and while some of that can be put down to early-season fatigue, it's an area he should look to concentrate on.
The pace and physicality of the game in Ligue 1, La Liga and the Greek Super League simply doesn't compare with English football -- it's something he'll have to get used to quickly.
He will be boosted by Wenger's public display of faith in saying he wants to keep him but you can't help feeling he still has a bit to prove between now and the end of August.
Arsenal's fitness may be an issue
After the 1-0 defeat to Monaco, Wenger said: "It just is a good warning for us that we are not completely ready physically."
And how could they be ready? With swaths of the squad at the World Cup, the French players only just back, the German contingent still enjoying their holidays and not due to return until Aug. 11, the fitness levels in the squad vary considerably.
That will present a challenge in the opening four to six weeks as new fitness supremo Shad Forsythe tries to get them all match-fit, but that's something Wenger and his team will have been prepared for. The Community Shield will provide another intense workout but Arsenal's aim is to be as well prepared as possible for Crystal Palace, rather than the glorified friendly at Wembley next weekend.
Alexis excites
He might have struggled a bit along with the rest of his teammates against Monaco, but the Chilean looks the part in red and white, and when he's fully up to speed he's bound to make a big impact. The potential for Mesut Ozil to spot and pick out those rapid, darting runs should worry Premier League defences.
For a man still not 100 percent in terms of his fitness, his work ethic is also impressive, looking to chase down defenders busily throughout.
It seems obvious to say that a 30 million-pound signing is exciting, but the prospect of a fully fit Alexis in the Premier League and Europe is mouthwatering.
The need for a centre-half is obvious
New boy Calum Chambers acquitted himself well in the centre of Arsenal's defence, but the fact that Wenger had to deploy Nacho Monreal there on Day 1 tells its own story.
Per Mertesacker isn't back until Aug. 11, leaving Laurent Koscielny the only fit senior centre-half. Thomas Vermaelen is injured but the expectation is that he will leave the club sooner rather than later.
Last season, for all the issues with injury, the Gunners got a bit lucky to get through a campaign with just three central defenders, and a purchase here is now becoming a matter of urgency.