Francis Coquelin the face of a different Arsenal, a silent superstar
It was a sucker punch, but it connected. Roy Keane's scathing depiction of Arsenal's squad as being obsessed with "selfies and six-packs" last week was brazenly gratuitous but, as can be the case with stereotypes on occasion, it came from a position of truth.
Social media's prolific pair Lukas Podolski and Wojciech Szczesny may not be pestering their teammates for snaps this season, having taken their Instagramming talents elsewhere, but the point must be conceded that Arsenal's players do seem rather predisposed to holding a grin in suspended animation or congregating in a dressing room, half-naked, to strike a collective pose in order to mark their latest victory.
Giggling and taking selfies after beating Championship Wigan on penalties in a torrid FA Cup semifinal in 2014, which could have been the end of Arsene Wenger, does not mean that Santi Cazorla is not an extravagantly gifted individual whose ambidextrous qualities mean he has more magic in each of his individual feet than Keane had in both of his combined. But this streak of showiness -- so endemic in society as a whole -- has, for better or worse, stuck at Arsenal. It colours external perceptions of a club already associated with overindulgent football.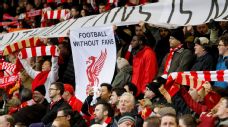 But there is a player who defies this trend; a player whose unpretentious, gutsy and quietly powerful interpretation of the game Keane would surely admire. Young defensive midfielder Francis Coquelin.
Perhaps fittingly for a player who was seemingly all but wiped from Arsenal's memory when spending loan spells with Freiburg and Charlton, Coquelin -- whose singularly unlikely renaissance was one of the stories of last season -- does not maintain a social media presence.
The 24-year-old is not on Instagram or Twitter, at least publicly, and sometimes you get the feeling he rarely smiles unless there's a very good reason to do so. Hashtags are a foreign language to a player who seemingly cares only for one thing: winning the ball and giving it to his teammates. Sharing in its traditional form, not as the social media currency it has become.
It is a remarkably stripped-back and efficient interpretation of the game, and an aspect of Arsenal's play that has become hugely important to their fortunes since the start of 2015. Whoscored's stats tell us that Coquelin made the most interceptions per game of any Premier League player last season (3.7) and was in the top 10 for tackles too (3.2). There is no player better at snatching the ball away in the midfield battle.
At times, Coquelin can be the only anchor for Wenger's collection of dainty little playmakers and speedy forwards. Like producer George Martin, the Fifth Beatle, it is his hard work in the background that helps the rest of the team strike a chord.
This reliance on Coquelin is almost comical. Wenger was considering allowing him to leave on a free transfer before a spate of injuries forced the midfielder to rather reluctantly return from his loan spell at The Valley last winter. It is quite a twist of fate and one which had a knock-on effect in the transfer market as Wenger apparently felt sufficiently emboldened to not make an effort to sign the more established power of Morgan Schneiderlin when he left Southampton for Manchester United.
Wenger credits Coquelin's rebirth to the player's acceptance of his own limitations, saying in March: "I think he analysed well what he is good at, defending in midfield. He was in between the playmaking position and being a box-to-box player, but he is not that -- he's a sitting player who can win the ball. He restricted his game to that and you make success in life with what you're good at. You don't have all the qualities but you have to express what you're good at and he's good at that."
There is something inherently noble in this. The story of the honest player who made the most of what he had is one of the best established tropes in British football.
But there has been a parallel process at play. As Coquelin belatedly recognised that his game was more effective in condensed form; as he embraced excellence as a compromise for thwarted ambition, so Arsenal realised they had to make a concession. They needed his single-minded, pugnacious pragmatism in their midfield to make the whole picture work and ultimately, to borrow Wenger's phrase, express what they were good at.
Coquelin is the face of a different Arsenal. He doesn't have Keane's insurrectionary streak, psychological depths or brooding malevolence, but in an age of show-offs, smartphones and selfies, he does embody other qualities which are now in scant supply. There is no one else quite like him in the team.
Tom is one of ESPN FC's Arsenal bloggers. You can follow him on Twitter @tomEurosport