Arsenal owe fans answers on aims in Champions League, Premier League
Arsene Wenger was 36 years old and on his way to relegation from the French second division when John Hughes' "The Breakfast Club" was released in European theaters. The ending, where the kids write a letter to their principal, who wants to know who they think they are, might resonate with Wenger after Tuesday night's events.
"You see us as you want to see us -- in the simplest terms, in the most convenient definitions."
Following the 3-2 defeat against Olympiakos, which leaves Arsenal pointless and last in Group F with back-to-back games against Bayern to look forward to, all the familiar explanations were trotted out.
Arsenal are soft.
Arsenal need better defensive midfielders.
Arsenal need to spend more rather than sit on cash reserves of a quarter of a billion dollars.
Arsenal's manager needs to lighten up, rather than trying to be too clever and playing a reserve keeper when he's paying an enormous amount of money to his No. 1.
All of the above -- to some degree -- are true. What's worse, they're familiar. Wenger has been dogged by the first three for nearly a decade. And while he didn't have a Petr Cech in previous years, he did fiddle with his keepers to no end. Nine men have started league games in goal for Arsenal in the past nine years. Since 2010, only twice has an Arsenal keeper started more than two-thirds of the Gunners' league games.
Wenger has heard all of this before. So when facing the media Tuesday night he was prepared. He said it would be a "farce" to blame his decision to pick David Ospina ahead of Cech because no goalkeeper is "mistake-free." (Had he wanted to be unkind he could have reminded folks of Cech's disastrous performance on opening day against West Ham.)
He talked about the number of chances Arsenal created and how individual errors had cost them -- a way of addressing the charge of being "soft" -- and how Francis Coquelin was on the pitch, which, you suppose, is his way of stating that Arsenal's defensive midfield is just fine, thank you very much.
Wenger didn't get drawn this time on why Arsenal are sitting on a mountain of money that he doesn't spend, simply because he wasn't asked about it. But if he had been -- and he has in the past -- he would point out that, sure, they didn't spend big this summer, but between 2013 and 2015 only Manchester United ($235.8 million) and Manchester City ($178.8 million) had a higher net spend than Arsenal ($137.6 million). He'd remind folks that he has signed superstars such as Alexis Sanchez, Mesut Ozil and now Cech and that they pursued players such as Karim Benzema and Luis Suarez (albeit in rather ham-fisted ways).
Push him further and he'll remind you that Arsenal have been a model of consistency over the past decade. Always finishing in the top four in the Premier League, always qualifying from their Champions League group, always -- arguably -- playing some of the most attractive football in Europe.
The problem is that while all of the above is true -- and therefore Wenger has a case when he goes all "Breakfast Club" and complains about the way he's stereotyped -- it's equally true that there's a huge elephant in the room. Quite simply, it asks: "Who are we? What are we trying to do? Why can't we ever get there despite doing so much right?"
Or, as my colleague Miguel Delaney tweeted last night:
Amazing how, despite seasons that virtually always end up the exact same, Arsenal waver between such extremes during it.

- Miguel Delaney (@MiguelDelaney) September 29, 2015
At some point Arsenal -- and, by this, I mean the guy who ultimately makes the big decisions, majority shareholder Stan Kroenke -- need to explain to fans what they are trying to do. If the domestic objective is to perennially be in the top four while never really contending and the European objective is to advance from the group stage and then get knocked out straight away, well, they're achieving it. Since 2010, the latest Arsenal have been top of the league was Feb. 2 and they've been bounced out in the round of 16 of the Champions League every single year.
All of that would be commendable if this were a plucky overachiever operating on a shoestring. But Arsenal are a cash cow. As the dean of financial bloggers Swiss Ramble writes, they haven't made a loss since 2002 and, since 2008, have racked up profits of some $343 million.
Where does that money go? Kroenke doesn't extract huge fees from the club the way the Glazer family does at Manchester United. He just lets it accumulate. The club say it's there for Wenger to spend if he wants to spend it. Except, apparently, he chooses not to or, at least, not to the degree that other clubs spend it.
That's what fuels the frustration. That's what leads to the annual sense of ennui.
It's not a knee-jerk reaction to the Champions League defeats against Dinamo Zagreb and Olympiakos. On a different day, Arsenal could have won both games and we wouldn't be having this conversation. Or, rather, we wouldn't be having this conversation now. We'd simply be having it after they finish second in the group -- after all, Bayern are the top seed -- and then get stuck facing either a juggernaut like Barcelona or Real Madrid or self-destructing against a lesser light (as they've done in recent years against Monaco or Milan) in the knockouts.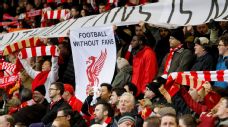 From a fan's perspective, the traditional formula for any club is that available resources are reinvested to maintain forward progress and that's defined by success on the pitch. You stop reinvesting when you run out of money. Arsenal have broken that social compact. Or, rather, they've redefined it. The cash is sitting there, tantalizingly, but the manager chooses not to spend it. Combine that with the results -- just enough to keep a flicker of hope alive -- and the fact that the majority of Arsenal supporters, like many football fans, continue to show up and accept the situation and there is no impetus for change.
Wenger is Kroenke's meal ticket. He's a guy who keeps the club ticking over and remotely competitive, plays attractive football, generates annual profits and doesn't harass the owner into spending huge amounts of money for that last mile, the one that actually leads to big trophies like the Premier League and Champions League.
That's why Wenger is still there. He's an exceptional manager who achieves very good results, just maybe not to the degree that fans expect but enough to keep them renewing their season tickets.
Maybe we are viewing Arsenal, Kroenke and Wenger in the "simplest terms" and "most convenient definitions." But that doesn't make it wrong.
And, if that's the case, isn't it up to Kroenke to come up with some answers? What does he think Arsenal are? And what does he want them to be?
Gabriele Marcotti is a senior writer for ESPN FC. Follow him on Twitter @Marcotti.