Aaron Ramsey best suited in central role for Arsenal
It is not unusual for Steven Gerrard and Frank Lampard to strike a discordant note. England spent a decade waiting in vain for them to click as a central midfield partnership so perhaps it is no surprise that, on the subject of Aaron Ramsey this past week and a half, their opinions have jarred.
Ramsey's performances since assuming a central role for Arsenal in the wake of Santi Cazorla's long-term injury have engaged the brains of two of the greatest Premier League midfielders. Last week, speaking ahead of Arsenal's 3-0 Champions League win over Olympiakos, Steven Gerrard first championed Ramsey as the best midfielder in the top flight when it comes to attack. It was quite an endorsement from a man who scored 120 Premier League goals from midfield for Liverpool -- seven more than Ian Wright.
Explaining on BT Sport why Ramsey's best position was not on the right of midfield, where he has been stationed for most of the season, Gerrard said: "For me, when he's in that form he's the best attacking midfielder in the Premier League. So you've got to play your best players where they want to be and I'm sure he'll want to be in the middle." Ramsey enthusiastically circulated this analysis.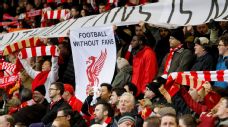 Lampard, though, was more circumspect about Ramsey's suitability for a central role. Even after Ramsey scored in the 2-0 win over Aston Villa at the weekend, Lampard tempered Gerrard's praise with a more sober appraisal of the Welshman.
"Ramsey has to change his game and think about the defensive side of his game," Lampard said on Sky Sports' Monday Night Football. "With [Mesut] Ozil playing so well he knows he's not going to get that No. 10 role, so he'll have to drop deeper.
"At the moment he doesn't yet have the ability to play in the midfield two. I love him as a player, very bright and very clever but you can see by the way he's running back he doesn't really want to do it.
"Ramsey has to see that Ozil is the No. 10 and drop back in. It's alright playing like he does when you're playing the lesser teams, but when you're playing top teams you need to be more secure."
Ramsey has scored two goals and claimed two assists in the three games since Cazorla vacated his role, so Lampard's suggestion that he "doesn't yet have the ability" to perform as one of two deeper midfielders is a bold one. Furthermore, Ramsey's goal against Aston Villa was a brilliant demonstration of his all-round ability as he won the ball for his team in midfield with a sliding tackle and then sprinted into the box to finish off a flowing move constructed by Theo Walcott and Ozil.
It seemed to confirm Gerrard's stance, and there is no question that having Ramsey in a central position makes Arsenal more dynamic in terms of the blood and thunder elements which English football has long desired. The question is whether, in doing so, some element of control is sacrificed as a result.
This is where Lampard's rather more considered critique comes in. Cazorla is a player who recycles possession diligently and feeds the forward line intelligently, particularly when keeping the supply line to Ozil open. Though it is not his natural game, he has reconfigured his approach to become a disciplined presence in midfield. Ramsey is rather more excitable, and there have been moments in the past few games when his desire to contribute in the final third has left Arsenal vulnerable to quick breaks.
They have not been punished yet, but as Lampard suggests this could yet be a factor against better teams. Cazorla is a more steadying influence on the midfield. He calms things down and gives Arsenal time to breathe. Where Lampard is wrong, however, is in his insistence that Ramsey isn't yet able to play in the manner required of a disciplined central midfielder. In fact he already has.
When Ramsey first truly flourished after finally overcoming his serious leg break, in the last few months of the 2012-13 season, it was in a deep role. Suddenly a player seen as a bit of a waif was intercepting deftly and regularly and smacking into tackles. It was the making of Ramsey.
But his quite unexpected goalscoring heroics the following season, when he scored 16 goals in 34 appearances, cast Ramsey in a new light. It changed the perceptions of him as a player and most likely his own too. You can understand the yearning to influence matters in the final third after enjoying such a return in front of goal. With Cazorla absent, Ramsey has undoubtedly seized on his chance to drive at the penalty area from deep once more.
And yet, the partnership of Cazorla and Francis Coquelin was vital in establishing Arsenal as a renewed Premier League force and the team which has collected the most points in 2015. Now that the Cazorla-Coquelin partnership has been dismantled by injury, it is up to Ramsey to establish the right balance in central midfield, contributing in attack and protecting the defence when required too.
It is his best position and Gerrard is right that Ramsey is one of the very best when breaking through the lines and attacking from deep. He has proved as much in the past three games. But Lampard's gentle warning should not go unheard amid all the acclaim for his recent performances.
Tom is one of ESPN FC's Arsenal bloggers. You can follow him on Twitter @tomEurosport